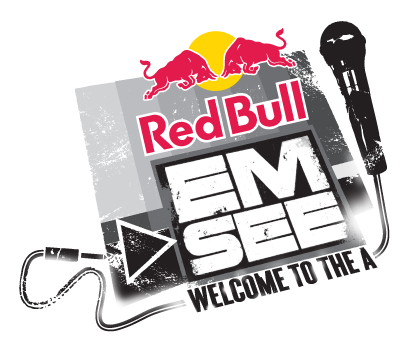 Brooklyn Bodega, producers of the annual Brooklyn Hip-Hop Festival, are excited to announce that the Red Bull EmSee Challenge is stopping in Boston as part of their continued search of the country's best freestyle MC.
Red Bull EmSee is an invitation-only battle series designed to find the best freestyle rappers in the country and give them a national platform to show their skills and earn acclaim. This year's eight-city tour stops in Boston at Royale with The Trill OG: Bun B playing master of ceremonies. Considered one of the most influential and skilled emcees of all time, Rakim alongside Pharoahe Monch and Jean Grae will be doing double duty and judges and performers. The winner of the Boston qualifier will advance to the finals in Atlanta this fall where he'll vie for the national championship and an opportunity to record with a headlining producer of his choice.
Other East Coast MC's will have one more chance to represent on the mic when the Red Bull EmSee tour hits DC later in Oct.
WHEN: Wednesday, October 5
WHERE: Royale, 279 Tremont St, Boston, MA
Doors: 8pm. Show: 9:30pm
Ages 18+, Free all night
_
Red Bull EmSee's innovative battle format challenges MCs to bring the true freestyle spirit back by adding a twist to the conventional head-to-head clash. During the competition, MCs are posed with a variety of challenges designed to showcase their technique, creativity and dexterity. In addition to spitting flows over beats and acapella, MCs are challenged to come up with hard-hitting verses straight off the dome based on visual cues and themes text messaged to screen by the judges and audience.
"The format of the challenge forces you to stick to the true essence of freestyling, which I think gives it freshness and definite authenticity,"
Red Bull EmSee National Champion, Fowl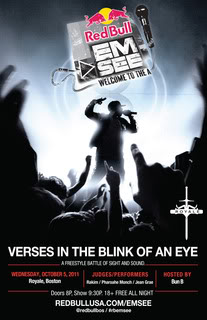 Keep up with the latest of the Red Bull EmSee challenge in Boston via Twitter by following: @redbullBOS and the #rbemsee hashtag.
For information on other Red Bull EmSee tour stops, please visit www.redbullusa.com/emsee

Red Bull EmSee is an invitation-only MC battle series designed to find the best freestyle rappers in the country – giving them a national platform to showcase their skills. Legendary rapper Bun B serves as a master of ceremonies on 2011's eight-city tour. Winners from each qualifier advance to the Atlanta, GA finals in November where they will face off for the national title in front of a panel of industry heavyweights. The last MC with a mic-in-hand will earn an trip to Los Angeles to record at Red Bull Studio with a headlining producer of their choice