Emcee And Sports Fanatic Pooh To Provide Fans With Insights On 2010 NCAA Men's Tournament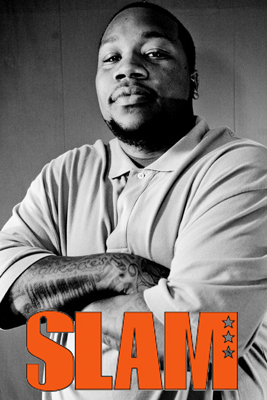 As the anticipation for Little Brother's upcoming album continues to build, Rapper Big Pooh, one half of the celebrated North Carolina duo, is excited and proud to announce that he will be guest blogging for SLAM Magazine's website. Pooh will be contributing his thoughts and views on the NCAA Men's basketball tournament from start to finish in the weeks leading up to the April 20th release of Little Brother's fourth and final album, LeftBack.

SLAM Magazine is one of the nation's premier basketball authorities, combining hip-hop and hoops in a way that other publications and websites have yet to achieve. "I have always been a fan of SLAM," says Pooh, "for the simple fact that they dedicate their time to one of the most popular sports in the world." Pooh will be dedicating himself to NCAA's Men's tournament this year, which begins with its Round of 64 on March 18th, and concludes with a championship game in Indianapolis on April 5th. Sports and music fans alike can expect Pooh's March Madness musings at least twice weekly throughout the tournament on his blog at SLAMonline.com, aptly titled "Pooh On Sports." In addition to his ongoing thoughts on The Big Dance, Pooh will also be writing one pre-weekend prediction post and post-weekend wrap-up post every week. When asked about the prospect of sharing his b-ball ponderings with SLAM's readers, Pooh said, "Being able to share my thoughts and opinions on the sport of basketball with their readers was an opportunity that I could, and would never, have been able to pass up."
While Big Pooh is an instantly recognizable name in the hip-hop world, his superior sports knowledge is often overlooked. A self-diagnosed sports junkie, Rapper Big Pooh is the ideal basketball buff for SLAM's commentary on this year's NCAA Men's tournament. Having grown up in the Washington D.C. area, Pooh's allegiances lie with hometown teams Georgetown and Maryland. In lieu of a career on the courts, Pooh has spent a lifetime watching and discussing basketball, even starting his own blog a while back also titled "Pooh On Sports." This opportunity at SLAMonline.com gives Pooh a chance to engage in the nation's unofficial pastime – sports debate. "The thing I'm looking forward to the most in blogging for Slam is the feedback" says Pooh. "Sports debate between people who have no impact on the actual outcome has to be one of the greatest things in the world!"
Fans can expect further announcements from Little Brother, including tour info and other interesting developments on LeftBack's road to the release.
Read Rapper Big Pooh's first blog post for SLAMonline.com: http://www.slamonline.com/online/nba/2010/03/my-informal-introduction/