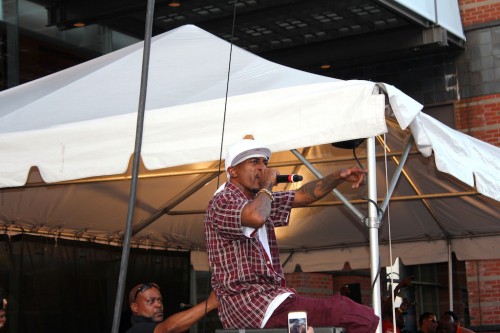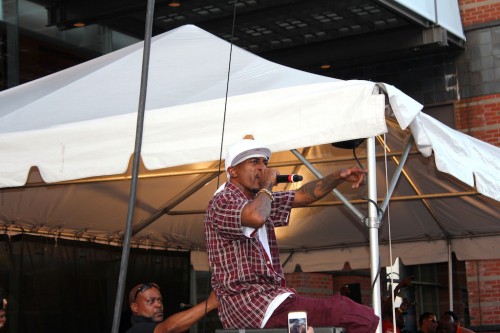 In Hip Hop there are few emcees that show up on a majority of "top 5" lists. Rakim is one of them. In Hip Hop, Rakim is synonymous with labels like icon and legend and deservedly so. He changed the way emcees flow and rhyme.
Throughout the summer, New Jersey Performing Arts Center puts on free concert events for the public at their complex in Newark. The size of the crowd suggests they definitely approve of Rakim as a guest. Previous performance alumni include Big Daddy Kane. Whoever is doing the booking over there knows what's good.
As expected, The God Emcee, went through his array of classic records including "I Ain't No Joke", "I Know You Got Soul", "Move the Crowd", and "Paid in Full". For a Hip Hop head this was a bucket list moment to be sure. The sound-man desperately needed to cut back on the bass a bit but that didn't ruin the moment.
For me, even better than the show was speaking with Rakim backstage. It is often said, don't meet those that inspire you because it most lkely will be a disappointment. There are many horror stories about people finally meeting their idols to find out that in real life they are not who they project themselves to be. To my delight, Rakim seemed to be the genuine article. Ra came off as that conscious, contemplative, chill dude trying to do good that his image suggests. In the deceptive world of entertainment, that is definitely a good thing.
NJPAC made a great choice booking Rakim and I don't think the fans were disappointed.
Check out a few of the pictures from the concert.