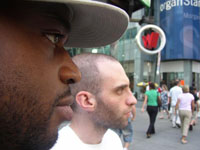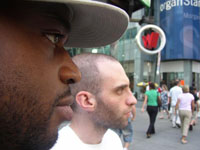 Quite Nyce and Seek of Radix are certainly unknown to many at this point, but with nearly 40 shows lined up for the rest of the summer, and another European Tour slated for the fall, you can only imagine how much merchandise they are selling to people who don't speak English. The fact that they are in front of thousands of people in Paris and are doing dozens of tour dates with he legendary Das Efx doesn't hurt their credibility neither. And go figure, they have another month of touring the Midwest this July, just by themselves. Do they ever stop?
DO French people know what Boston is all about? Tough to say.

SEEK: It wasn't easy to communicate in France not much English. Hopefully they know what RADIx is all about. Or at least those who came to the show.
Quite Nyce: They know what RADIx means , dope music..
Before we get into your music, did Transylvania suck or kick ass?
Quite Nyce: It's a blessing to come from where we came from and rock overseas. Every show kicked ass including Transylvania.
SEEK: Transylvania was a dope show…A lot of energy from the crowd. I hope we were able to match it. It was definitely one of the best stops on the tour.
I have seen you perform shows in NYC in front of nearly 15 people…how does it feel to be in the middle of nowhere Europe doing Jew-mongous shows with people you most likely grew up listening to?
SEEK: I think we were ready to perform in front of a large crowd. We have done a lot of shows for 15 people and less sometimes. It was nice to experience the energy and love from a large audience and feed off that. Maybe once or twice I stopped and said to myself 'we are on tour with DAS EFX'. But for the most part is was all business. We learned a lot from DAS and hopefully we can work together in the future.
Quite Nyce: Being in front of 15 people or less taught us a lot. We never ,ever will forget where we came from. It was time for us to be in front of a larger audience. We are built for this. People are starting to pay attention. Now those 15 people that came to the show in NYC that you went to are telling their friends. So now that 15 is 100.. SEEK and I are bringing that energy, each and every time. There aren't too many people that can do what we do. We have created our own lane , our own path, our own destiny.
Is it weird that i put in my Jewish shtick in here…?
SEEK: Gotta incorporate a Jewish shtick at least once an interview..so no not weird.
ok, so anyways…Your music is out on Amalgam, a branch off of Traffic Distribution who for those who don't know also released a legendary underground rap crew called The Juggaknots. Did you feel like this association was your first taste of success?
Quite Nyce: I personally don't feel like it was our first taste of success. It was just a record that they wanted. We all came to the table and made it happen. I want you and the readers to understand. This is just the start. The alpha stage. Success to me is when I can support my family and do anything I want in this life based on what I do in music. In my eyes, that's when I have made it. Then when that happens. I'll set new goals
SEEK: It's hard to measure success. Is success getting a show, is it getting in a newspaper. Is it making a million dollars..is it making a trillion dollars. I guess the most honest way I can answer this question is, no matter what happens or what we attain financially, spiritually etc etc. I will never feel like I've reached my ceiling of 'success'. There is always new ground to explore and new heights to reach.
Ok so this is your full time job?
SEEK: Yes. Music is my full time job. My whole life music was the only thing that I wanted to do. I went through school, I went to college got a degree. I worked in various jobs. But nothing ever made me feel like I was contributing. I felt like I was just drifting through life..Music is where I belong.
Quite Nyce: Yes , this is my life. I have worked in the corporate world , but it sucked. This is where I belong as well.
Who seems to get more foreign speaking women in the tour van on this trip?
SEEK: Haha…I don't think I can answer that question..What happens on tour stays on tour..
Quite Nyce : Kosha does. He gets all the girls..
Would you rather wife a fan from Pais or wife a fan from Italy..or wife a fan from Transylvania?
SEEK : Everywhere we went there were beautiful women. I would be lucky to wife a fan from any of the three. The only thing that might hold me back from Transylvania is, the show was an all ages event. So I don't want any problems with the law or irate parents..
Do your fans fall under a certain type of fan. For instance Necro Fans are insane. Non-Phixion has a cult following. Das Efx Camp Lo Souls of Mischief seem to have the same type of good vibe fans. I notice you have the 93 til Infinty beat on your myspace page as a remix…what do you think the long lasting Radix fan will have in their lifestyle. The way they dress? The food they eat? Would it be different form say, a Incubus or Fall Out Boy fan…
SEEK: Wow, you just threw a lot of fan bases at me. I would like to believe that a RADIx 'fan' would be somebody who simply likes good music. I don't want to put a label on people that listen to our music. We want the kids to be listening their parents, grandparents..We don't cater our music to a certain group of people. We just do what comes natural. Hopefully our career will be long lasting enough to have a long lasting fan.
please clarify!!!
How old are you guys ? We are 4 years old..That is how long we have been RADIx officially.
do you think you will ever get to headlining shows..rather than being the opener..?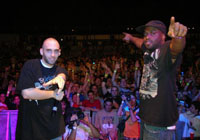 SEEK: It doesn't really matter whether we go on first middle or last..As long as we put on a good performance I will be satisfied..As long as we keep working hard, setting goals and reaching them, everything will fall into place.
Quite Nyce: Its all good man. Most people who aren't familiar with RADIx become fans halfway through our set. A wise man once told me if you're the support close the show down.
do you mind that hip hop is so much more out of the US??
SEEK: We do what we love to do and try to create our own path. If that path keeps us in the US fine, if that path takes us Overseas also fine. Hip Hop is our tour guide, we will follow it where ever it leads us..
being from Boston, how much loved do you get home.
Quite Nyce : Im not from Boston.. I'm originally from New Jersey and have done a lot of shows in Boston. I'm more focused on putting on the best show we can put on. Love is Love.
SEEK:I'm not really a love meter, but when we perform people seem to respond well. I think we are moving in the right direction..which is forward, up, making progress, being productive..etc etc..
Is it like New York, where there's lots of unknown hate on face but in reality you know what's going down in the fellow emcees mind?
SEEK: I try not to focus on negativity. We have so much to do there isn't really time to concentrate on what possibly could be going on inside someone's head. If it's not about positive vibes, moving to the next level, creating something rather than breaking something down..I'm not interested.
Quite Nyce : You think RADIx cares about what another emcee thinks. I care about earning the respect of cats that came before us. From our features to our tours, we chill with older cats. I never understood why one emcee would need validation from another. Get out and get yours.
are you familiar with sound scan?
SEEK: Yes I'm familiar with sound scan. Our current LP 'THE STAPLE' is over 2000 scans and climbing. Hopefully our numbers will go up with each release.
Quite Nyce : Let me add. That was with no touring and a very limited budget. We have grown leaps and bounds in a year. We don't focus on the numbers too much. The scans will come. As long as we keep growing everyday as men and as artists the numbers will come.
do you think you will be indie forever?
Quite Nyce: As long as we move up and are true to ourselves and our families it doesn't matter. I don't like labels , I like dope music. Whether indie or commercial we will still make RADIx music for our fans and the world.
SEEK: I think we will stay true to ourselves as artists and keep our integrity intact. As far as staying 'indie', we will do what is best for our careers and our lives. I think we will continue to move forward and hope for the best.
Is there a chance that Radix will just take over the Italian rap scene..and never come back to the US?
SEEK: Anything Is possible. That isn't really our plan, but like I said in an earlier question. Hip Hop is our tour guide, If music takes us to Italy, that is where you will find us.
According to WIKIPEDIA In mathematical numeral systems , the base or radix is usually the number of various unique digits , including zero, that a positional numeral system uses to represent numbers. What do you think it should really say?
SEEK: RADIx is a unique Hip Hop duo. Their music can be listened to and enjoyed by any Race, Color, Age, or Gender…Check out their live show when you get a chance.
Quite Nyce : RADIx equals good music. Support it.
what is the staple, for those who don't know?
Quite Nyce : It's the foundation to what is about to happen. We saw a vision and recorded it. The masses accepted it. Now we are building on that foundation.
SEEK: The Staple is our debut LP. The album is our introduction to the world as RADIx. We chose to call it The Staple because it takes you through the entire spectrum of our versatility. We wanted to come out swinging and really show of who we are as people and artists.
Do you think for the fact that you tour like those indie rock band kids will let you be on top of all other rappers in the long run, or will it make you old and grey like that guy from Wayne's World who was everyone's roadie? ….
Quite Nyce : Touring is the way to make it in music today. We are making our own fan base. We are developing a better live show. We are moving units. We are becoming more selective with the type of tours. We want to maximize our touring experience. We wont be old and gray roadies. We will be old and gray with a Cuban cigar sitting behind a desk in our office space. YES!!
I googled you a few times….what does this following line mean to you? The staple – Abstrak records Buen disco desde Boston, hip hop para tardes …
Quite Nyce Go get The Staple because its good.
what about 12" records….any worth in them for RADix in the future?
SEEK : We definitely plan to press something on vinyl again in the near future. We didn't realize how heavily sought after vinyl is overseas. It doesn't do as well in the states. So yes a new 12 inch will be on it's way shortly.
How are you really gonna win in this game, where hip hop sales are down 33% this year?
SEEK: The key is to constantly be working on every aspect of the game. It's like a good ball player. They have to sharpen each element of their game. So keep touring, making music, getting press, promoting…and do all of that well.
who is next up for most weird collabo of RADix ?
Quite Nyce: We are down to work with whoever. Any genre of music. If they have the same vision and we both can build, why not. That's not weird. That's good business.
SEEK: Nothing lined up right now..But hopefully we can work with some of the people that we look up to.
What does "The Grind" mean to you?
Quite Nyce: It means RADIx (Quite Nyce and SEEK)
SEEK: Never Quit. Believe it or not, that is the most important thing to remember.
I heard that a duo is hard to do business with because one might be putting in more work than the other….is that true in your books?
SEEK: I can only speak for us. That is definitely not the case when it comes to RADIx. We operate like a team, a team that wants to win the championship.
Quite Nyce: YES!!! How can I follow that answer. Well said. We are a team that's about to win a championship.
ok cool …but which one of you is a better rapper…and do you split each others rap $$ evenly?
Quite Nyce: There is no competition within the group itself like that. But there is, in the sense of we want each other to shine on everything thus making RADIx a problem.
SEEK: We both bring different things to the table lyrically that is the beauty of what we do. We are so different individually. but when we come together everything fits.
OK….so this are the last one….why did the gefilta fish cross the road? ……
Quite Nyce : Cuz he heard RADIx and had to meet them.
Are you fan of Kosha Dillz at the diner with a hamburger deluxe and extra coleslaw order? ……
Quite Nyce: KD grinds. I see you. I am a fan because I am Beautiful.
What would RADIx be without Quite Nyce or Seek?
SEEK: RADIx wouldn't exist without Quite Nyce or SEEK
What would RADIx special move be on WWE tag team wrestling?
SEEK: The Back N Forth…it's the it's the it's the…body slam
Quite Nyce: and a side of Choke 'Em , Choke "Em ..
Any shout outs or things we should look out for in the future?
SEEK And Quite Nyce : Legendary Masterminds (Zac an Andy) they do all of our recording and mixing. Every producer that took a chance on us. Dr. Sixshot, Tae One, Mefe, Raw Bird, Explizit One, Tuned Beats. Sonya our beautiful publicist. Everyone who supports RADIx…and last but not least..MOM. Look out for RADIx TV DVD. Quite Nyce and SEEK solo double album. More touring..Myspace.com/RADIx
Quite Nyce : O Big shout to Nasty Ness. The tour manager that took one of the biggest gambles in his life and won the mf megabucks with RADIx.. LETS MAKE THESE HEROs.. haha. Mom and Sis. I told you.
Thanks guys….Ya'll are doing it and an inspiration to all people who are really trying to figure out what GRIND MEANS.
Kosha Dillz, aka Rami Even-Esh, writes about tomatoes oranges and matzah while he is not eating them. Other times, he enjoys making friends across the globe and rapping for Jewish shtick rights, Israel and New jersey all at the same time. Have fun at www.myspace.com/koshadillzinyomouf and coming soon…www.koshadillzworld.com !!!