Attend major hip hop events – Exclusive activities ( Dance / Graffiti / DJ & Studio / Emcee / Beatbox / Streetball … ) – Hip Hop related tours and visits – Meet & greet legendary artists
"THIS IS HIP HOP" Concert & Party Events in NYC!
LIVENDIRECT.EU presents the best of American & European Hip-Hop on April 14th & April 17th
Brooklyn, NY March 21st, 2011 Brooklyn Bodega, producers of the annual Brooklyn Hip-Hop Festival, announce that in conjunction with LIVENDIRECT.EU that "THIS IS HIP HOP" is a two part event with a party at Santos Party House on April 14th and concert at B.B. King's on the April 17th with headliner Raekwon of Wu-Tang.
"Hip-Hop has always been an international affair. I'm excited to see Rae perform something off of his latest release, Shaolin vs. Wu-Tang. As a born-and-raised New Yorker, I'm also looking forward to seeing some of these European MCs like DJ Kheops and Shurik'n perform on the same stage as my American favorites."
– Wes Jackson, President, Brooklyn Bodega
The "THIS IS HIP HOP" party at Santos Party House will feature legendary Hip-Hop MCs Keith Murray, Lords of the Underground, Group Home, Real Live, Nine, Shabaam Sahdeeq, K Banger, Crazy Legs, DJ Evil D, DJ Eclipse, Rockin Rob, Kon & Amir, DJ Ralph Mc Daniels – Fearless 4 – Special invited VIP surprise guests and more …… Hosted by D-Stroy ( Arsonists ) and more! DJ Kheops (Europe's number one soul/funk/Hip-Hop DJ) of the legendary French group IAM who has been in the game for 30 years will also be performing. Several VIP Hip-Hop legends will honor the happening with their presence. Hosted by D-Stroy ( Arsonists ) this is definitely gonna be a night to remember!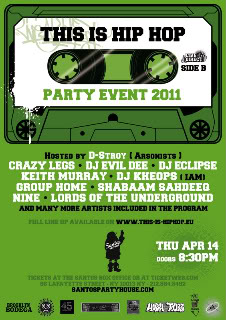 —
What: "THIS IS HIP HOP" Party Event
When: Thursday, April 14th
Where: Santos Party House, 96 Lafayette Street
Entry: Doors at 8:30PM
www.SantosPartyHouse.com
—
The "THIS IS HIP HOP" concert at B.B. King's pairs headliner Raekwon of the Wu-Tang Clan with French heavyweight Shurik'N from the legendary French group IAM. New Yorkers can experience basically the best of both worlds united on one stage! Besides these two major MCs fans can enjoy performances from legendary acts including Ultramagnetic MCs ( Exclusive Reunion show ), MC Eiht ( Compton's most wanted ), Bushwick Bill ( Geto Boys ), Chip Fu aka Jungle Rock Jr ( Fu-Schnickens ), Da Bushbabees aka Dub Rock All Stars, Tanya Morgan, Desert Eez ( Wu-Tang Affiliates ), Creative Juices feat IDE UG JISE I AM MANY, Greysquare & Respect tha god, Tony Touch and DJ Flawless. Special invited VIP surprise guests and more! Hosted by D-Stroy ( Arsonists )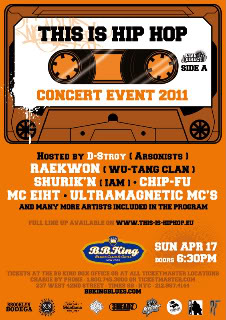 —
What: "THIS IS HIP HOP" Concert Event
When: Sunday, April 17th
Where: B.B. King's, 237 West 42nd Street
Entry: Doors at 6:30PM
www.BBKingBlues.com
—
Event Description:
Bigger than just an event, "THIS IS HIP HOP" is a social and cultural happening. Attendees get to witness international Hip-Hop acts culture for this first edition on two stages in New York City. The "THIS IS HIP HOP" project is designed to bring together the diverse mix of people that celebrate the positive aspects of Hip-Hop culture with a diverse line-up of Hip-Hop artists that come from across the globe!
—
Full program overview via www.this-is-hiphop.eu
"THIS IS HIP HOP" Promo Video:
THE LIVENDIRECT.EU Travel Experience Video: http://vimeo.com/16413510
For interviews and press information please contact Pamela Bishop at pamela@brooklynbodega.com or info@this-is-hiphop.eu
—
Event Sponsor:
ID INTERNATIONAL EU is a Belgian based company that offers international programs and thematic travel for groups. As one of its most popular programs, LIVENDIRECT.EU promotes the true values of Hip-Hop culture with its unique approach of "Build and connect, travel and acquire some knowledge!" The LIVENDIRECT.EU Travel Experience brings European fans to several urban destinations where they get to attend major Hip-Hop events, meet and greet legendary Hip-Hop pioneers, participate in several hip hop related tours and visits and attend exclusive activities and lectures. Alongside the tour operating aspect, LIVENDIRECT.EU also provides networking, communication and promotional services, logistics for events and booking opportunities on the European territory.
—
Brooklyn Bodega is a multimedia content production and branding company. Our brand extends into event production, journalism and critical media analysis, digital and grassroots marketing, radio, video, and content distribution. While The Bodega is best known for producing New York City's largest Hip-Hop event, The Brooklyn Hip-Hop Festival; our expertise also manifests in Brooklyn Bodega Radio, Bodega TV, our blogazine and online home BrooklynBodega.com, and most recently The Bodega Agency, our boutique marketing and branding operation.
The Bodega is made up of an extraordinary group of cultural programmers, marketing professionals, writers, designers and academics who have heeded their own personal call to action and have dedicated themselves to the celebration and preservation of Hip-Hop culture.