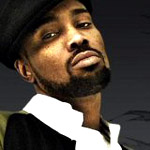 D-12 front man Proof, born Deshaun Hotlon, was shot and killed this morning
at a Detroit club
on the famed Eight Mile Road.
He was dead on arrival, of gun shots to the head, at Conner
Creek Medical
Center in Detroit. Proof was 32.
A second man, age 35, was also shot
and is in critical condition. Rumors have been circulating that the identity of
the man is D-12 member Bizarre but that has yet to be confirmed.


Proof was among the most pivotal players in Detroit hip-hop, and revered as one of the best
battle rappers in the city and would handle anyone who dared to challenge him.
In the mid-'90s, Proof's Saturday afternoons were spent hosting rap battles
at the famed Hip Hop Shop on Seven Mile Rd., a role that would be fictionalized
by actor Mekhi Phifer in "8 Mile," the Hollywood blockbuster film in which he
Proof also played a bit part.
Proof was a steady hand for Detroit's
then up-and-coming hip-hop scene. It was his idea to assemble a collection of Detroit's best hip-hop
talent and call it D12; it was his hand that helped push Eminem to become one
of the world's biggest pop stars, including serving as his on-stage hype man on
concert tours.
After the release of "8 Mile," when battle rap was gaining newfound
commerical exposure, Proof was hired to host a national search for the next
best battle rapper by Showtime Networks.
In Detroit, he hosted Fight Club, a battle rap
competition that would happen near his Iron Fist Records offices, which are
located on Bagley in Detroit.
There, Detroit hip-hop elite would gather and
listen as up-and-comers on the hip-hop scene would verbally duke it out,
looking to become as big as Proof, Eminem or other Detroit hip-hop comrades.
In January, he served as best man in Eminem's wedding, giving a poignant toast
about how it's important to marry your best friend. D12 was scheduled to begin
recording its third album this month.
Triple C club was operating afterhours illegally when the incident occurred.
Anyone with information on the shootings is asked to call
Detroit Police at 313-596-2260.