Necro Announces Release Date Of May 18 For New LP DIE!
With New Universal/Fontana Distribution Deal In Place, Necro Prepares Sixth Studio Effort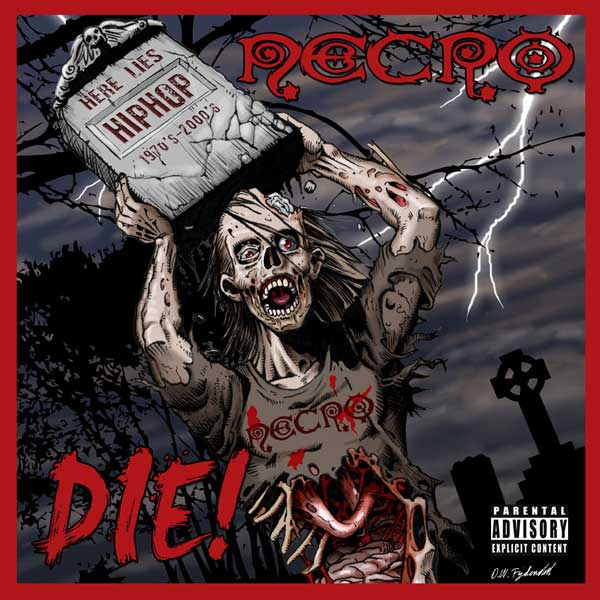 DOWNLOAD: Necro – Set It
"Brooklyn-bred rapper Necro, who has cultivated an immense cult following in his career is back with another chapter in his self-styled brand of blood soaked hardcore hip-hop. The sixth studio release of his career, DIE!, scheduled for a May 18th release throug his own Psycho+Logical-Records, will be the artist and label owner's first album released through the new distribution deal with Universal/Fontana.
DIE! is the emcee's vision of hip-hop back from the dead. "Like Nas said, hip-hop is dead," says Necro explaining the underlying theme behind the album's artwork and title. "Well if it died, then I am what it would be if it came back to life." With initial buzz brewing around the project thanks to the highly controversional video for the album's first single, "The Human Traffic King (White Slavery Pt. 2)," the album also includes forthcoming singles "The Kink Panther" and "Sorcerer of Death's Construction," with videos already in production.
Completely self-produced, Necro, who also recently lent his production efforts to Raekwon's highly acclaimed Only Built For Cuban Linx II, entered the studio armed only with his engineer and a vision: Creating an album that could compete with his classic Death Rap. "Death Rap raised the bar, and I think I succeeded in competing with it," the emcee maintains. Flaunting his ability to craft vivid images that range from the insane to the psychotic with equal parts sex and violence, the results are striking.
To the uninitiated, it may appear Necro's brand of hip-hop caters to a small niche audience. Releasing his product on his own Psycho+Logical-Records, the indie label has shipped over a million and a half units worldwide. No small feat in a time when most indies prefer digital only releases and struggle to find ways to sell physical records, Necro's newly minted distribution deal with Universal/Fontana looks to make this release Necro's biggest to date."