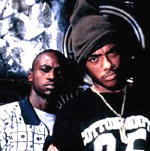 Just a few minutes ago on May 2, 2006 at 4:14 PM a bulletin was posted up on the internet site Myspace.com seemingly from Mobb Deep. The message was in regards to their relationship with 50 Cent and G-Unit. The bulletin was titled "We Mobb Deep. Not G-Unit!!!!". Immediately speculation started swirling as to the validity of the message as well as fans in support of the action the message indicated that Mobb Deep was going to take.




The following is the message that was broadcast to the about 50,000 plus members of the Mobb's friend list.
We Mobb Deep. Not G-Unit!!!!

If you havent
heard, well 50 was on MTV a few seconds ago saying how he played the
Mobb and all that signing us to humiliate us and how he munipulated us
to sign those contracts which gave us a lot of money up front, but to
only only owe a lot of money in the end and own Mobb Deep's publishing.
Well fuck that, the Mobb owns the Mobb, and not no fruit ass "Candy
Shop" mutherfucker like 50 Snitch!!!! Dont support the wack new album,
which is 50's choice of songs. We will hit the streets with that real
Mobb shit soon, so fuck G-Unot!!!!..We MOBB DEEP!!!! DONT BUY THE
ALBUM!!!!….We runnin with Ja Rule and Murder INC. cause them niggaz
is real and pull this niggas (5-0, get it, five-0) ho card!!! This the
Mobb Dun!!!

Reportedly, 50 Cent wasn't on MTV today and so the speculated reason has been that their account has been hacked. The bulletin has since been deleted (and hopefully password changed) and would lend credibility to the idea that their account had been hacked.