Mister Cartoon and Snoop Dogg Collaborate With Metro PCS Sanctioned Phone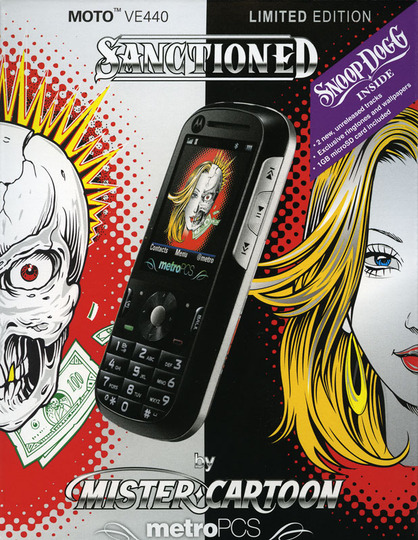 The big homie Snoop Dogg hooked up with tattoo artist extraordinaire Mister Cartoon to launch the brand new MetroPCS Sanctioned mobile phone by Mister Cartoon.
Exclusive to MetroPCS, the Limited Edition Moto'Ñ¢ VE440 features two interchangeable back covers adorned with Mister Cartoon's distinctive, custom artwork. The new Snoop Dogg integrated Sanctioned phone comes with 1GB MicroSD memory and pre-loaded with exclusive wallpapers and ringtones from Mister Cartoon and Snoop Dogg, including two brand new songs from the platinum-selling rapper, "Slow Feel" and a remixed version of "Snoop Dogg Millionaire."
Head over to SanctionedMobile.com to get the full run down on the new Snoop Dogg x Mister Cartoon integrated Sanctioned Motorola phone.
Mister Cartoon Graffiti Bombs NYC
MetroPCS Stores!

Mister Cartoon-MetroPCS Night Bombing at Metro PCS Stores from sanctionedmobile on Vimeo.
Exclusive to MetroPCS, VE440 featuring the Mister Cartoon design comes in a black and chrome color combination and offers something for everyone with two interchangeable back covers featuring Mister Cartoon's distinctive, custom artwork. In addition to the unique exterior, consumers will receive a 1GB MicroSD memory card featuring two previously unreleased full-length tracks by multi-platinum, award winning recording artist, Snoop Dogg. Pre-loaded phone content includes exclusive wallpapers and ringtones from Mister Cartoon and Snoop Dogg.
Mister Cartoon is a renowned tattoo artist, car customizer, illustrator and designer and has worked with numerous entertainment icons including Eminem, Beyonce and film producer Brian Grazer. Mister Cartoon most recently worked with television star George Lopez to help create the branding and identity for Lopez's new talk show, "Lopez Tonight."
"It's great to collaborate with MetroPCS again, and we are very excited about the opportunity to work with Motorola on this handset," said Mister Cartoon, creative director of SA Studios Global. "The mobile phone has become so much more than just a communication device; it's a way for people to express themselves. The design I created, along with the cool features and music that Snoop Dogg added will allow fans to show people who they are and what they're passionate about."
The handset will be available exclusively at select MetroPCS locations and online at www.metropcs.com/sanctioned. A portion of the revenue generated from the handset sales will go directly to funding community art centers, outreach programs for at-risk youth and art supplies for schools in many of the MetroPCS markets.