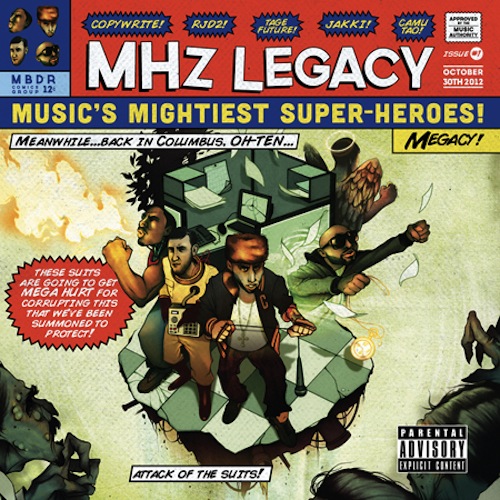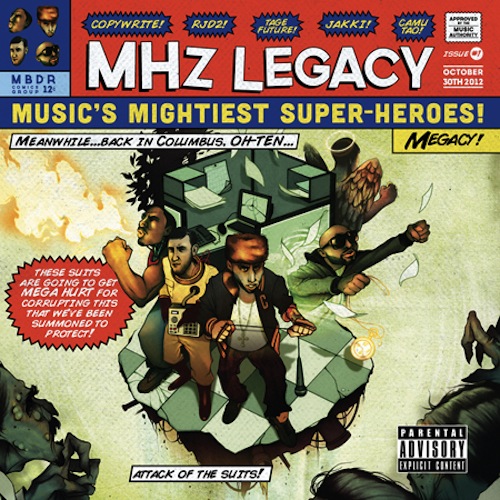 MHz Legacy aka Copywrite and RJD2 join up with Slug to bring "Satisfied" off of the upcoming self titled album MHz Legacy.
PR:
ext week, on October 30th, MHz Legacy will release their new, self-titled album via Man Bites Dog Records. Today, MHz Legacy is releasing the album's latest single, "Satisfied," a track produced by RJD2 that features Slug of the group Atmosphere.
Excitedly, "Satisfied," which was premiered today by MTV Hive, is one of six songs from MHz Legacy that reunites the crew with longtime producer RJD2. The track, a beat that RJD2 refers to as having a "mellow, kinda slow-roller vibe," serves as the perfect foundation for the track's guest, Slug of the beloved hip-hop group Atmosphere, who delivers the track's first verse. "Slug brings honesty," says Copywrite, while RJD2 notes that Slug inspired the driving motif of the track. "He brings a nice, laid back style," says RJ.
The group, honoring fallen member Camu Tao who passed away in 2008 after battling lung cancer, continues his legacy with RJD2 on the beats and Copywrite on the mic. The release from Man Bites Dog Records features many of hip-hop's finest rappers and producers and the latest single, "Satisfied," features Slug (of Atmosphere) and is produced by RJD2.
Copywrite's verse, which shows up second on the track, continues to show off the range that the group possesses, proving "Satisfied" to be one of the most playful records on the album. With his verse, Copy even pays tribute to De La Soul's 1991 "Ring Ring Ring (Ha Ha Hey)" single. "I chose to pay homage to De La because they're my favorite rap group," says Copywrite. "The song is playful, just like De La is, a very Bill-Murray-in-Ghostbusters 1 vibe."