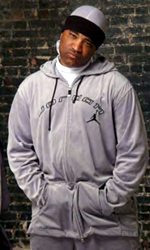 44 year old Hip Hop pioneer Marley Marl suffered a heart attack Tuesday. Fortunately Marl, born Marlon Williams in Queens, NY, is in stable condition and recovering in a New York hospital at this time. For the herbs that don't know Marley Marl is a founding member of the Juice Crew which included Big Daddy Kane, Kool G Rap, his cousin MC Shan and Biz Markie, and Masta Ace.
Marley Marl's latest release is titled "Hip Hop Lives," answers Nas' claim that, "Hip Hop Is Dead." Both artists hail from the Queensbridge Projects. "Hip Hop Lives" is a collaboration with former battle opponent KRS One and marks the first time the two have worked together since their infamous rap Queens vs. Bronx battles during the 1980s.
Well wishes go out to Marley Marl and his family.