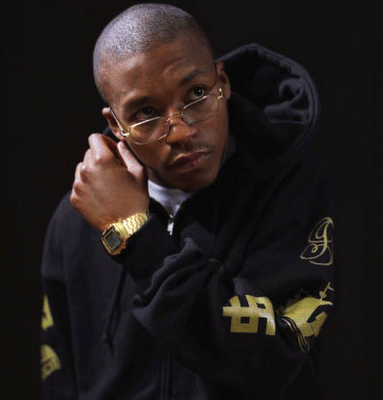 Recently the song "Shining Down" off of Lupe Fiasco's upcoming album Lasers was leaked to the net and ate up by blogs and websites everywhere offering it as a download. Lupe commented on one such blog with the following response.
what up ya'll…Lupe here…first lemme make a few things very clear.

1. I love the fansite alot i think its dope…i feel flattered that i have so many people interested and in support of my music and the messages that i try to stand for…and not just me but for Hey Champ and the crew and damn near anybody who even resembles me…you gives give them shine and i commend you for that.

2. I DONT LEAK MY OWN RECORDS!!! I'M NOT A FAN OF LEAKING RECORDS OR OF DOWNLOADING!!! My entire first album leaked and possibly cost me from going platinum my first time out as the final estimates of how many people actually downloaded that album illegally was well over half a million. So how do u think i feel that everytime i come to this site where my "fans" are i see you putting up links to download my records???…I dont care about the other sites. I care about where my real fans are supposed to be active. If you come across it and you like it and keep it to yourself thats all cool with me but to make it where as other people are able to download it in a public forum is honestly an insult to me. Especially because of how much i love you guys. that shit is kinda like a slap in the face.

3. FAKE SHORE DRIVES "UNRELEASED" RECORDS COME FROM MY OLD PRODUCERS WHO HAVE MY OLD HARD DRIVES. I DONT AGREE WITH THAT SHIT OR CO-SIGN IT AT ALL ITS THE REASON I STOPPED DOING MIXTAPES AND I TOLD ANDREW THIS WHEN WE MET IN CHICAGO AT THE COCA-COLA TOUR SHOW AND HE THOUGHT I WAS GONNA BE ALL PISSED BUT IT WAS ALL LOVE AND I TOLD HIM I KNOW WHERE HE'S GETTING THOSE RECORDS FROM AND HE AINT GOT WORRY ABOUT ME HE GOTTA WORRY ABOUT ATLANTIC OR ARISTA OR THE PUBLISHERS OF THOSE VERY "UNCLEARED AND UNCLEARABLE" SAMPLES.

Everytime i get the urge to do something new for my fans I go online and see "new unreleased lupe" from 6 years ago and i shrug and just say fuck it. Things like that fuck up the real plans and the mood. You dont just throw out bunch of records for the sake of having a bunch of records out. I dont operate like that as an artist. Some records aren't even meant to come out.

4. When we were talking about who should have first rights to new shit when we do officially "leak" something the only two sites that came up was LupEnd Blog and Nahright. Thats big whether you know that or not. You have a direct relationship with the artist you rock with who puts your name in the hat for everything that involves him online.

5. Someone hacked my email. I was about to fire my entire staff and cut off relationships over shining down leaking last night. Bun B hit me and was like "the records dope" and i was like "what record?" nobody even has it. the only possible explanation is my email chain with the mix studio (which is air tight…the studio that is) was hacked and thats where the record came from.

Lastly, the album is fucking ridiculous. I dont like to brag or shit like that but the album is sooooo fucking crazy at this point 95% done. and its all balls to the wall fire. I have the experience and the freedom now to make what i think will be the best received album of my career.

Lupe in the club??? Blasphemy!!!!

We're Not Losers…
Editor Note
People need to understand and respect that just because you are a fan or are interested in the artists works doesn't mean you have a divine entitlement to have it. An artists art is their art and they have the right to display it when and how they feel like it as they created it. I say this to respond to some of the comments regarding Lupe's response from the LupE.N.D. Blog and various tweets that floated around regarding this issue. That type of mentality is no different than that of the papparazi that constantly hound celebrities for every bit interest in their lives personal and professional.
Let's also be clear though that some "leaks" are actually sent out as promo and aren't stolen or hacked. This doesn't appear to be the case here.