"Calling Louder than a Bomb a documentary is doing it a disservice. It is an important film acted by real life kids with real life issues. It has drama and an arc that most dramatic films struggle to achieve. The soundtrack is powerful and engaging. This movie explodes off the screen and into your heart."

– Tom Silverman, Tommy Boy Founder & New Music Seminar Co-Founder/Co-Director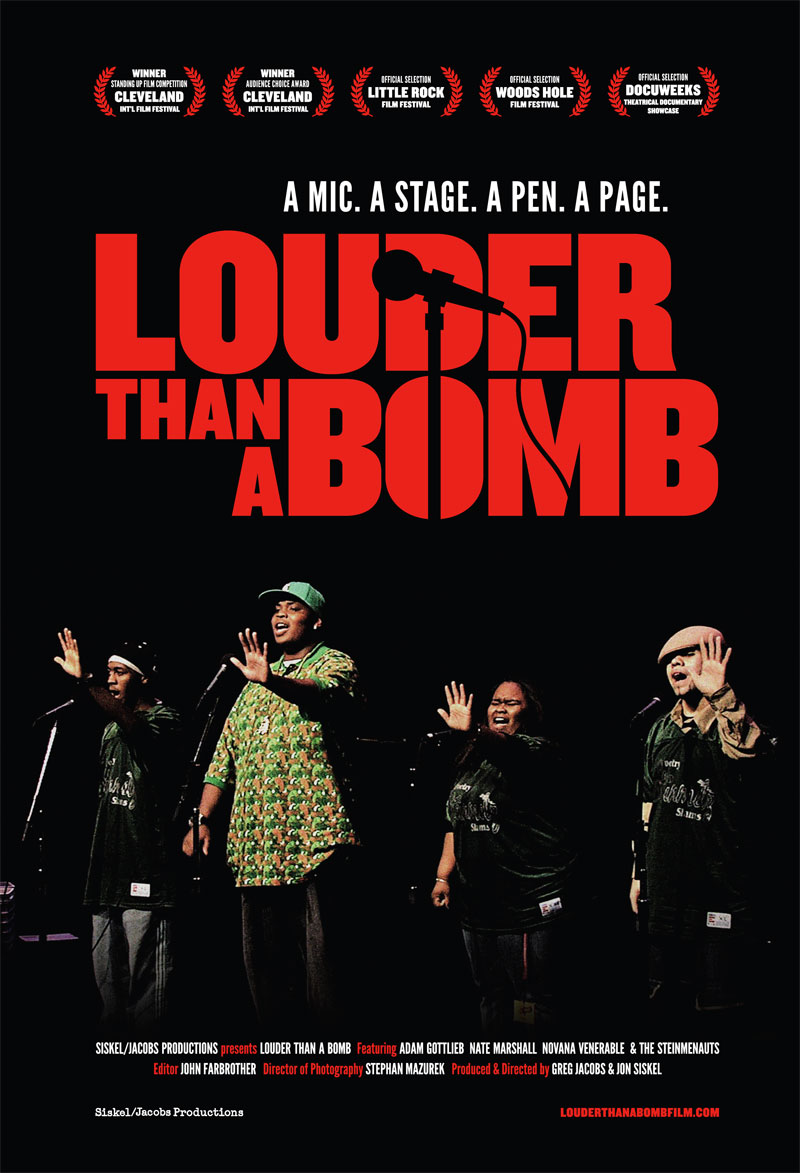 Louder Than a Bomb is a film about passion, competition, teamwork, and trust. It's about the joy of being young, and the pain of growing up. It's about speaking out, making noise, and finding your voice.
It also just happens to be about poetry.
Every year, more than six hundred teenagers from over sixty Chicago area schools gather for the world's largest youth poetry slam, a competition known as "Louder Than a Bomb". Founded in 2001, Louder Than a Bomb is the only event of its kind in the country-a youth poetry slam built from the beginning around teams. Rather than emphasize individual poets and performances, the structure of Louder Than a Bomb demands that kids work collaboratively with their peers, presenting, critiquing, and rewriting their pieces. To succeed, teams have to create an environment of mutual trust and support. For many kids, being a part of such an environment is life-changing.
Louder Than a Bomb tells the story of four Chicago high school poetry teams as they prepare for and compete in the 2008 event. By turns hopeful and heartbreaking, the film captures the tempestuous lives of these unforgettable kids, exploring the ways writing shapes their world, and vice versa. This is not "high school poetry" as we often think of it. This is language as a joyful release, incredibly talented teenagers obsessed with making words dance. How and why they do it-and the community they create along the way-is the story at the heart of this inspiring film.
UPCOMING SCREENINGS
Sept. 24: Harlem International Film Festival NYC

3:30pm Free Screening!
Harlem School of the Arts
645 Saint Nicholas Ave @ 141st St. NYC
harlemfilmfestival.com
Oct. 7 & 8: Hamptons International Film Festival
Oct. 7 @ 4:45pm + Oct. 8 @ 3:30pm
UA East Hampton Theater Long Island NY

ticketinguide.com
Oct. 8: Culver Center of the Arts – Riverside CA

3pm. Culver Center Film Theatre 3834 Main St. Riverside, CA culvercenter.ucr.edu
Oct. 11, 16, 18: Chicago International Film Festival
Oct. 11 @ 6pm. Oct. 16 @ 1:30 pm. Oct. 18 @ 3:30pm
AMC River East 21 322 E. Illinois St. Chicago IL
Oct. 27: Outside the Box [Office] – Los Angeles CA

7pm @ Ray Stark Family Theater 900 W. 34th St. Los Angeles, CA cinema.usc.edu
Nov. 4: Belmont World Film – Boston MA

7:30 pm. Studio Cinema 376 Trapelo Rd. Belmont MA
More screenings to be announced soon for Philadelphia, Austin, Wichita, St. Louis and beyond! Please visit louderthanabombfilm.com or our facebook page for more information and updates.
AWARDS &

OTHER FESTIVALS
Cleveland International Film Festival: Roxanne T. Mueller Audience Choice Award for Best Film
Cleveland International Film Festival:
Greg Gund Memorial Standing Up Film Competition
Woods Hole Film Festival:
Jury Award for Best Documentary
Woods Hole Film Festival:
Best of the Fest Audience Award
IDA DocuWeeks 2010:
Official selection
Little Rock Film Festival:
Official selection
REVIEWS
"'Louder Than a Bomb' is an affecting and superbly paced celebration of American youth at their creative best."- Robert Koehler, Variety
"Directors Greg Jacobs and Jon Siskel twist the genre in surprising ways – and, crucially, in the cast of largely urban kids preparing for a high school poetry competition, they showcase an energy, vitality, eloquence and charisma that make it one of the most inspiring and exhilarating documentaries in years." – Steve Pond, The Wrap
"A fascinating look at the world's largest youth poetry slam in Chicago. The directors hone in on four high school students, including one young woman who writes about her father's abandonment. Their poetry is inspiring, as are their performances." – Susan King, L.A. Times
"The film takes us into the lives of four young poets from different backgrounds and circumstances, whose passion for poetry helps them transcend boundaries. The writing of these kids give us insight into their often turbulent lives, but assures us that our youth have an intelligent and articulate voice which powerfully encourages us to listen. We are reminded of the power of words, the success of dedication, the importance of storytelling, and the force of camaraderie which are all encompassed in the extraordinary heart of this movie."- Woods Hole Film Festival Documentary Jury
"What bowls you over in this film is the depth and intelligence and passion of these young poets, how they throw themselves so completely into this form of expression, not only in the way they perform (explosively … louder than a bomb) but in how they open up about their lives (an absent father, caring for a mentally and physically impaired brother, coming to terms with what it means to be Jewish) and create something of extraordinary beauty. I can't imagine someone watching this film and not getting choked up. One of the festival officials said he thinks it will be nominated for an Oscar. I think he's right." – Tim Miller, capecodonline.com