League510 Gearing Up For Busy 2010 With Mixtape, Album, and Upcoming Tour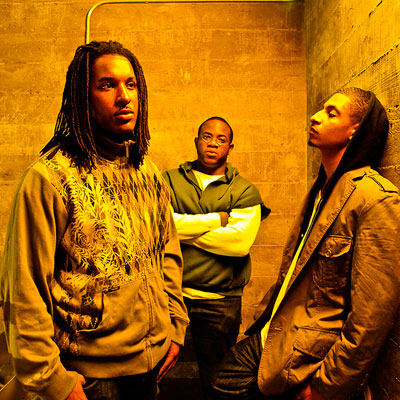 After simmering down from the buzz garnered from their smash single "I'm On", Bay Area pioneers of 'Town Techno' League510 are preparing themselves for a massive invasion of fan's auditory senses in 2010. The group, which consists of emcees TK, MONT, Mr. Knowitall, and DJ Blacksmith, has a busy year ahead of them consisting of a new mixtape, a new album, and tour to top it all off.
League's as-yet-untitled new album will be released in spring 2010 and is poised to bring the town techno movement into the national spotlight. A mixtape titled Invasion Vol. 1 will be released as a precursor to the album in January. When asked about the challenges of balancing so much, Mr. Knowitall replied, "It's definitely going to be a challenge, but we're up to it. This type of opportunity doesn't come around often, so we feel blessed to be in our position."
The first mixtape track to be released is "Nightlife" feat. J-Billion and 1-O.A.K. The track is somewhat of a departure from "I'm On", League's mtvU Freshman-winning single. Hard-hitting drums instantly get your head nodding, with heavy synthesizers guiding the flow of the song. Lines like, "How we feelin'? Kanye this the good life, Chevy boy rims spinnin' in them bright lights, white right we colder than dry ice, nice white tight precise…" showcase that the group's lyricism is as important as the beat they rhyme over.
League510 will be touring in early 2010 to promote their upcoming projects. Setting off from Sacramento, the "Dope Winter Ball Tour" will stop in twelve key cities in the Western U.S. and will feature Tash of the world famous Alkaholiks, and The Bayliens.
"Dope Winter Ball Tour" Dates:
1/06/10 The Blue Lamp (With Host T-Kash) – Sacramento, CA
1/07/10 Star Bar – Park City, UT
1/08/10 Zebra Cocktail Lounge – Bozeman, MT
1/09/10 The Blvd – Spokane, WA
1/12/10 The Black Sheep – Colorado Springs, CO
1/13/10 The Ash St. Saloon – Portland, OR
1/14/10 Chop Suey – Seattle, WA
1/15/10 Neurolux – Boise, ID
1/16/10 The Urban Lounge – Salt Lake City, UT
1/17/10 Whiskey Dicks – South Lake Tahoe, CA
1/18/10 The Tonic Lounge – Reno, NV
The Background:
Emcees TK, Mont, Mr. Knowitall and DJ Blacksmith better known as League510 are pioneers of a sound that is all their own, Town Techno. With a sound that is out of this world, League510's musical journey began in a galaxy far away from ours. After traveling the universe for years, they entered our galaxy and our planet shortly thereafter. With sights on our world, the quartet chose to land in the hills east of Oakland, CA. After hiding their ship deep in the hills they approached this new town with great curiosity and were immediately amazed by the vibrant culture that they found. Adopting the Bay Area scene as their new home, League510 wasted no time in beginning their new musical journey here in our world. Using advanced abilities, the four emcees quickly mastered the art of sound and gave birth to Town Techo, a form of music that would unite the people in heightened awareness; to show them to take action, to appreciate the fun in life, to believe in themselves and to believe in The League.
Please contact Michelle or Dan if interested in talking with League510
About Clear Label Records:
Founded in Oakland, CA in 1999, Clear Label Records has established itself as one of the top independent labels in the Bay Area. The company is owned and operated by Tajai Massey, renowned recording artist with the group Souls of Mischief and the crew Hieroglyphics, who brings a unique perspective to the label utilizing his experiences as a major-label recording artist turned independent label owner & successful touring musician.Clear Label is home to recording artists of many genres such as Chris Marsol, Baby Jaymes, FamSyrk, Deep Rooted, League510, and more. Through a partnership with Pushing the Beat (PTB) called ClearBeat, the label is also home to Oakland's hottest street artists including Beeda Weeda, Shady Nate, D-Lo, Sleepy D and others. Look for full-length releases from all of these artists in the near future.For more information, please visithttp://www.clearlabelrecords.com