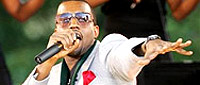 Daredevil stuntman Evel Knievel is suing rapper Kanye West over a music video in which the star jumps across a canyon in a rocket-powered vehicle.
Knievel, 68, claims the video infringes copyright and tarnishes his image by its "vulgar, sexual" nature.
In it, West is renamed Evel Kanyevel, wears a jumpsuit similar to Knievel's and cavorts with Pamela Anderson.
Knievel is seeking damages and a halt to distribution of the video, which was made for the single Touch the Sky.
"The guy just went too far using me to promote his filth to the world," said Knievel. "What a cheap shot. What a cheap, two-bit shot."
A spokesman for West said he had no comment.
Canyon jump
The video, which was released earlier this year, appears to be a parody of Knievel's attempt to jump Snake River Canyon in Idaho in 1974.
The stunt failed after a parachute on his rocket-powered "Skycycle" opened too early.
In his legal case, Knievel, whose real name is Robert Craig Knievel Jr, says the vehicle featured in West's video is "visually indistinguishable" from the Skycycle.
In addition to West, record label Roc-A-Fella and video director Chris Milk are named in the case.
Knievel's lawyer, Richard Fee, dismissed suggestions that the video could be defended on grounds that it constitutes parody.
"A parody is something that's characterised by comedic content and that video is not a comedy," Mr Fee told Reuters news agency. "It's a music video used to sell Mr West's musical works."
Stage protest
It is not the first time the video had attracted controversy.
When it failed to win the award for best video at this year's MTV Europe music awards, West stormed the stage to protest.
"[My video] cost a million dollars, Pamela Anderson was in it, I was jumping across canyons," he said. "If I don't win, the awards show loses credibility."
He later said the award had gone to dance act Justice vs Simian as a "spreading-the-wealth type thing".
Knievel's death-defying stunts made him a household name in the 1970s.
He has broken about 40 bones through 300 motorcycle jumps, and is full of plates and titanium parts.
The stuntman says his health is failing, having suffered a stroke in September 2005, enduring chronic back pain and the lung disease pulmonary fibrosis.
He said doctors gave him three years to live in 2005, "so now I'm down to two."
"I hope they come out with a new medication that will help me," he said. "But who knows?"
*
Courtesy of BBC News
Editors Note:Perhaps I was watching a different video than Mr Knieval because I don't recall that video being "vulgar" and "sexual". Sounds to me like there is a little more going on here in his mind. There are alot of artists in Hip Hop whose music can be classified as promoting "filth to the world" but I'm not sure that Kanye would fall into that category. Perhaps I'll have to watch it again.
I'm not going to make any assumptions to Mr. Knieval's finance situation but I would be inclined to believe that this was more about needing money than copyright infringement. The video has been out and gone away for perhaps about a year now? It's not even in rotation any more. I'm sure someone had told him about this before now. Why sue now and not last year if you were really all up in arms over it? Bad form for the stuntman legend in my opinion.