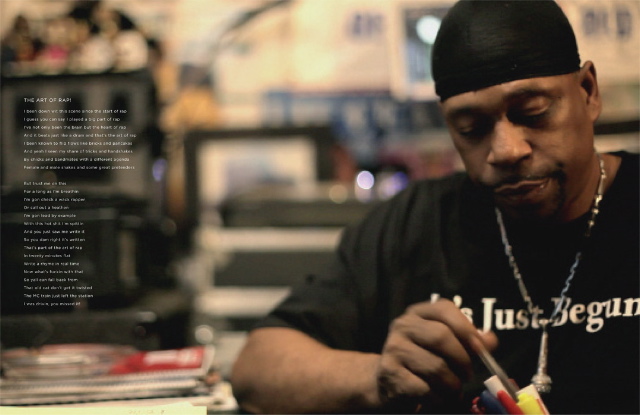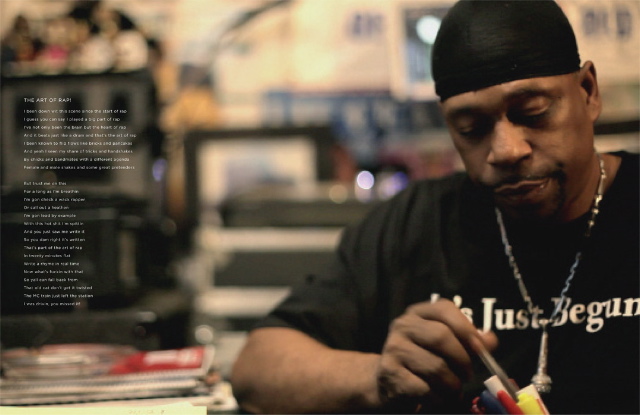 Written! The Lyrics of GrandMaster Caz
Grandmaster Caz is one of the most important and one of the most influential of Hip Hop's pioneer MCs!Caz is perhaps best known for rhymes he didn't even perform — namely, the uncredited verses that Big Bank Hank borrowed for the groundbreaking Sugarhill Gang single "Rapper's Delight." The lyrics were stolen from him and he has never been credited or paid a dollar for writing the words to possibly the most famous Rap record ever.
Caz went on to join the legendary Cold Crush Brothers whose party rocking style would greatly influence many of Rap's greatest MCs.
In 2012, Caz became the unexpected star of Ice-T's seminal rap movie Something From Nothing: The Art Of Rap. In the movie Caz receives props from many of the cast, including Ice-T, Rev Run, Rakim and Eminem, who cite him as one of the godfathers of Rap. As a result of the movie Caz's career is enjoying a significant renaissance. Notable for his extraordinary penmanship Caz's favorite rhymes are reproduced from his notebooks and published for the first time in this beautiful book.
Available NOW at
Press please contact matt@savagegringo.co.uk for more review copies, images, an interview with GrandMaster Caz and more!
Retailers please contact shop@thelyricbookcompany.com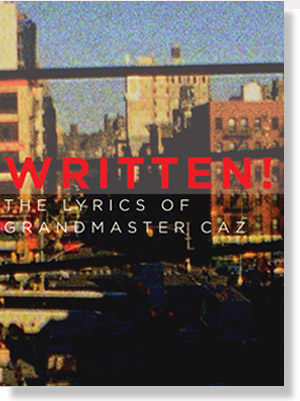 44 Songs   132pp   245x190mm   SoftbackPub. Date: December, 2012
"Its hard to describe the constant outpouring of love and respect that I have witnessed for Caz over the two years that it took to make our movie. Caz has been described as The Robert Johnson of rap; very little recorded music by Caz exists due to him being stuck in a restrictive deal for 20 years. The esteem in which he is held by his peers is quite extraordinary. When we interviewed Eminem for the movie he asked me " Is this the same film that Caz is in?" I said it was and he said "Dope – let's do the interview!"  – Paul Toogood Producer of Something From Nothing: The Art Of Rap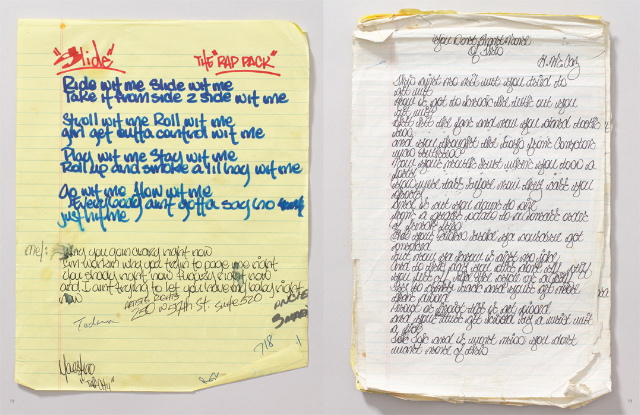 About GrandMaster Caz
The first simultaneous DJ and MC in Hip Hop history, Grandmaster Caz is perhaps best known for rhymes he didn't even perform — namely, the uncredited verses that Big Bank Hank borrowed for the groundbreaking Sugarhill Gang single "Rapper's Delight." The fact that neither Caz nor his group the Cold Crush Brothers ever recorded an official full-length album also doesn't help shed much light on his legacy — an unfortunate injustice, considering he was one of the most important and influential pioneers of Rap.
Grandmaster Caz was born Curtis Fisher and grew up in the Bronx, where DJ Kool Herc began playing block parties in the early '70s. Caz attended his first Herc party in 1974, and was amazed by the huge, booming sound system and the way Herc worked the crowd. Inspired to try doing the same thing, he immediately purchased some equipment and adopted the DJ name Casanova Fly (which later morphed into Grandmaster Caz).
After honing his skills, Caz teamed up with JDL (aka Jerry Dee Lewis) to form the Notorious Two, and during this period became the first DJ to rap while handling records on the turntables. Both Caz and JDL joined the Cold Crush Brothers circa 1978-1979, with Caz becoming a full-time MC.
In 1979, former R&B singer and label head Sylvia Robinson discovered Caz's friend Big Bank Hank rapping along with one of Caz's practice tapes. Impressed, she invited him to become the third member of a studio Rap group called the Sugarhill Gang, which was set to record the first Rap single. Without revealing the true author, Hank went to Caz and asked to borrow the rhymes for the record; Caz agreed, hoping for an eventual favor in return — which never materialized, and neither did songwriting credit or royalties.
Despite that mishap, Caz did find a measure of underground success with the Cold Crush Brothers. They recorded several singles for the Tuff City label during the early '80s (compiled in 1996 on Fresh Wild Fly & Bold), and became one of the most popular live rap groups in New York during the pre-Run-D.M.C. era. Most prominently, the Cold Crush Brothers appeared in the 1983 cult classic Hip Hop film Wild Style, which has since become a cult classic; they recorded the theme song and engaged in an MC battle with their chief rivals, GrandWizzard Theodore and the Fantastic Five.
Like most other true school artists, the Cold Crush Brothers didn't survive the advent of Run-D.M.C., and Caz launched a brief solo career in the late '80s. Again recording for Tuff City, his singles included "Mr. Bill," "Yvette," "Count Basie," "I'm Caz," "Casanova's Rap," and "Get Down Grandmaster." None of them made much of an impact, and Caz faded from the music scene for a time. With more attention being paid to the roots of Hip Hop in the late '90s, Caz's name resurfaced as an early pioneer, and he began making appearances at historical conferences like the one staged in 1999 by the Rock and Roll Hall of Fame. In 2000, he released a new single titled "MC Delight," which addressed the "Rapper's Delight" controversy.
GrandMaster Caz