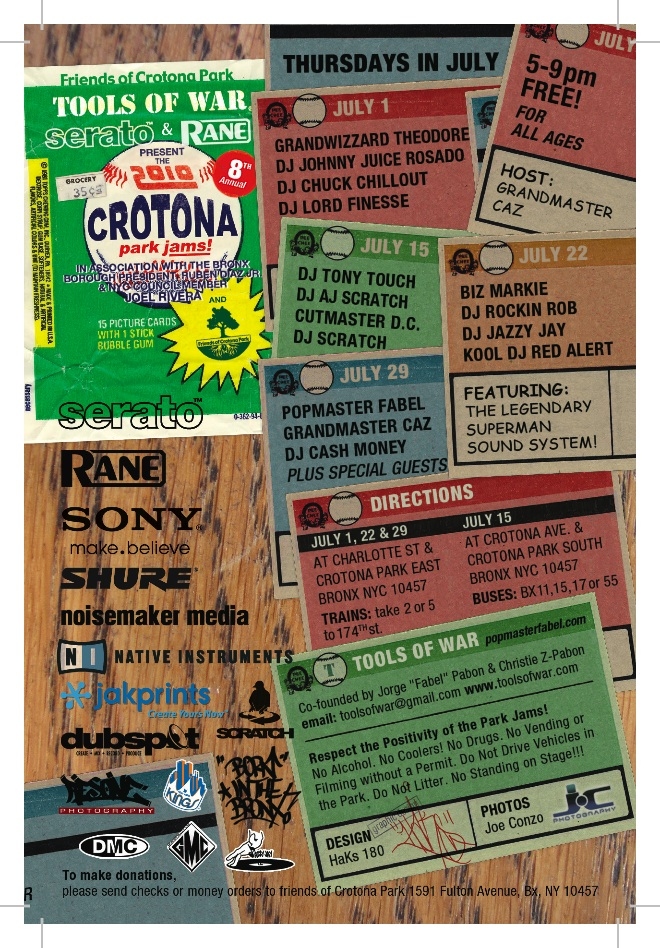 come in peace with positivity!
no alcohol & no drugs
audience stays in the audience!
no vending without a parks dept. permit
no filming without permission
clean up before leaving & please recycle!
Flyer by Haks 180. Photo by Joe Conzo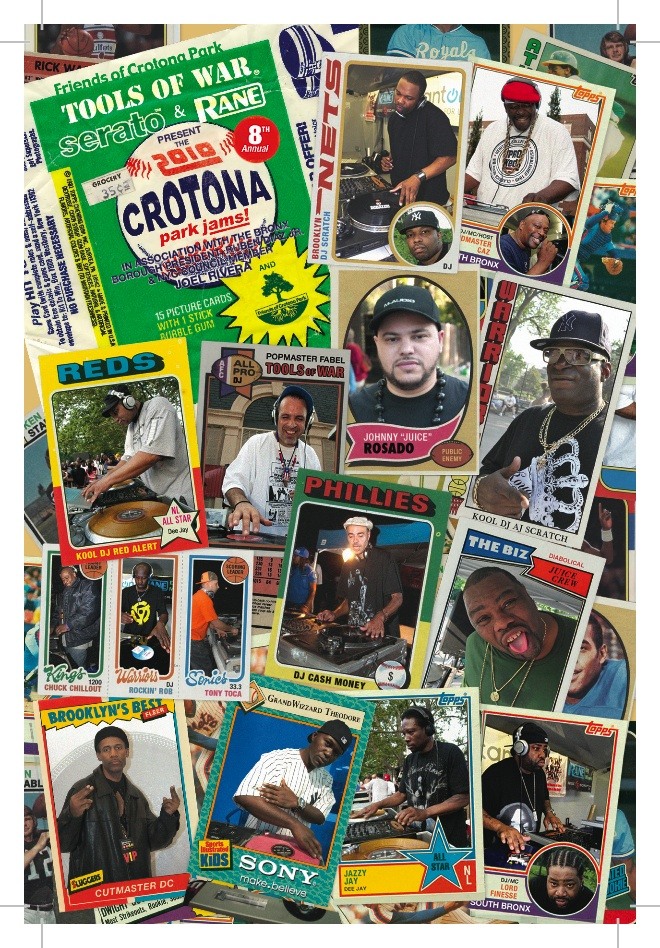 Support The 2010 Sponsors!



Francisco Reyes: Mamboso.net

About Tools of War grhh




Co-founded by Jorge "Fabel" Pabon and Christie Z-Pabon, Tools of War was named with the idea that there are many "tools" one can use in competing or battling within Hip Hop culture: turntables, paint, microphones, one's body, and especially one's voice (and so on). Although the name may appear aggressive, the intent behind it's use is actually to inform and educate people regarding not only Hip Hop but many other social and political issues. As we grow, we are finding that it has also become a forum for voicing opinions and sharing ideas which might help in unifying and uplifting people all over the world. Please read our individual bios at

myspace.com/Toolsofwar

8th Annual Crotona Park Jams BX


July 1, 15, 22 & 29, 2010 from 5-9p

Co presented by The Friends of Crotona Park in association with New York City Council Member Joel Rivera and Bronx Borough President, Ruben Diaz Jr.

Free! All Ages! Strictly Legends Rockin'

JULY 1


DJ Lord Finesse: DITC
Chuck Chillout: 98.7 Kiss FM
Johnny Juice Rosado: Public Enemy
GrandWizzard Theodore: Scratch Creator


Please visit our event page

JULY 15


DJ Scratch: ScratchVision
Cutmaster DC: Brooklyn's in da House
DJ Tony Touch
Kool DJ AJ Scratch: yeh yeh yeh yeh yeh
* On this day only, we will be at Crotona Ave. & Crotona Park South instead of our regular spot.
Please visit our Event Page



JULY 22


DJ Jazzy Jay: Jazzy Jay Productions
DJ Rockin Rob: Mean Machine
Kool DJ Red Alert: 98.7 Kiss FM
DJ Biz Markie


Please visit our event page

JULY 29


PopMaster Fabel: Tools of War GrandMaster Caz: Cold Crush Brothers
DJ Cash Money: 88 DMC World Champ
+ special guests!

Host: GrandMaster Caz



July 1, 22 & 29 at Charlotte St & Crotona Park East Bronx NYC 10457

July 15 Crotona Ave. & Crotona Park S.

Trains: 2 or 5 to 174th St.
Buses: BX 11, 15, 17 or 55.


Crotona Park



To make donations

, please send checks or money orders

to Friends of Crotona Park

1591 Fulton Avenue, Bx, NY 10457

Vendors contact Christie Z-Pabon at toolsofwar@gmail.com to reserve your spot!

Digger's Delight, Harlem


August 3, 10, 17, 24 & 31, 2010

5-9pm/ Held in assoc. with the Friends of St. Nicholas Park Every Tuesday in August!
Free! All Ages!

Aug. 3: DJs Rockin Rob, Chuck City & Muro
Aug. 10: DJs Lean Rock, WooDee +
Aug. 17: DJs Chairman Mao, Boogie Blind + Fabel
Aug. 24: DJ Jazzy Jay, Lord Finesse & Bobbito
Aug. 31: Forrest Getemgump, Miss Shing-a-Ling +

5-9pm. St. Nicholas Park at 135th St. Plaza & St. Nicholas Ave. Harlem NY 10031 stnicholaspark.org
Trains: B or C to West 135th St.
If You Build it, They Will Come…
Going into our 8th year of throwing True School Hip Hop Park Jams in the NYC Parks,
we are reminded of the classic movie "Field of Dreams"
where major legends and unsung heroes gather in the summer to do what they love best.
People hear about it from all over and rush to relive or experience a time in the NYC parks
where a culture that didn't yet have a name took it's first baby steps…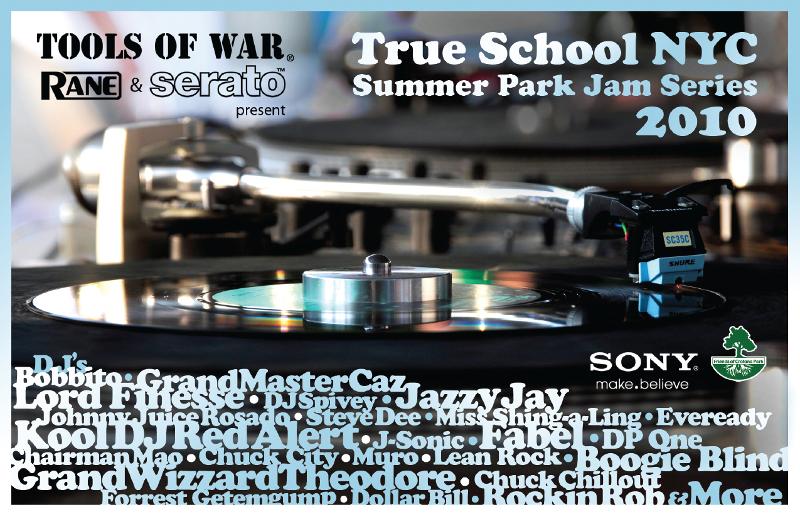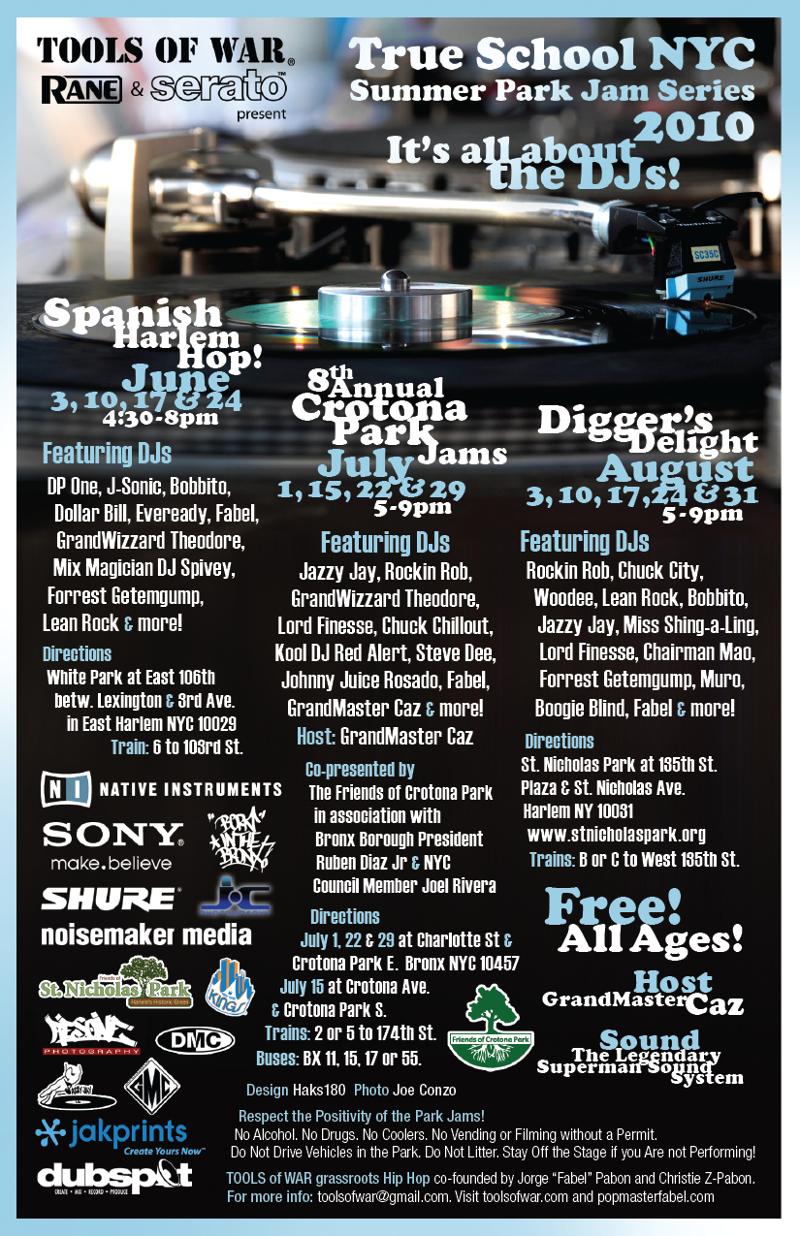 Flyer design by Haks 180. Photo by Joe Conzo