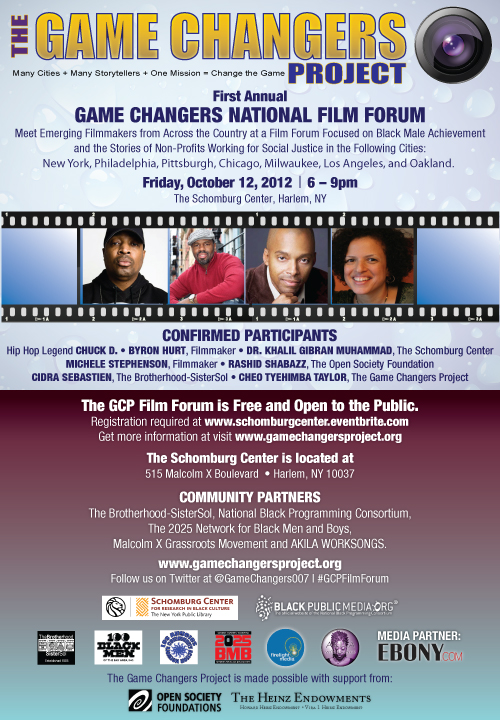 Join Chuck D and Others on Friday (10/12/12) at the
SCHOMBURG CENTER in HARLEM
for a Discussion on Black Male Identity and More!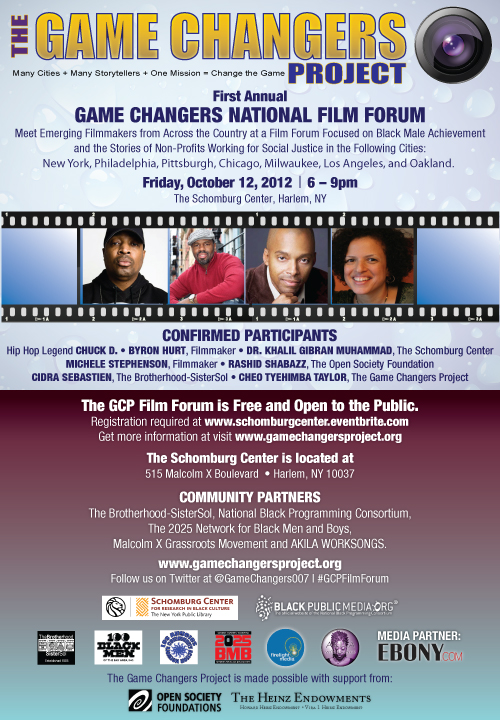 The First Annual
Game Changers Project
National Film Forum
#GCPFilmForum
Friday, October 12, 2012
6:00 – 9:00 pm
The Schomburg Center
for Research in Black Culture • Harlem, NY
Free and Open to the Public
Come meet and network with emerging filmmakers
from across the country at a film forum focused on
Black male achievement, as well as on the stories of
non-profits working for social justice in New York City,
Philadelphia, Pittsburgh, Chicago, Milwaukee,
Los Angeles, and Oakland!
The GCP Film Forum will explore Black male
achievement and identity, media perception,
stop-and-frisk and more…all through the lens of the
2012 Class of Game Changers Fellows!
Free Registration at
www.schomburgcenter.eventbrite.com
GCP Film Forum Confirmed Panelists
Hip Hop Legend Chuck D of Public Enemy, via Skype
(@MrChuckD)

Byron Hurt
Filmmaker (@ByronHurt)
Dr. Khalil Gibran Muhammad
Executive Director, Schomburg Center
(@KhalilGMuhammad, @SchomburgCenter)
Michele Stephenson
 Filmmaker
(@RadaFilmGroup)
Rashid Shabazz
Program Officer, Open Society Foundations
(@OpenSociety)
Cidra Sebastien
 Associate Director, Brotherhood-SisterSol
(@BroSis512)
Cheo Tyehimba Taylor
Exec. Producer, Game Changers Project
(@CheoTyehimba, @GameChangers007)
COMMUNITY PARTNERS
  Brotherhood-SisterSol, National Black Programming Consortium,
  2025 Network for Black Men and Boys, Firelight Media,
Malcolm X Grassroots Movement, Los Angeles Community
Action Network, 100 Black Men of Bay Area, and AKILA WORKSONGS
MEDIA PARTNER
EBONY.com
The Game Changers Project is made possible with support from
Open Society Foundations and The Heinz Endowments
For more information, call 
866.570.9499
 or visit www.gamechangersproject.org
Follow us on Twitter at @GameChangers007 | #GCPFilmForum
Media inquiries are directed to AKILA WORKSONGS at