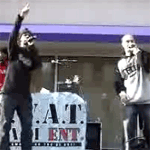 This years ING New York City Marathon runners and bystanders were treated to some Hip Hop entertainment and encouragement. At the 22nd Mile of the 26 Mile famous marathon, the SBS Entertainment stage hyped up 115th street in Harlem. Cheered on by the entertainers, some of the runners waved, bobbed their heads and a few even stopped to watch and take pictures.
The lineup included Timid, Pizon, Akademy, Shine Entertainment Group along with Neo Soul vocalist Fey Ola. Holding down the DJ duties was S.W.A.T. Team Entertainment's DJ Nasty who has been making his rounds throughout the country and has been seen on several BET shows.
This is the second year that the SBS Entertainment stage has provided entertainment at the New York Marathon. SBS Entertainment is headed by Scott Maitland.