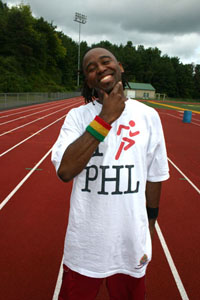 iCON the Mic King To Comptete In Fundraising Half-Marathon; Will Donate Entire 2009 Proceeds To Charity
Race Will Benefit the Crohn's & Colitis Foundation of America
(Brooklyn, NY – Jan 13, 2009) Philadelphia-based rapper iCON the Mic King will run a half-marathon for charity on January 25th, 2009. The 13.1-mile race will take place in Miami, Florida and will benefit the Crohn's & Colitis Foundation of America.

Crohn's and Colitis are degenerative digestive diseases that afflict more than 1 million Americans and millions more worldwide. Though iCON himself does not suffer from either of these conditions, someone very close to him does and he has promised to help in anyway possible. He says, "I was in the train station in New York City this summer just lost in thought when I saw an ad on a trashcan for the CCFA Take Steps Walk and I wrote down the website and said 'Hey, why not?' I just felt a need to do something positive, something that mattered outside of me." The rest of this story can be seen on iCON's myspace page.
To prepare for the 13-mile run, iCON began training three months ago. His workouts consisted of the usual regimen of weekly short runs punctuated by longer runs on the weekend but iCON also incorporated unorthodox training methods. These include a series of races against fellow rapper and former college track star PackFM as well as a run from Manhattan to Brooklyn recreating the infamous P. Diddy Junior's Cheesecake circuit. These exploits were captured on film and will be released in the days leading up to the half marathon.
In addition to raising funds for the race, iCON will also donate 100% of sales of the first 500 copies of his upcoming album Flavor Ade to the charity. The first 500 fans that donate a minimum of $10 to the CCFA will receive one of these limited edition autographed copies. And for the rest of 2009, iCON will match any donation made to the CCFA on his behalf with a product of equal value, including CD's and limited edition t-shirts. All donations will go directly to the CCFA and can be made through his myspace (www.MySpace.com/IconTheMicKing) or his official website. (www.IconTheMicKing.com)
iCON's next album, entitled Cool Aide, will be released in late spring. The official album will be preceded with a free album, Flavor Ade, to be released next month. Flavor Ade will also feature guest appearnces from artists such as Elzhi and others. A true visionary, iCON is one of few hip-hop artists to not only engage in a physically demanding fundraising activity but who will also match 100% of the donations made on his behalf for an entire year to a charitable cause.
Check out iCON & Chum's track made especialy for the run:
List of important dates:
1/16/09 – Show in Ithaca, NY @ Castaways
1/24/09 – Show @ PLS14, Miami. 5-10 pm w/ U-N-I, C-Rayz Walz and more
1/25/09 – CCFA Race Date – Last Day To Donate
1/25/09 – Show @ PLS14, Miami. 10pm – until w/ U-N-I, C-Rayz Walz and more
The Background:
Hailing from Philadelphia, iCON the Mic King has had a long career and first gained notoriety on the battle circuit. Winner of several rap battle competitions around the globe, iCON proved his ability to create lyrics on the spot, and achieved success in this arena until 2001, when he officially retired from battling to pursue composition and recording as a solo artist. iCON had been making music before he gained fame as a battle rapper and decided to focus on his studio chops. In 2002, he released Music for Bootleggas, which he sold in person and via his website. In 2004, he released his first studio album Intricate Spectrum and has since released Mike and the Fatman, Rent Money Music II: C-Notes for the Car Note and will soon be releasing Flavor Ade, with Cool Aide to follow shortly thereafter.