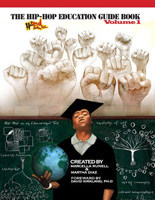 New York, NY – – The Hip-Hop Association announces first-ever Hip-Hop Education Guidebook: Volume One, just in time for the 2007 school year. Due to overwhelming demand for effective Hip-Hop education resources for the twenty-first century school, the Hip-Hop Association, a national organization dedicated to facilitating, fostering, and preserving Hip-Hop culture, announces the release of the much-anticipated book, the Hip-Hop Education Guidebook: Volume One (Lulu.com; $26.50). Talib Kweli, Hip-Hop artist, declares, "Teachers have no choice but to learn how to use Hip-Hop in the classroom. It's the language of the children. They have to respect the culture of Hip-Hop."

The media is taking notice of this positive resource for educators. The guidebook has been featured in: Black Issues Book Review, El Diario, Vibe Online Exclusive, Allhiphop website, Black Planet website, Teachers Unite, Teaching Tolerance Magazine, WBAI, WNYC, Latination Television, and was recently reviewed in Rethinking Schools magazine. Educators from Howard University to the University of Wisconsin, Madison and from Bank Street College of Education to Teach for America are all utilizing the Hip-Hop Education Guidebook as an innovative resource.
With public schools in the United States in a state of crises there is a growing need for innovation in the classroom. The Hip-Hop Education Guidebook: Volume One is a groundbreaking book conceived as part of the Hip-Hop Association's Education Initiative (H2Ed). The book was conceived in an effort to foster awareness and understanding of what educators need to be more effective in their craft.
Educators from all over the United States and Canada contributed creative, rigorous, user-friendly lessons that cover a range of subject areas including math, science, geography, civics and language arts that have been used successfully in both formal and informal academic settings.
The Guidebook contains a lesson plan created by African Ancestry called, "Who Am I? Using DNA to Determine Ancestry," (p.122) making a scientific link for students and teachers between the African Diaspora and contemporary Hip-Hop music and culture.
About the Book

Hip-Hop Education Guidebook: Volume One

Published by the Hip-Hop Association

Publication Date: February 20, 2007

Price: $26.50

ISBN: #978-0-6151-4262-3

Available at www.lulu.com/hiphop_education
About the Editors
Martha Diaz is the founder and visionary of the Hip-Hop Association. She is a social entrepreneur, educator, organizer and filmmaker with over fifteen years of media and marketing production experience. She has a B.S in Communications with a minor in Television and Film Productions from Fairleigh Dickinson University. Martha is also a former NYC public school teacher. She sits on the Middle School Task Force for the New York City Council and is co-author of forthcoming book, Fresh, Bold & So Def: 100 of the Most Influential Women in Hip-Hop.
Marcella Runell Hall is the Director of Education for the Hip-Hop Association and serves as the Program Administrator for Diversity Education & Training at the Center for Multicultural Education at New York University. In addition, she serves as adjunct faculty at the Bank Street College of Education, as well as the University of Massachusetts, Amherst where she is an advanced doctoral student. Her dissertation is entitled: Education in a Hip-Hop Nation: Our Identity, Politics, and Pedagogy. Marcella received her M.A. in Higher Education Administration from New York University, and her Bachelor's Degree in Social Work from Ramapo College of New Jersey. She is a freelance writer for the New York Times Learning Network and VIBE magazine.
About the Hip-Hop Association's Education Initiative (H2Ed)
H2Ed, formed in 2003, under the premise that Hip-Hop culture, the most influential cultural force today, has the power to educate, inform, and empower today's youth. The mission of H2Ed is to serve as a resource for educators and those committed to helping youth succeed in school by using the power of Hip-Hop culture as a learning tool. This is achieved by compiling and maintaining a comprehensive list of educational resources, products and services available for educators. Through programming like the Summer Teacher Institute, the H2Ed Summit, the National Education committee, and projects like the Pre-Regent Exam, we promote community and self empowerment through education. H2ED provides important networking opportunities and serves as an advocate on both the institutional and grassroots levels for educational reform.
Visit www.h2ed.net for more information.