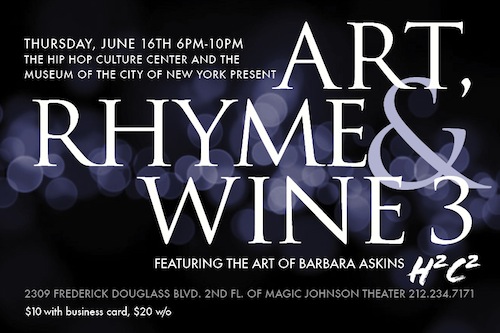 H2C2 partners with Barbara Askins and Lenox Wines to present "Art, Wine, & Wine 3"

New York, NY—The Hip Hop Culture Center in Harlem (currently known as H2C2) the artist Barbara Askins and local Harlem business Lenox Wines have come together to produce the Centers signature event "Art, Rhyme & Wine 3". This unique event will feature art exhibitions, spoken word, live music & performances, wine tasting, and networking. Come see some of the amazing artwork that Barbara Askins has created. Select pieces are currently on display in The Lobby of The Aloft Hotel.

You can dance to the beautiful sounds of the records being spun by our Musical Director, DJ Mike Doelo. Talented poets and dope emcees will be in the house to add lyrics to the occasion. Of course we will have a series of surprise guests, you never know who will show up at The Center, and if that isn't enough, you can enjoy a Wine Tasting that will be conducted by Lenox Wines.
There is enough activity for everyone so be sure to mark your calendars for Thursday, June 16th, 2011, from 6:00pm – 10pm. You must be 21+ to mingle and the entry fee is $10.00 with a business card and $20.00 without. If you have any questions feel free to contact 212-234-7171 <tel:212-234-7171> or Hiphopculturectr@gmail.com.
H2C2 is a facility that conducts Hip Hop centric education youth programs, sneaker battles, art exhibitions, and corporate special events. We are located at 2309 Frederick Douglass Blvd., 2nd Floor of the Magic Johnson Theater in the heart of Harlem, along the 125th Street shopping district.