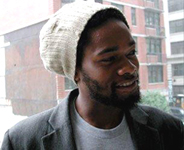 HiCoup (pronounced Haiku) is definitely a force to be reckoned with in
the Hip-Hop world. The lyricism in his name alone should be indicator
enough that he is a talented rapper. He's also a visual artist and
proud father. You may be familiar with him by his affiliation with 5th
Column/Day By Day Entertainment, his mixtape, Ghetto Factory, or
various performances, opening up for Ludacris, Dead Prez, De La Soul,
Mobb Deep, Mos Def, and The Boot Camp Clique.
For your
information, if you don't know who he is, wake up. Representing Hip-Hop
as a culture and an art form is what he's about. If your bored with the
state of Hip-Hop these days, fret not, a coup d'é·tat is on the
horizon.



On your mixtape (The Ghetto Factory) you said, "there's a lot of cats trying to get in the game but ain't got no respect for the game." Can you elaborate please?
HiCoup: When I said a lot of cats don't have respect for the game I meant just that; a lot of people are looking at Hip-Hop as a way to get money, almost like a get rich quick scheme and there really isn't any genuine love for it as an art form. A lot of cats use it as a way to get off the block so they don't have to deal with drug money anymore. That's always good if you can get off the block, but Hip-Hop & rap, to be more specific, is probably the most important tool young Black people have at our disposal and it needs to be respected as such by our own people. From an emcee's point of view, mad niggas suck! These cats don't know how to rap, they don't know how to ride a beat, they don't know how to put on a show, and what's worse, their friends gas them like they can do all of that and that's not the hot sh*t
What's representing the art form, in your opinion?
HiCoup: Representing the art form to me, is a constant attempt to push the envelope in all aspects; because Hip-Hop is an art form pushing the aesthetic bar should be on the forefront of any participant's mind, whether you're producer and you make beats, or you rap, or you tag, or you break or you DJ, or wherever you fit in. In between there, you should always be trying to push the bar. But because Hip-Hop comes from a very political reaction, it's also necessary to teach our children through Hip-Hop, that it's important to push the political bar so that young people can use it as a political platform to be able to get the basic necessities ― the rap industry alone is one of the biggest money makers in the world next to oil, so there's no reason as to why that cannot be used to gain the political and monetary power that we need to build our own communities & be self-governing.
Being that you perceive Hip-Hop as an art form and a culture, how did you get involved?
HiCoup: I grew up listening to Hip-Hop, and it used to be a way to funnel my anger, but when you're a kid no one really takes the idea of being a rapper seriously. It's like saying to your friend, "I want to be a superhero." The older I got, the more of my personality I fell into, and it just so happened that I had a knack for rhyming and it always felt good inside to spit something. t helps me work out my issues, so once I started spitting I just ain't stop.
You have a mixtape out, "The Ghetto Factory," is this the first project you put out?
HiCoup: No, actually the first project I put out was my EP, which had about 8 songs on it. Cats were diggin' it when it came out and it got some airplay. There was this song called "Da Dunt Da Dunts" which held down a slot in the top ten on the Wonder Twins Radio Show for a good month. That let me know I had a real shot at this rap s–t other than my friends just saying "you good".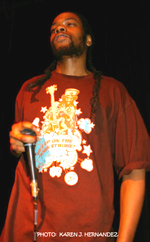 How did you hook up with 5th Column/Day By Day Entertainment?
HiCoup: Well, I've known Amir [my manager] for 10 years and he introduced me to Hasan Salaam; at the time I was doing a lot of shows by myself and I was with a group called the Justus League [not of Little Brother affiliation] and Hasan was doing shows by himself. Hasan and I respected each other on an emcee level so we would go to each other's shows and be the hype man. 5th Column sprung from there. Hasan and Amir decided they wanted to form a group and they hollared at me and asked if I was interested. It's been a wrap from there: 5th Clumn is myself, Hassan Salaam, Impaq, Rugged N Raw and Bad Sport. We've been together since then as a group, but we're also all solo artists.
You have an official LP coming out soon. Can you tell me about it? What's it called? When's it dropping? Are there any guest spots? Who did some of the production?
HiCoup: The name of the LP is Guerilla Jones. It should drop by the end of this summer or early fall. AKIR is featured on it as well as other 5th Column members. As far as the production goes, I got folks like Static, Hasan Salaam, Prompt did a couple joints, as well as Impaq and Rugged and Raw.
One thing I know about you is that you're a father. How many children do you have?
HiCoup: I have 2 sons, ages 5 and 7.
I thought that was the case. I gather that you're very involved in their lives and I commend you on that, especially because you're so young. Can you reflect on fatherhood in general, as well as the state of young black fatherhood in America and in relation to Hip-Hop?
HiCoup: S–t is tough. It's hard enough being a young Black male without any responsibilities in this society, but to be one with 2 other young Black males looking towards you for answers can be overwhelming, especially when you feel as if you're not at your full potential. There's a lot that goes with fatherhood. You're really shaping someone's mind & in my case because I have 2 boys, it's double duty. I think that Hip-Hop is great as far as it relates to my sons and myself because my sons know what I do. And when they hear my voice on the radio they say "That's daddy!" and they get real amped when they hear me or see me on TV. It makes me proud that they're proud of me. It's funny because my oldest started rapping himself and I guess I had something to do with that because he hears me. I never sat him down and showed him. He took it upon himself. I'm glad I rap because I get a chance to keep them closer to me. As far as being a father, there are a lot of parents, young and old, that don't know what their children are listening to. By me being a rapper, not only do I know what they're listening to I get to be a part of it, so they get Hi-coup the daddy and Hi-coup the rapper. And to them it's one in the same. For me, it kind of allows me to keep them that much closer to me. Fatherhood is always hard. From what I've seen motherhood is hard and there are times when I feel I don't know what to do but even in my weakest moments they look at me like I'm the strongest guy in the world, so no matter how hard it gets, I'll wear that s–t because it's worth it.
One of your son's was featured on Hasan Salaam's "Paradise Lost" where he talked about school and what he was learning. Is it important to involve your sons in Hip-Hop?
HiCoup: Yeah it's important, because it's a part of Black culture, so as a young Black man they need to know that aspect of their culture as well as others, but I really don't need to them in Hip-Hop because Hip-Hop will involve them in itself. Hip-Hop will go get them. They have no choice.
Other than music, are you working on any other projects?
HiCoup: I've been painting since I was 4-years-old. I'm also working on my visual art career ― there's some shit I can't rap out so I gotta paint it and vice versa. (Hi-coup teaches art at Flatbush High School for service and learning.)
What's your 5-year plan?
HiCoup: To own a home and to be in a financially comfortable place so I can watch my kids grow up a little more and so I don't have to listen to people telling me what to do. I want to be in a place where I can tell people to f–k off whenever I feel like it and not have to worry about the repercussions.