GURU'S HEALTH STATUS IS STABLE, NOT IN COMA; ISSUES OFFICIAL STATEMENT
UPDATE: Guru is diagnosed by his doctors as ailing from Anoxia due to his history of lung problems and asthma. Guru is NOT in coma and he continues to recover. The doctors are hopeful for a full recovery.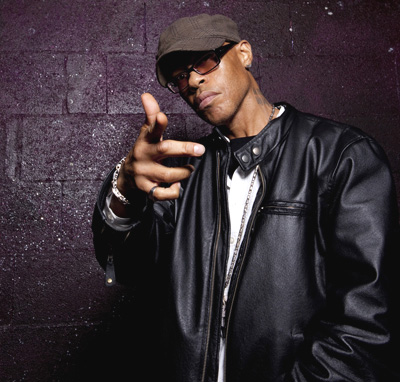 Thoughts and prayers have been with legendary Hip-Hop emcee Guru since his hospitalization earlier this month due to a heart attack. Solar, the rapper's longtime partner and best friend, said Guru has a history of lung problems and asthma and is slowly recovering.
Guru, born Keith Elam, recently disclosed his first statement, assuring the public that he is recuperating, and that his producer Solar will stand as his representative during his recovery.
"I am doing fine and I am recovering! I'm weak though," Guru said. "Solar is the only person who has the accurate info on my situation. Any info from anybody else is false. I appreciate your well wishes and all the love!"
The producer expressed similar sentiments about the rapper's health status, saying: "Guru is resting and doing well. The doctors say that he will fully recover from his illness. We thank everyone who send prayers our way and we appreciate the outpouring of love from fans around the world!"
There are a lot of rumors and false allegations circulating around, but Guru explicitly named Solar his official spokesperson and the hit producer is taking this position very seriously.
"Guru has entrusted me to be accurate and truthful in relaying information to the media," Solar said.
The producer is in constant contact with Guru's relatives like the MC's father and brother who have visited the legendary rapper numerous times.
"When a patient is in such critical conditions it is very common that not everyone is allowed to enter the room, especially when Mr. Keith Elam doesn't want to see certain people," one of Guru's doctors said.
Many Hip-Hop artists from around the world sent well wishes to Guru but some people from his past are trying to shed bad light on his partner Solar for his position in this situation.
In a previous interview with AllHipHop.com, Guru made it clear that he and his former deejay and some people he used to work with were never that close. "People ask me about […] all that. We were never all that close. We hooked up in the studio and did great music, but we were never hanging and all that cool. Solar and I, we got tight before we even started doing music."
Guru, the sole founder of the world-famous Hip-Hop duo GangStarr, is reluctant to talk about his GangStarr past, especially his ex-DJ who he hasn't spoken to in over 7 years.
"That's something I don't want to talk about. I don't want to talk about the past. The past is the past. It is what it is. It was great, but that was then and this is now." said Guru.
Doctors have not given any indication as to when Guru might be released, but the rapper is touched by the fan support.
"The outpouring of love from around the world has been tremendous," Solar said. "I'm reading some of the best e-mails, texts and Twitters that come in and Guru enjoys them. I think that's what has been helping his recovery and what's got him in there fighting."
During what must be an incredibly hard and stressful period in life, keep sending your prayers, thoughts, and wishes to Guru, Solar and his loved ones.
In homage to Guru and his outstanding career, his record label 7 Grand Records decided to upload all his classic music videos to the label's official YouTube channel at www.youtube.com/7grandrecords.