LEGENDARY MC GURU AKA MR. GANGSTARR OFFERS "JAZZMATAZZ VOL. 4" FOR FREE DOWNLOAD DOWNLOAD: Jazzmatazz Vol. 4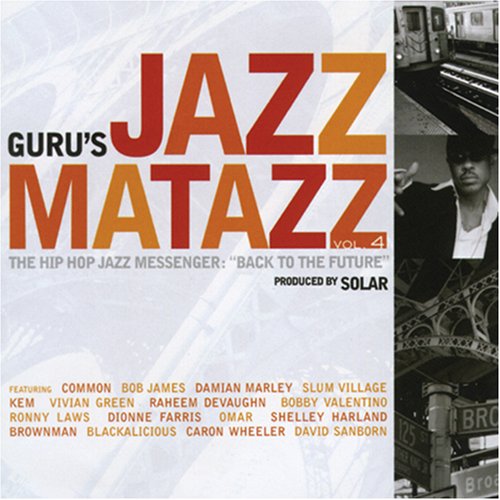 DOWNLOAD: Guru – Jazzmatazz Volume 4 -The Hip Hop Jazz Messenger: "Back To The Future"
The legendary Guru is the frontman and founder of both GangStarr and the worldwide acclaimed Jazzmatazz. Guru was the first artist to truly blend Hip-Hop with Live Jazz beginning in 1993, and seeing the vast influences his Jazzmatazz concept has had on the industry, it is clear that Guru's musical contributions have been way ahead of their time.
As one of the best kept secrets in Hip-Hop and music history, as an innovator and royal luminary of Hip-Hop and Hip-Hop/Jazz, Guru worked with such great artists as Herbie Hancock, Isaac Hayes, Donald Byrd, Ramsey Lewis, Roy Ayers, Chaka Kahn, Branford Marsalis, David Sanborn, Bob James, Erykah Badu, The Roots, Common, Angie Stone, Jamiroquai, Macy Gray and Damien Marley to name a few.
After the release of Guru's "Jazzmatazz Vol. 1" in 1993 there were very many attempts to duplicate the Jazzmatazz Hip-Hop/Jazz concept and even the entire Neo-Soul genre was heavily influenced by Jazzmatazz. The first 3 Jazzmatazz albums were released in 1993, 1995 and 2000. Not only did the early Jazzmatazz music challenge the boundaries of Hip-Hop, Jazz, Soul, R&B, etc., the live aspect was something that none of these genres had ever seen. On a deeper level, the Jazzmatazz show was the first time anyone had seen a vocalist with a live band and DJ which has now become an industry standard stretching all the way to Rock N Roll. Jazzmatazz was the first Hip-Hop act to be asked to play at the world's most prestigious music festivals and brought with it a whole new audience as well as a new youthful appreciation for Jazz and live music which continues to this day. Since its inception there has been no credible comparison to the originality and broad appeal of a Guru's Jazzmatazz concert. This is one of the most captivating musical experiences ever world over!
The release of "Jazzmatazz Vol. 4: The Hip Hop-Jazz Messenger" sparked the rejuvenation of the Jazzmatazz series due to the brilliant production and masterful arrangements brought forth by his producer and partner Solar. This album is now the # 1 Hip-Hop/Jazz release of the decade. Released on their successful new label, 7 Grand Records, distributed worldwide. Though sophisticated musically and conceptually, the album connected with many underground Hip-Hop acts as well due to the fresh new sound that Solar put together. For the new live show, Solar has created a sonic landscape that takes the audience on a musical journey through all of my classic material from early Jazzmatazz to the present and even includes masterful live renditions of GangStarr hits.
Thus, Guru's Jazzmatazz featuring Solar and the 7 Grand Players is the best live Hip-Hop/Jazz act on the planet and appeals to all audiences from pure Hip-Hop/Jazz to hardcore Hip-Hop, to Alternative, to more conservative Jazz, to R&B, Soul, Retro, etc.
Guru and Solar have performed for sold-out crowds ranging from 1,500 to 50,000 people around the globe. There is something for everyone to enjoy here. Look out for more classic Hip-Hop/Jazz coming from the icon Guru and his partner Solar!