Three Boasts Big Hooks, Production From Legendary Brian Hardgroove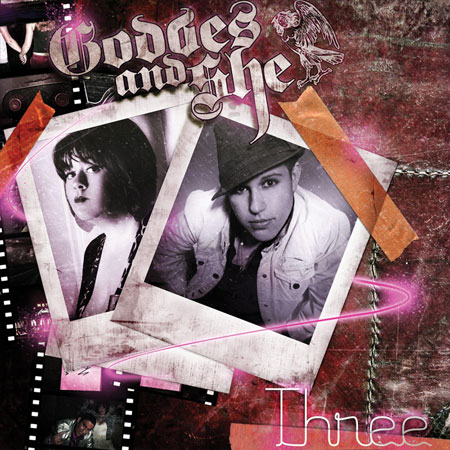 DOWNLOAD: God-Des and She – "Respect My Fresh"
Hip-hop/pop/soul duo God-des and She are proud to announce the upcoming release of their third album, Three. Produced entirely by Brian Hardgroove of Public Enemy fame, the album will be released on November 3, 2009 via G&S Records.
God-des and She have always been unique- a female hip-hop/soul duo whose sound varies as widely as their subject matter. With their third album, appropriately titled Three, God-Des (the rapper) and She (the singer) now embark on a journey to cross over from substantial underground success to the mainstream. In making that transition, the group has managed to both hone their existing sound and expand into an eclectic mash-up of other styles, including hyperactive dance music ("Drum Circle"), all-American rock ("Change"), anthemic electro ("Radio Up"), and feel-good, windows-down pop ("Get Your Bike").
While delving into so many genres on one album could easily sound disjointed, a confident identity forged over years of working together, as well as sure-handed production from Hardgroove resulted in a cohesive, dynamic set of songs. "So many of our fans comment on how much we grow every time they see us live or hear the next song we are working on. Our first two records were great in their own ways, but we hadn't truly found our voices or sound. Three cannot be compared to any other artist. It sounds totally unique and crosses all boundaries and is hard to even put into a style of music."
God-des and She found an ideal partner in producer and current member, bandleader, and bass player of Public Enemy, Brian Hardgroove, who has worked with such veteran acts as Wu Tang, Burning Spear, and Aerosmith, and also plays with Bootsy Collins. "He gave us a lot of freedom but guided us and made the songs better. He has an incredible ear and totally understood and supported our vision for the music. He didn't try to box us in to one genre." While the duo may have initially been star struck in working with Hardgroove, the legendary producer was impressed as well. "They are easily as good as the best that hip-hop has to offer," Hardgroove says of the duo, "and far more interesting."
Bred in the Midwest, God-Des and She have played to packed venues all over the world, from Lacrosse, Wisconsin, to Stockholm, Sweden. Ever since they appeared on Showtime's The L Word four years ago, performing their infamous single "Lick It," the pair haven't had a moment's rest, selling over 30,000 albums, and holding down the #1 song spot on MTV LOGO with their song "Love You Better." God-Des and She's new album, Three, will be available November 3rd via G&S Records.