Gnarls Barkley
Makes chart history as the first artist to top the UK singles chart on download sales only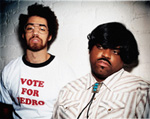 New
York, NY — Gnarls Barkley made music history this weekend when their
debut single 'Crazy' topped the UK singles chart on download sales
alone.
The single, taken from their upcoming album 'St.
Elsewhere' set for release May 9th on Downtown/Atlantic is set to be
one of the biggest hits of 2006.


Warner Bros UK, the group's UK
label opted to make 'Crazy' available as a download three weeks ahead
of its physical release due to phenomenal public demand following
significant airplay. With consumers embracing a musical culture in
which they can access digital files for portable media players
immediately, this represents a progressive move that both satisfies
consumer demand as wel as offering a legitimate alternative to illegal
downloading. Consisting of former Goodie Mob member Cee-Lo and
notorious Gorilliaz/'The Grey Album' producer Danger Mouse, Gnarls
Barkley are undoubtedly 2006's hottest emerging artist. The Los Angeles
Times writes, "…Grammy-nominated producer Danger Mouse and soul
dynamo Cee-Lo Green-are being eyeballed as one of the year's most
intriguing new arrivals." They will make their US debut at Coachella on
April 30th followed by a performance at this summer's Lollapalooza
festival in August.