The FOnkified Hip-Hop Duo Celebrate Their Digital Album Release Date And Bring Along Some Friends For Their New Single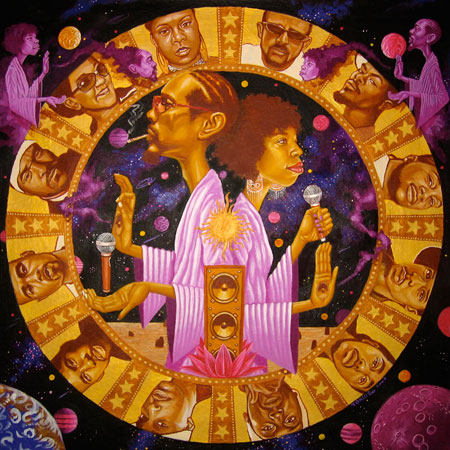 DOWNLOAD: Georgia & Declaime – Heaven Or Hell Feat. Kool G Rap, Black Milk, & LMNO
In celebration of the digital release of their new LP, Georgia & Declaime are proud to release a brand new single from SomeOthaShip, "Heaven Or Hell." Produced by Georgia Anne Muldrow, the track features Black Milk as well as the legendary Kool G Rap and Long Beach MC LMNO, each personifying one of the many layers between heaven and hell. Mello Music Group founder and owner Michael Tolle explains, "I wanted to create a track that showed two extreme perspectives – Kool G Rap doing his Gangster/Drug Lord/Pimp thing while Declaime & Georgia did their righteous preacher thing." He continues, "However, LMNO came with the most positive message out of the bunch. In the middle, Black Milk did his thing to perfection. Thus the 'Heaven Or Hell' title."
The track begins eerily with the chorus as LMNO raps, "It's a balance of life / Darkness and light / We're giving choice for you / Choose right." As the bass-heavy, unsettling background sets in, the resonating lyrics challenge what is supposedly good in the world as Kool G Rap, LMNO, Black Milk, and finally Georgia & Declaime take turns laying out their own take on heaven and hell in its various forms. Georgia defends the honor of a higher power through Africa as she raps, "She hold the world together forever / If she fall, we fall / Subject to complete and total recall." However, she continues that the world is a corrupt place, "Street soldiers used to have honor / Now they walk around hungry and listless." Declaime follows Georgia's powerful lines, and as the two trade lines over Georgia's dark production – Georgia's sultry rhymes against Declaime's unorthodox rhythms – the juxtaposition of the two vocals, both in sound and lyric, drive home the song's heaven or hell theme.
To celebrate the February 23rd physical release date for SomeOthaShip, Georgia & Declaime will be performing a handful of shows, in addition to an in-store meet-and-greet at Fat Beats, New York:
February 23rd at Fat Beats, New York – In-Store – 6:00pm – 7:00pm
February 23rd at SOBs in New York City – Doors @ 7:30pm, Show @ 9:00pm
February 24th at Liv in Washington D.C. – Doors @ 7:00pm, Show @ 8:00pm
February 25th at The Arts Garage in Philadelphia – Doors @ 8:30pm
The Background:
In a world made of plastic, Georgia Anne Muldrow & Declaime (AKA Dudley Perkins) breathe. Georgia radiates light into the west coast hip-hip scene with her vocal mixture of social revolution and raw street wisdom. Her choruses echo the voices of yesterday while her beats explore the cosmic sounds of tomorrow. Having already worked with the likes of Erykah Badu, Mos Def, and Madlib, Georgia finds herself taking a well-deserved turn in the spotlight and ready to keep up her collaborative efforts in 2010. Declaime is a veteran to the hip-hop game, with a voice that overflows with bluesy, syncopated veracity. Characterized by his impossible range and stirring cadence, Declaime has the ability to captivate with the unmistakable sound of experience, breathing a spiritual wind back into the funked out vibrations of hip-hop. Combined, Georgia & Declaime have created an impressive catalog of work including Georgia's Worthnothings, Umsindo, and Kings Ballad, plus Declaime's Conversations With Dudley, A Lil Light, Expressions, and Holy Smokes. SomeOthaShip is available now digitally via Mello Music Group.