The Legendary
COLD CRUSH BROTHERS
32nd Anniversary Concert + Party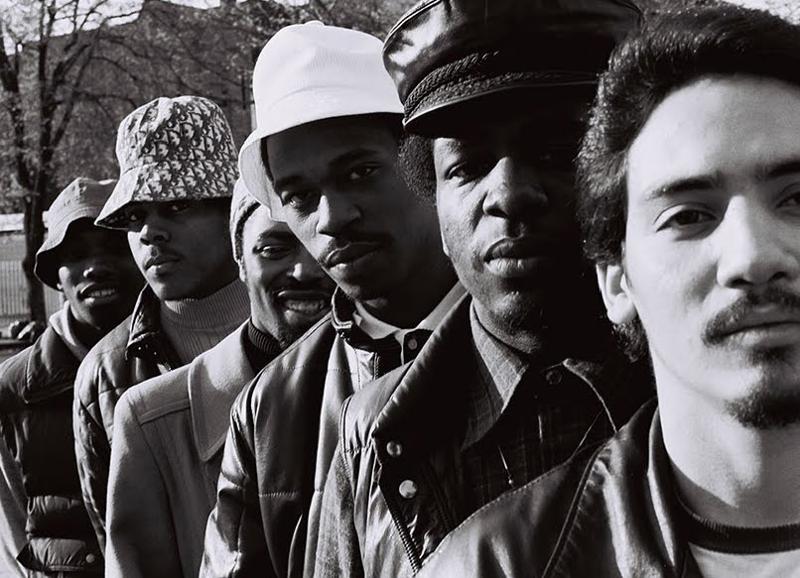 The Legendary Cold Crush Brothers!
Almighty Kay Gee, Easy A.D., J.D.L., GrandMaster Caz, DJ Tony Tone & DJ Charlie Chase
Photo by Joe Conzo (Born in the Bronx) joeconzo.com
Friday, JULY 30, 2010

The Legendary
COLD CRUSH BROTHERS
32nd Anniversary Concert + Party

Featuring KOOL DJ RED ALERT kicking off the party from 9pm-10pm, followed by one pioneer DJ every hour, rockin the wheels, until the Cold Crush Brothers & Friends performance!

The COLD CRUSH BROTHERS (DJ Tony Tone, DJ Charlie Chase, Almighty Kay Gee, Easy A.D., J.D.L. & GrandMaster Caz) will perform ALL of their classic routines and have invited some very special guests perform routines with them, including:

DMC




BIG DADDY KANE




BIZ MARKIE

and more to be announced.

9pm-2am
All ages welcome!

Hip Hop Culture Center (at the Magic Johnson Theater)
2309 Frederick Douglass Blvd. at 124th St. 2nd Floor
New York, New York 10027

Take the 2, 3, A, B, C or D train to 125th St.

A VERY LIMITED amount of $25 ADVANCE tickets are available online at http://www.brownpapertickets.com/event/119024. This event is sure to sell out!

No Guest List requests. Please support the legends.
No Video Cameras or Filming (we have our own)
No Drugs
No Smoking

http://www.coldcrushbrothers.com
bookings@coldcrushbrothers.com
Facebook Event Page


"The Cold Crush was about the heart; that's what they personified. They had the essence of hip-hop. And that's why everything Run-DMC does is just an emulation of them…The reason why we're def, 'cause we're out to beat the Cold Crush, not just back then, everyday – because the thing that they did is untouchable." – DMC quoted in "Yes, Yes Y'all: Oral History of Hip-Hop's First Decade

Formed in the Bronx in 1978, The Cold Crush Brothers original lineup consisted of the founder, Original DJ Tony Tone, Easy A.D., DJ Charlie Chase, Whipper Whip, Mr. Tee and Dot-A-Rock. Eventually, Whipper Whip and Dot-A-Rock left to join the Fantastic Five. DJ Tony Tone, Easy A.D. and Charlie Chase invited Grandmaster Caz (formerly DJ Casanova Fly), Almighty Kay Gee and J.D.L. to join the crew. Money Ray (Eric Hoskins) would eventually be added to the group in the late '80s.

The Cold Crush Brothers are especially known for their memorable routines which included harmonies, melodies and stage-stomping performances. They set the standard for emceeing and were referred to as "The Rolling Stones of Hip Hop". Many groups tried to battle them to gain street credibility and Hip Hop supremacy. They had an especially fierce and well known rivalry with The Fantastic Five.

The Cold Crush Brothers first commercial release was the party single "Weekend" on Elite Records. Their second was "Punk Rock Rap" (the first recording to fuse Hip Hop and Rock genres together) on Tuff City Records, distributed by CBS. This also was the first time an independent Hip Hop label and a major record company collaborated. The most successful Cold Crush single to date is "Fresh, Wild, Fly & Bold" released in 1984, which sold 16,000 units in its first week of release. A distribution dispute between Tuff City Records and Profile Records hindered the sales of the single with the most potential of reaching gold status. In 1988, they released an album on the infamous B-Boy Records label called "Troopers" which contained the classic singles "Feel the Horns", "We Can Do This" and The Bronx. This album, an extremely rare find, has recently been re-packaged & re-released on B-boy/Traffic Records .

The Cold Crush Brothers initially toured all five boroughs of New York and travelled as far as Boston before commercially releasing records. Their popularity was strengthened by the sale of their live performances, recorded on audio cassette by Tape Master (Elvis Moreno). These shows were distributed worldwide via word-of-mouth promotion. In 1982, The Cold Crush Brothers were featured in the cult classic movie Wild Style. They were featured in a number of scenes including the infamous face off on the basketball court against their arch-nemesis, the Fantastic Five. A year after the movie was released, the Cold Crush Brothers took toured in Japan and Europe.

The Cold Crush Brothers became involved in one of Hip Hop's most historic moments when Joey Robinson (son of Sugar Hill Records founder, Sylvia Robinson) happened to hear Big Bank Hank (part-time club bouncer and former manager of Grandmaster Caz) rapping to a tape of Caz. Robinson invited Hank to join the group that he was forming called the Sugar Hill Gang. Although he was not an MC, Hank accepted. Hank asked Grandmaster Caz for some rhymes. Caz laid his rhyme books down and said, "Take whatever you want," with the understanding that Hank would compensate Caz at a later time. Caz's lyrics landed in a song by the Sugar Hill Gang called "Rapper's Delight". The song became a huge hit in 1979 and was the first Hip Hop single to land on the top 40 charts. Hip Hop's first ghost writer, Caz never received any credit or compensation for the rhymes that he contributed.