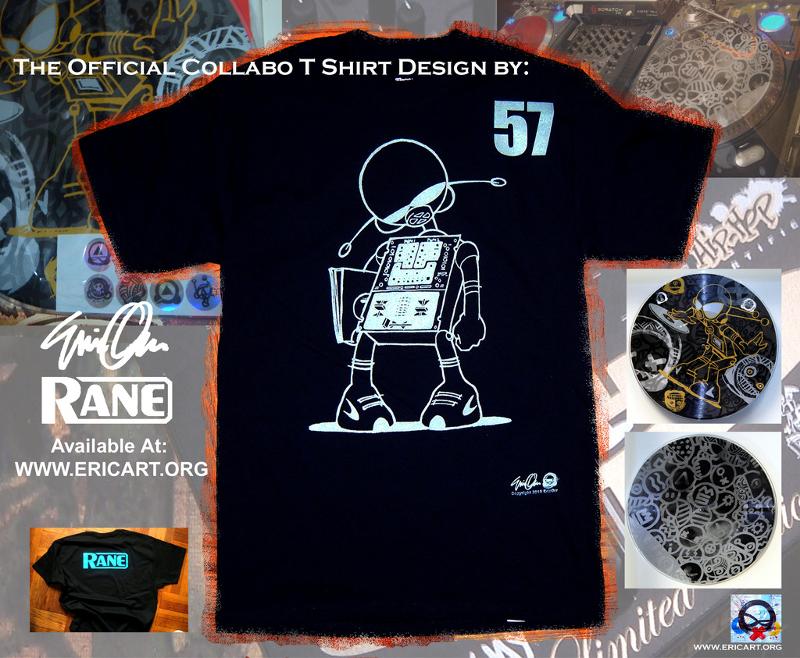 Artist/Designer Eric Orr has teamed up with Rane Corp. once again! Perhaps you've already seen his custom designed JJ-57 faceplate for the Rane TTM 57 SL mixer or his hard to find Serato Control Vinyl? This time, Eric Orr melds his iconic Dj Robot character and Rane's famous TTMSL57 mixer together, creating another unmistakable classic tshirt design.
Eric Orr

is an artist and designer from New York City. He attended the School of Visual Arts
in 1979 and the Arts Student League during 1980-83, and began his career painting in the
NYC subway stations through the early 1980s. It was there that he substituted typography
for his unique character, or symbol, the "

Robothead

" and collaborated with pop artist
Keith Haring

on the black panel subway spaces.
While making his name in the art world, Eric was getting his name up on the Hip Hop scene, in the late 1970's too. He produced work for DJ and community leader Afrika Bambaataa (the godfather of Hip Hop), the brand logos for the Strong City Records label as well as for legendary Hip Hop artists such as Jazzy Jay, Don Baron, Chief Rocker Busy Bee, Nu-Sounds, Ultimate Force, Masters of Ceremony, Tony D, Diggin' In The Crates (DITC) crew and Lord Finesse.
Eric's work is recognized internationally and held in private collections in Europe, Asia-Pacific and North America. He has been featured in numerous exhibitions in art galleries on both coasts of the US and has given live painting exhibitions in North America and the Asia Pacific. Please visit Eric Orr's site at www.ericart.org or contact him for more information at eric_orr@tmail.com.