Partnering with Clothing Giant T.I.T.S. Brand, Dyme Def Releases Sex-Themed New Album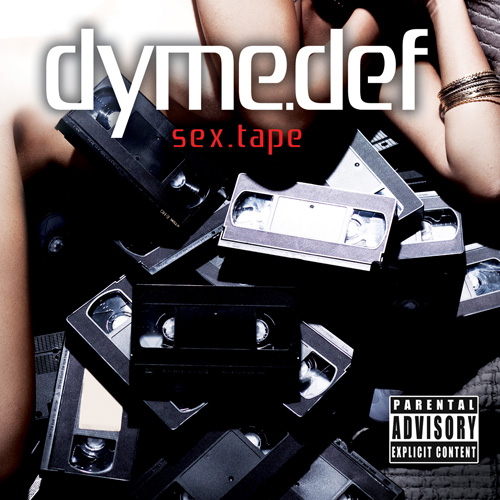 Dyme Def, the North-West trio of Fearce, SEV, and Brainstorm, is excited to release their sophomore full-length Sex Tape, a highly visual and blatantly sexual project released in a collaborative effort with clothing company Two in The Shirt (T.I.T.S. Brand). Dyme Def's Sex Tape is available now via 800 LB.
Sex Tape breaks away from the Dyme Def that many underground fans have come to know. "None of our albums have sounded the same," says SEV. "That's how we intend to keep it. Keep 'em' guessing." The sound is lustrous and the lyrical content risqué placing Dyme in a prime-time position to make moves into the prevailing pop culture. "They came down from outer space and had to get their grown man shit on," says T.I.T.S. Brand Owner Marek Grubel. "Any career progression is to make it into the mainstream. They have the talent and sound that will crossover and reach millions."
Sex Tape boasts eleven sinfully seductive tracks that range from stimulating R&B soul soothers like "Wet Dreams" to amplified orgasmic audio clips to dark and stormy boom-bap bangers like "Do Something," the album's lead single, which was accompanied by the Gianna Michaels-starring video. "The concept behind this project was to mainly reach out to the opposite sex, creating a new way to listen to hip-hop in Dyme Def's world" explains SEV about the album's direction. In stark contrast to their provocative prose, the production on Sex Tape is highly diverse, delivering a wide range of instrumentals and sounds, courtesy of frequent collaborators Tha Bizness, BeanOne, and Tryfe.
The collaboration with T.I.T.S Brand and Dyme Def is unique in that creates a complete sensory experience by providing audio, visual, and tangible feeling to consumers. Each single off of Sex Tape has it's own exclusive and titillating t-shirt created by the erotic entrepreneurs at T.I.T.S. Brand. "It was fun working with T.I.T.S.," says Brainstorm on working together with the Seattle-based clothing company. "There were no boundaries." To make matters even more appealing T.I.T.S. will be offering a free digital download of singles off of the Sex Tape with the purchase of collaborative shirts from www.shoptits.com
Check out the latest video from Sex Tape, "Do Something" directed by Estevan Oriol and featring porn star Gianna Michaels: http://www.youtube.com/watch?v=s60LhSU0sKU
The Background:
Fresh off the success of the PANIC EP, Dyme Def releases their second full length project Sex Tape, a collaboration with the provocative clothing company Two In The Shirt (TITS Brand) . The trio consists of rappers Fearce, SEV and Brainstorm with production from Tha Bizness, Brainstorm, BeanOne and Tryfe. Dyme Def has received critical acclaim since their 2007 debut Space Music and has built an incredible following on their way to being crowned the kings of the NW. Sex Tape is a departure from the Dyme Def sound that many underground consumers have grown accustom to, but the change will come as a pleasant surprise to their old fans and new.