After Judging 120 Submissions Worldwide, Dres Announces Remix Contest Winners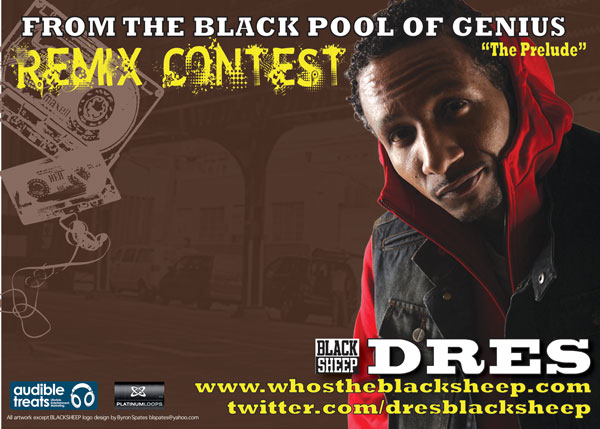 After weeks of reviewing over 120 submissions, Dres of Black Sheep, is excited to announce the winners of the official Prelude Remix Contest. Dres discussed, "This contest was a great experience. It was new and refereshing to hear so many variables behind my style of M.C." He continued, "In picking the winners, I looked not only for creativity, but for accuracy and vision within the production. For tracking that wasn't necessarily something that was in my comfort zone, but sounds tha tpushed the envelope as well. I was elated with the many sounds presented." The four winners are Little Rooster, JimB, Marcus Jacobi (Emjay-Productions), and Toronto-based Digs Dorfman (The Sweet Potato). The winning producers represented the world wide, with submissions coming from Paris, Minneapolis, Barcelona, and Toronto.
Six weeks ago, Dres and Audible Treats launched the Prelude Remix Contest to promote the release of Dres' new album From The Black Pool Of Genius, while giving fans and aspiring producers the unique opportunity to be involved with the project. Dres gave aspiring and established producers alike the opportunity to remix all five cuts off Dres' From The Black Pool Of Genius: The Prelude EP, with the best submission of each of the five tracks to be selected by Dres and released on the official Prelude Remix EP, which will be subsequently available via all major digital retailers in the near future. In addition to each winner having their version included on the official Remix EP, Dres will also record one 16 bar verse for each of the winning producers on a beat of their choice, and each producer will win a free drum pack from Platinum Loops: the Hip-Hop Drums – Blazin Beats Volume 1 Sample Pack. Winning producers will also receive a signed copy of the From The Black Pool Of Genius: The Prelude EP. Now, after much listening, deliberation, and consideration by Dres, the winners have been chosen.
Winners:
"Forever Luvlee" – Little Rooster
"Gimme 5" – Marcus Jacobi
"Pretty Bum" – Little Rooster
"Doin' It Wrong" – Jim B
"Road Warrior" – Digs Dorfman
Due to an overwhelming amount of quality, Dres would also like to honor those who did not make the cut but offered outstanding remixes nonetheless.
Honorable Mentions:
Jesse Semanko, Curtis Bay, Matic, DJ Prosha and DJ Navvy, Patric of NatureTone Productions, DJ Bazooka Joe, Taz, Invoker Sounds, Paul Damerau, Krisztian Jozsa, Adil Hatni, Nature Tone, O Chaim, Aayhasis Timeless, Jakob Ziegler.