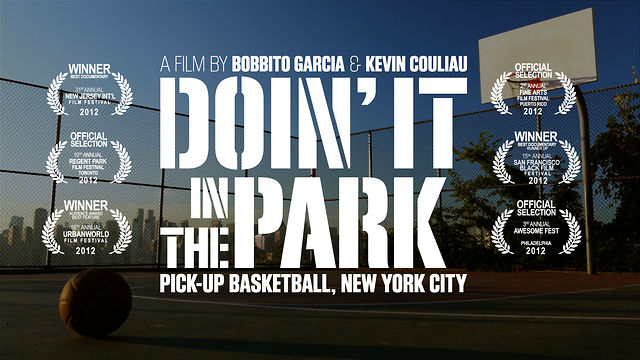 Doin It In The Park is a Film by Bobbito Garcia & Kevin Couliau about the sub-culture of pick-up basketball in the parks of New York City. Bobbito is well-known to Hip Hop heads as an iconic DJ, one half of the duo that delivered Hip Hop culture to radio on The Stretch Armstrong and Bobbito Show and as member of the Rock Steady Crew.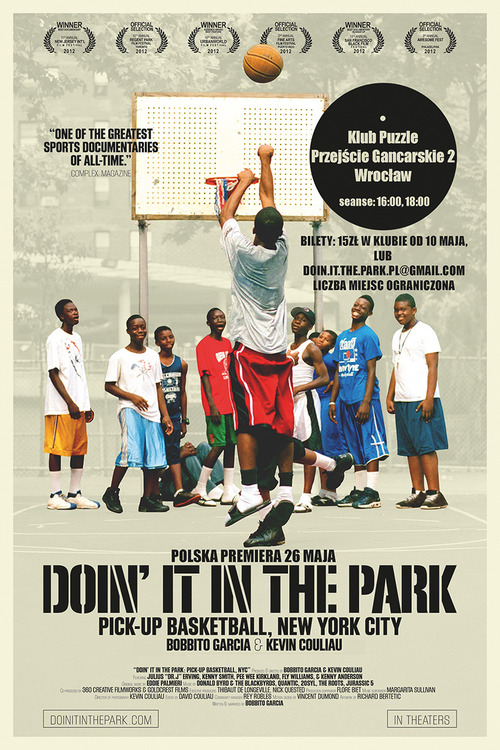 Press Release:
ON SALE + IN SELECT THEATERS: www.doinitinthepark.com
DOIN' IT IN THE PARK: PICK-UP BASKETBALL, NYC explores the history, culture and social impact of New York's summer b-ball scene, widely recognized as the worldwide "Mecca" of the sport.
In New York City, pick-up basketball is not just a sport. It is a way of life. There are 700+ outdoor courts, and an estimated 500,000 players, the most loyal of which approach the game as a religion, and the playground as their church.
"You can play high school or college for four years. You can play Pro for a decade. You can play pick-up … for life."
DOIN' IT IN THE PARK: PICK-UP BASKETBALL, NYC lovingly uncovers this movement through the voices of playground legends, NBA athletes, and most importantly the common ballplayer who all day looks forward to calling "next" game at their local schoolyard.
Co-directors Bobbito Garcia and Kevin Couliau visited 180 courts throughout NYC's five boroughs to create their debut documentary. They traveled to a majority of the locations by bicycle, carrying camera equipment and a ball in their backpacks. The film's title refers as much to the subject matter as it does to the method of filmmaking, providing an unprecedented perspective on urban America's most popular, and accessible, free recreation.
Main film characters: Julius "Dr. J" Erving, Kenny Smith, "Pee Wee" Kirkland, "Fly" Williams, God Shammgod, Tim "Headache" Gittens, Corey "Homicide" Williams, Kenny Anderson, Jack Ryan, Richard "Crazy Legs" Colon, Niki Avery, Milani Malik, and the Park Pick-Up Players of NYC.
Cameras : Canon 5D Mark II, 1D Mark IV
Lenses : Canon 24-70mm f/2.8, Canon 70-200mm f/2.8, Canon 15mm Fisheye f/2.8, Canon TS-E 45mm f/2.8
Slider : Glidetrack HD Shooter
Directed & Produced by Bobbito Garcia & Kevin Couliau
Trailer Music by 20syl from C2C
Proudly Supported by The New York Knicks
DOIN' IT IN THE PARK: PICK-UP BASKETBALL, NYC
A film by Bobbito Garcia & Kevin Couliau
On Sale + In Theaters: www.doinitinthepark.com
Follow us on :
facebook.com/doinitinthepark
twitter.com/doinitinthepark

SCREENING SCHEDULE 
Don't see your town? Create/Promote Your Own Screening of our Film at Tugg.com starting May 1. For the most up to date listings please visit doinitinthepark.com/screenings
MAY 31- JUNE 6, 2013: MIST THEATER HARLEM NYC
Mist Theater 40 West 116th St. betw. 5th and Lenox Ave NYC. myimagestudios.com. Daily: 1pm, 3pm, 5pm, 7pm more info
JUNE 7:  FREE OUTDOOR SCREENING @ DYCKMAN PARK, NYC
Presented by Maysles Cinema & Dyckman Basketball Tournament 204th Street & Nagle Ave near Dyckman St.. Show9pm.
Rain Date June 8 dyckmanpark.ning.com,
JUNE 9: ARDMORE PA
7pm @ Lower Merion High School 301 E. Montgomery Ave., Ardmore PA. Fundraiser screening to benefit B-Ball Team & ABC House. Directors Q&A to follow. info
JUNE 14 – 20, 2013: TEMPE AZ
Valley Art Harking Theater 509 S. Mill Ave. Tempe AZ harkinstheatres.com
JUNE 15-20: CHICAGO IL 
Ice Theater Lawndale 10 3330 W. Roosevelt Rd. Chicago IL. 7pmdaily. icetheaters.com
For group rates, call Alisa Starks:
JULY 3: PORTLAND OR
Hollywood Theater, 4122 NE Sandy Blvd. Showtime 7:30pm. hollywoodtheatre.org
JULY 6: PHILIPPINES
Presented by NIKE. Location/Showtime TBA. Directors Q&A to follow.
JULY 14-16: BEIJING/SHANGHAI/HONG KONG, CHINA
Presented by NIKE. Location/Showtime TBA. Directors Q&A to follow.
AUGUST 29 & 30: SOUTH AFRICA
Presented by NIKE. Location/Showtime TBA. Directors Q&A to follow.
Please contact info@doinitinthepark.com for interviews, bookings and more info.