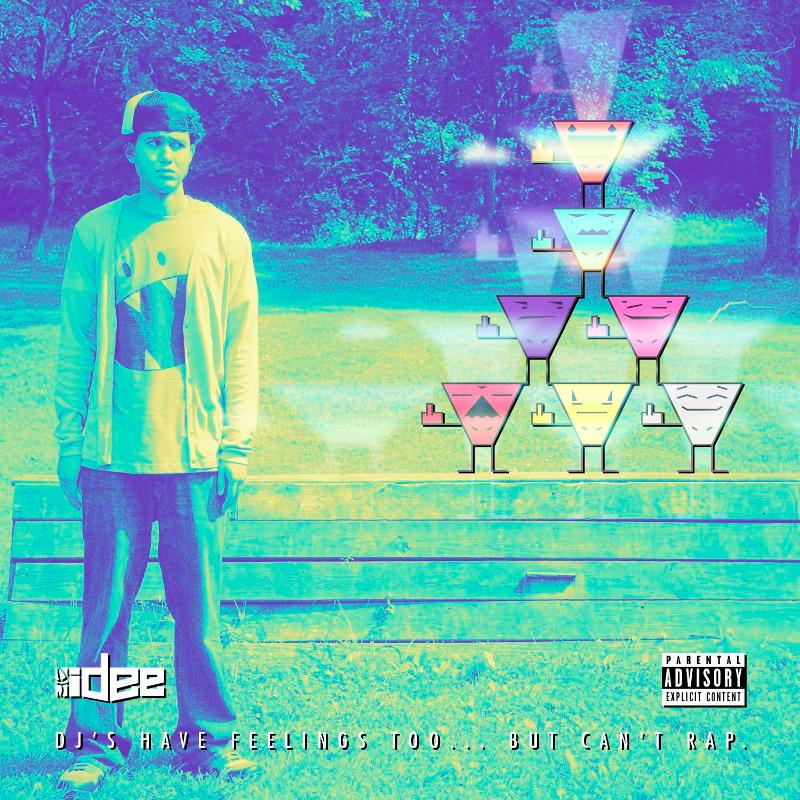 Artist: DJ I-Dee
Album: DJ's Have Feelings Too… But Can't Rap
Release Date: March 15, 2011
Available on itunes, amazon.com and select record stores

Label: Isito Music
01 – 1987
02 – Part-Time MC (feat. Eli Porter)
03 – IBS
04 – Dr. Fresh
05 – I Will Not Play Your Song (feat. Wrekonize)
06 – Battle Rap (feat. Traphik aka Timothy DeLaGhetto)
07 – Off The Decks
08 – Moral Sensitivity (feat. Jean Grae & Oddisee)
09 – Suicídio
10 – Post Apocalyptic D.C. (feat. Seez Mics)
11 – Vocal Debut

"This is my 2nd album and the follow-up to my debut, Solitude (2008). This project marks my vocal debut at my attempt at rapping while trying to shed some insight into my personal life. All in comedic fashion of course. However, halfway through the album, it takes a more serious route focusing on drug addiction, thoughts of suicide, domestic violence and so on. There hasn't been a DJ album that clearly gives the listener a precise assumption of what a DJ has or hasn't gone through in their personal life both on and off the turntables. My goal is to show that we're just as complex mentally just like any other singer or rapper, the only difference is that we speak with our hands." – DJ I-Dee

Growing up in suburban Washington D.C., DJ I-Dee (born Isaac DeLima) began his DJ career in the mid-nineties at the tender age of 10, where I-Dee would sneak into his older brother's room and practice scratching on his turntables while he was out of the house. With nothing but school, homework and video games, time was ample for the turntable prodigy to perfect his craft. In 2002, I-Dee was ready to make his transition from the bedroom to the live stage. Little did he know, a handful of extremely prestigious victories were right around the corner…
DJ I-Dee has carved out a name for himself in the world of scratch music and is within a small handful of turntablists who have left an impeccable record on the DJ battle circuit. In 2005-06, he conquered the battle scene by winning three of its most prestigious titles–the DMC Battle for US Supremacy, Scribble Jam and Roc Raida's First Ever Gong DJ Battle –all within six months of each other and by the age of 19. With recognition accomplished, I-Dee was then able to elevate his career and perform his eclectic sets around the world in such places as England, Australia, Czech Republic, Ireland, Bulgaria, Ukraine, Brazil, Taiwan, and China.
"Miami-based Isaac DeLima, better known as DJ I-Dee, is not even old enough to drink yet, and he's already got several DJ Championship titles to his name." – Elisa Padilla, URB (May 2007)
With a battle career fulfilled and touring lifestyle engraved, I-Dee transplanted to Miami Beach, Florida and switched his focus on creating new music as a producer by using the skills he developed as a deejay. In 2008, I-Dee was already seasoned turntablist and on the heels of releasing his debut LP "Solitude" on the late Grand Master Roc Raida's Adiar Cor Records.
"…just as b-boys are dancers, I-Dee reminds us that DJs are entertainers." – DJ Q-Bert
Fast forward to 2011, I-Dee is back with his 2nd album of original material entitled "DJ's Have Feelings Too… But Can't Rap". With his signature playboy hat on top and flip-flops below, the future still looks bright for the 23 year-old turntable funny-man.
Critical Reviews: DJs Have Feelings Too…But Can't Rap

"This album is ridiculous, bizarre, hilarious, contemplative, dope, and always entertaining. I-Dee had me captivated the entire time because I truly had no clue what was going to happen next. An utterly unique listening experience." – DJ Shiftee (DMC World Champion)
"I-Dee's 'DJs Have Feelings Too… But Can't Rap' is a sonic breath of fresh air for DJs and DJ fans alike. Think of I-Dee's LP as a musical pulp fiction of stories which touch on subjects such as the passing of our fallen comrades GM Roc Raida and AM on "Off The Decks" and domestic violence, in easily my favorite song off the album, "Moral Sensitivity" featuring Jean Grae and Oddisee. Looking for good music? Then look no further than "DJs Have Feelings Too…But Can't Rap.'" – DJ Rob Swift
"Easily the most immature, offensive yet thoughtful and brilliant album I have ever had the pleasure to publicize. From his exquisite creation of diarrhea noises via scratching on "IBS" to reflections on when a star DJ passes away in "Moral Sensitivity"; from offering problem solving solutions for DJs on "I Will Not Play Your Song" to glorifying the 1987 Chevy Nova, DJ I-Dee is clearly not just another DJ. In fact he's even rhyming on "Part-Time M.C." Comedy reigns supreme on some tracks while on others, the topics are deadly serious. This is the type of album Adult Swim wish they would have commissioned." – Christie Z-Pabon, DMC USA