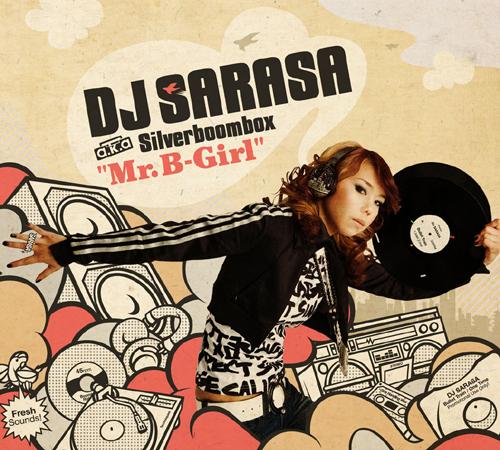 DJ SARASA a.k.a. Silverboombox
1st Official Mix CD "Mr. B-Girl"
Released May 13th 2009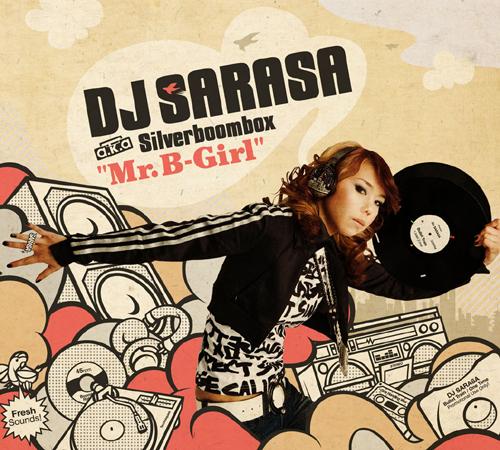 The highly acclaimed Japan-based DJ, DJ SARASA a.k.a. Silverboombox will release her first official mix CD in May 2009 exclusively for Japan. DJ SARASA is getting a lot of attention these days from the media and audiences during her live performances while she is scratching, juggling and breakdancing while Djing.
Her first official mix CD titled "Mr. B-Girl" captures the same vibe while simultaneously representing her fearless challenge to present what she believes is "REAL" Hip Hop to the masses. The track, "BULLET TRAIN", which DJ SARASA produced, speaks about running and taking over the game like a Bullet Train (Shin-kan-sen in Japanese). BULLET TRAIN internationally features world-class emcees such as ELZHI from Slum Village (Detroit), Much Music Video Award Nominated and Chinese Canadian National Council Award winning emcee, MASIA ONE (Canada), and a former Rawkus 50 artist CYMARSHALL LAW (New Jersey) who has collaborated with KRS-ONE in the past.
DJ SARASA continues to pump out the hot beats and you can find her most recent work featured on the The NIKE Troupe iD Battle website. DJ SARASA totally provided scratches and the sounds for this site which has just been awarded the bronze medal of the CLEO AWARD, one of the 3 biggest internet awards in the world.
Her hard-hitting mixtape "Mr. B.Girl" includes Hip Hop's most talented artists such as Black Milk, Pumpkinhead, Royce da 5'9″, Flying Lotus, Vandalyzm, Timid, Hasan Salaam, Wordsmith, Gregory Ryhmes, Apathy, Jean Grae, DJ Revolution, KRS-ONE, Immortal Technique, MASIA ONE, Phat Kat, Oh No, Talib Kweli, Sabotawj, 8THW1, Aceyalone, Lil Dap, and Substantial.
DJ SARASA a.k.a. Silverboombox – "Mr. B-Girl"
Tracklist
1. DJ SARASA a.k.a. Silverboombox – One Time
2. Black Milk – Long Story Short
3. Pumpkinhead feat. Royce da 5'9″ – Vanquish
4. Vandalyzm – Get Dough (Prod. Flying Lotus)
5. Timid – Bringing the Awe
6. Hasan Salaam feat. Badsportt – History of Violence
7. Wordsmith and Gregory Rhymes feat. Apathy – Slap Rappers Inc.
8. Brooklyn Academy – Raise Ya Hands
9. DJ Revolution feat. KRS-ONE – The DJ
10. Immortal Techinique – The 3rd World
11. Masia One feat. Junia T & Sikh Knowledge – All City
12. Phat Kat – Cold Steel
13. Oh No feat. Roc C – Move
14. DJ SARASA feat. ELZHI, Masia One & Cymarshall Law – Bullet Train
15. Pumpkinhead feat. Talib Kweli – Of the Same Air
16. Sabotawj feat. DJ SARASA a.k.a. Silverboombox – Hip Hop
17. 8th W1 – Fresh
18. Aceyalone – B-Boy Real McCoy
19. Lil Dap – Watch Me Do
20. Substantial feat. Steph – Day in the Life
DJ SARASA a.k.a. Silverboombox
Biography
STYLE/ GENRE
Hip Hop (Old School, 90's, Independent, Jazzy, Bass, House-Crossover, etc.)
Disco (80's to Contemporary)
House (Dance, Music, Tribal, Deep)
Soul
Breakbeats
Funk
Based in Tokyo, DJ SARASA a.k.a. Silverboombox's selection, turntablist party rocking skills, stage presence which includes breakdancing while DJing, and overall zest for music enables her to cater to any crowd with ease.
In 2006, she was involved in the Japan's production and launch of the movies "Dave Chappelle's Block Party" and "RIZE" nationwide. Having performed in the U.S.A., Canada, Japan, Dubai, Malasia and many more, DJ SARASA is a proven world-class performer. She has rocked the crowd of over 5000 people in her recent performance for Chingay Parade (Singapore) in Jan. 2009.
Her contribution to the music scene includes her eclectic selection of Hip Hop, House, Disco, Funk, Soul and Breakbeats! Furthermore, she has performed along and/or worked with big name artists like Rhianna, The Pharcyde, Masters At Work, Lupe Fiasco, DJ Premier, Pete Rock, C.L. Smooth, The Roots, Group Home, Wu-Tang Clan to name a few.
DJ SARASA's official mixtape/album "Mr. B-Girl" has been released in May 13, 2009. For more information please go to www.djsarasa.com
About the album "Mr. B-Girl" written by DJ SARASA
"Due to your support and encouragement, I have been able to release my first official mix CD in 2009 titled "Mr. B-Girl." Some of you might be thinking, what exactly does that even mean? There are a few different points to explain why such a contradictory and controversial title was chosen.
Ever since I was introduced to the most unpretentious form of art called Hip Hop, I was taught how significant it is to be myself. Despite this idea, Hip Hop revealed itself to be a male-dominated world, and society to this day expects women and men to act a certain way; this ideas is even more so in Japan.
After starting my career as a DJ, I noticed quickly that my Japanese audience was so surprised whenever they discovered that the DJ who was playing the deep, underground music was a female, or when they saw a female DJ scratching the records more than they "should." I have also received a lot of feedback saying that they can't believe a "girl" was able to make this track, or that I am pretty talented with my craft "although I am a girl."
For those who think that this stereotype is the norm might think that DJ SARASA is perhaps just a "guy-ish" B-Girl, when they hear the title of this new CD. However, I have intentionally combined the contrary "Mr." and "B-Girl" to let everyone know that it really doesn't matter what gender you are; it's bigger than that.
I personally think that stereotyping makes no sense at all, especially when it comes to DJing. It's really not about the physical difference that makes a good DJ. It is truly about which DJ's got the best groove, taste and the ambition for digging more to expose fans to doper music. I would rather be judged by my skills and knowledge as one DJ, and not as a female DJ, similar to what Martin Luther King said how he has a dream of his children to be judged "by the content of their character."
After all, if Hip Hop is about Peace, Love and Unity, the sexual difference shouldn't even come into play in the first place, right?
Last but not least, thank you so much for using your precious time to listen to my CD. Seriously, you could have been doing anything else in the world, so I really appreciate you taking the time to vibe to my release. This selection of music was chosen by me and it reflects the real Hip Hop that I grew up listening to and believing in! Make sure you check out the tracks I produced: "One Time" and "Bullet Train" feat. Elzhi, Masia One & Cymarshall Law".
I Hope you enjoy it, and check me out on my website www.djsarasa.com
Peace!
– DJ SARASA a.k.a. Silverboombox