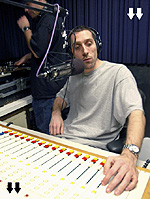 Veteran Radio Personality
and One of Hip-Hop's Most Influential Voices Joins the Elemental Staff; Will Contribute Monthly "Halftime Highlights" Recommended Listening Column
Brooklyn,
NY (February 17, 2006) – Elemental Magazine, the hip-hop industry's foremost urban lifestyle
monthly, has recruited DJ Eclipse
for a monthly record review column. Beginning with Issue 75 (March; Mobb Deep
cover) "DJ Eclipse's Halftime Highlights" will feature choice 12-inch singles and album
cuts hand-selected by the omnipresent hip-hop veteran.

Eclipse
feels his column will be a refreshing break from the hype-over-substance world
of hip-hop that is pervasive these days. He explains, "The game is so
divided right now that there needs to be some sort of balance restored. If
records are good then they're good, period. My column will show what's really
hot from both the major's and the indies. Music shouldn't be judged by
the amount of units its sold but rather the impression that it leaves on you after
listening to it. I've always stood behind the music I believe in. I
think Elemental does the same with their magazine, which makes this the
perfect combination."
DJ
Eclipse of Non Phixion is
co-founder and co-host of "The Halftime Show" on New York City's WNYU
89.1-FM (Wednesday nights, 10:30
p.m.-1:00 a.m.). He also manages Fat Beats' New York store, handles daily operation of independent
rap label Uncle Howie Records and
is a member of the legendary Rock Steady Crew.
Elemental
Magazine is published monthly by Elemental Publishing, Inc., a subsidiary of nothing and answering to
nobody—except Freddie Foxxx.