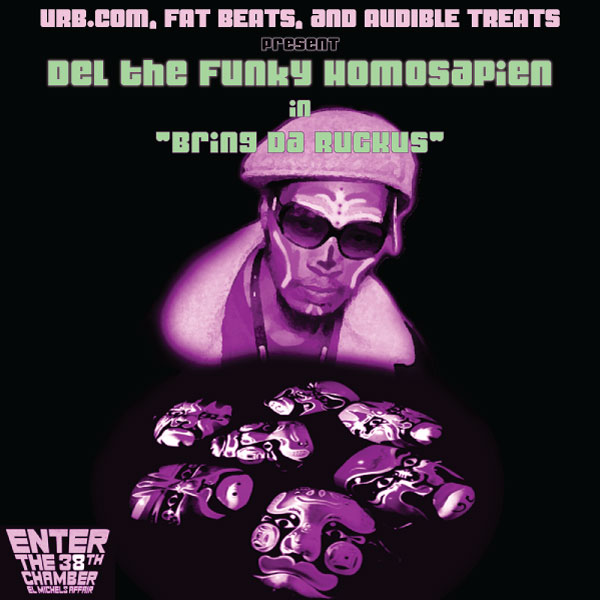 DOWNLOAD: Del The Funky Homosapien & El Michels Affair – Bring Da Ruckus Remix
It's a good time to be a Wu-Tang Clan fan. First, El Michels Affair released Enter The 37th Chamber, a full-band instrumental re-imagination of the Wu-Tang Clan's Enter the Wu Tang (36 Chambers) along with a random smattering of Wu classics, and now this innovative cult hit is getting a remix treatment all of it's own. URB.com, Fat Beats, and Audible Treats are collaborating to present Enter The 38th Chamber, a remix series that finds a crew of elite emcees riding the rhythms of El Michels' down and dusty soul instrumentals. Appearances by Diamond District, Del The Funky Homosapien, A-Plus of Souls of Mischief, Kam Moye, Nightclubber Lang of Boom Bap Project, Sandpeople, Von Pea of Tanya Morgan, and many more will add layers of lyricism to El Michels' signature funk, making it a complete and compelling package for all listeners.
The newest track from the project finds Oakland's finest, Del The Funky Homosapien, laying his lyrical stylings over Wu-Tang's "Bring Da Ruckus." Remaking a classic is no small feat, and remaking a remake can bring along a whole new set of challenges, but Del says he wanted to bring "more fire" to the song and also to expand listeners' perceptions of his lyrical range. Call it a remix, but there's something familiar about hearing Del's cadence over El Michel's smooth RZA reinterpretation. As he tackles the dusty-soulified version of "Bring Da Ruckus," Del drops metaphors, shows off his mathematical dexterity, and holds back no poetic punches, all in an effort to "keep it real funky for you turkeys and diamond head buzzards." Mission accomplished, Del.
The Background:
Funk Man (The Stimulus Package) marks Del the Funky Homosapien's 14th project of a hip-hop career that spans almost two decades. Starting at the tender age of 17 as protégé to his cousin, Ice Cube, Del quickly rose to the top of the underground hip hop scene with his albums, I Wish My Brother George Was Here (1991) and No Need for Alarm (1993), both released through Elektra Records. Soon after parting ways with the label, Del helped found the Hieroglyphics family, comprised of notable emcees Pep Love, the Souls of Mischief, Casual, and Domino. In 1998 the critically acclaimed album 3rd Eye Vision was the first to be released under the Hieroglyphics Imperium label and since then Del has had consistent success with his solo and joint efforts, including Deltron 3030 (2000), Gorillaz (2001), Full Circle (2003), and Eleventh Hour (2008) to name a few. Funk Man (The Stimulus Package) features more of Del's signature style, as this high-energy album is comprised of raw lyrics, driving rhythms, and Del's undeniable funkiness. Released via Funnyman Entertainment on April 7th, Funk Man (The Stimulus Package) is available for free via http://delthefunkyhomosapien.bandcamp.com/.
El Michels Affair, at the core of the retro-soul and funk movement, is led by saxophonist/organist Leon Michels and producer/engineer Jeff Silverman. The group began as a series of informal collaborative sessions with musicians from top-selling acts Sharon Jones & The Dap-Kings, The Budos Band, and Antibalas. In 2005, the group released their debut effort, Sounding Out The City on Truth & Soul, a label co-founded by Silverman and Michels. Since the album's '05 release, the El Michels sound has been prominent on successful collaborations with Amy Winehouse, Mark Ronson, Just Blaze, Adele, and Iggy Pop. Furthermore, in 2007, a horn part written and performed by Leon Michels was lifted and used for Jay-Z's "Roc Boys," the lead single from the American Gangster album. Most famously, however, is El Michels 2007 tour with Wu-Tang Clan member Raekwon, which led to the recording of two widely successful 7″ instrumental singles for "C.R.E.A.M." and "Bring Da Ruckus." Since then, El Michels Affair has diligently been in the studio, interpreting fifteen of some of the most legendary and well-know Wu-Tang Clan songs, including "Can It All Be So Simple," "Protect Ya Neck," "Cherchez La Ghost," and "Incarcerated Scarfaces" for their upcoming sophomore album, Enter the 37th Chamber, in stores now via Fat Beats Records.