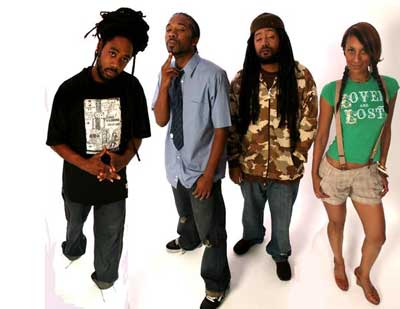 DOWNLOAD: Deep Rooted – "The End" Feat. Sha Dula (Prod. By Rhettmatic)
San Diego based sextet, Deep Rooted, spices up their latest soulful hip-hop track with a featured verse from emcee Sha Dula, and production from Rhettmatic. A catchy piano line paired with a serene vocal melody establishes the track's sentimental tone, as it continues behind Rhettmatic's laid-back yet powerful backbeat. Separating the poetic, flowing verses coming to you from the group's emcees and their guest, Sha Dula, Deep Rooted's wildcard, songstress Just Brea sings the soulful melodic hook, "We've come to the end of the road/ It's been a long time coming." The last verse features DJ Artistic with a scratch solo, bringing the track to a close. This track's medley of talent is not something to be overlooked. Check out the latest release, the self-titled D.E.E.P. R.O.O.T.E.D. out now on Clear Label Records (run by Tajai of Souls of Mischief & Hieroglyphics fame).
The Background:
In 2004 former Battle-Axe recording artist Mr. Brady and one of San Diego's most seasoned rap artists Johaz came together to form the group Deep Rooted. Under their indie label Openmyndz Entertainment, Deep Rooted began to blend their favorite hip-hop with a new style of "feel good music". Shortly thereafter, the group added soulful singer Just Brea, whose vocals brought the group to a whole new level. The group expanded again when DJ Artistic and Urban Dynamics dancers CeSee and BoosblakVans Warped Tour and Urban Network conference, Deep Rooted has been on stage to open for some of the best acts in hip-hop, including Public Enemy, The Roots, Common, KRS- ONE, Lupe Fiasco, X Clan, Wu Tang Clan, Kurtis Blow, and The Boot Camp Click. The group's music is also featured on the X Box and Play Station video games NBA 2K6 and NBA 2K7, as well as the commercials for the game. After independently releasing their first two albums, A New Beginning and A Second Coming, Deep Rooted has moved to Hieroglyphics/Souls of Mischief member Tajai's Clear Label Records. Their first release on Clear Label Records, the self-titled Deep Rooted is available now everywhere.
Please contact Michelle or Dan if interested in talking with Deep Rooted
About Clear Label Records:
Founded in Oakland, CA in 1999, Clear Label Records has established itself as one of the top independent labels in the Bay Area. The company is owned and operated by Tajai Massey, renowned recording artist with the group Souls of Mischief and the crew Hieroglyphics, who brings a unique perspective to the label utilizing his experiences as a major-label recording artist turned independent label owner & successful touring musician.Clear Label is home to recording artists of many genres such as Chris Marsol, Baby Jaymes, FamSyrk, Deep Rooted, League510, and more. Through a partnership with Pushing the Beat (PTB) called ClearBeat, the label is also home to Oakland's hottest street artists including Beeda Weeda, Shady Nate, D-Lo, Sleepy D and others. Look for full-length releases from all of these artists in the near future.For more information, please visithttp://www.clearlabelrecords.com were welcomed aboard. By this time, Deep Rooted was beginning to find their sound and make their mark. Along with performing at the