New Track Featured On SMKA's The 808 Experiment, Performing At Mixtape Release Party In Atlanta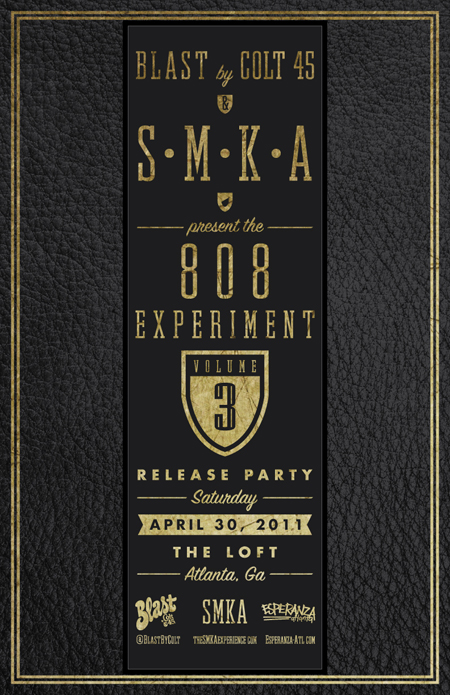 DOWNLOAD: DaVinci – Slide Through (Prod. By SMKA)
PR:
It's no surprise that Fillmore District MC DaVinci was recently tapped by Atlanta-based production team SMKA to contribute a track for their latest compilation, The 808 Experiment: Vol. 3. Since the release of his debut album, The Day The Turf Stood Still, in 2010, the skilled lyricist has been in high demand and busy putting the final touches on his new EP, Feast Or Famine, and LP, The MOEna Lisa, dropping this year, not to mention appearing on a variety of collaborations, including a recent track for Southern Hospitality with G-Side MC ST 2 Lettaz.
But first, DaVinci lent his efforts to SMKA's annual 808 Experiment mixtape. The project, which started as a local mixtape to highlight Atlanta-based MCs, has evolved into a highly-anticipated showcase of some of the finest rising and established artists, and for Vol. 3, DaVinci is featured with a gang of other artists, including Jackie Chain, Bobby Creekwater, Rittz, Young Scolla, STS, X.O. (of Diamond District, and more. SMKA's 808 Blake held down production throughout the project.
"Slide Through" is DaVinci's Bay Area-themed contribution to The 808 Experiment: Vol. 3. "I got the instrumental sent to my phone while I was riding around and I was instantly inspired," explains DaVinci. "It just put me in a good mood and reminded me of my everyday grind, so that's what came through in the song." And while DaVinci isn't always heard over bass booming 808-laced production, fans can expect to hear much more in the future, and SMKA's production fit the vibe DaVinci was going for perfectly. "SMKA's beats sound like a cross between that Atlanta and Bay Area," says DaVinci. "Two completely different scenes, but there are a lot creative similarities."
Fans in Atlanta will also be able to catch DaVinci and a number of the other artists features on The 808 Experiment: Vol. 3 as SMKA celebrates the release of the new project on April 30th, 2011 at The Loft in Atlanta, GA.