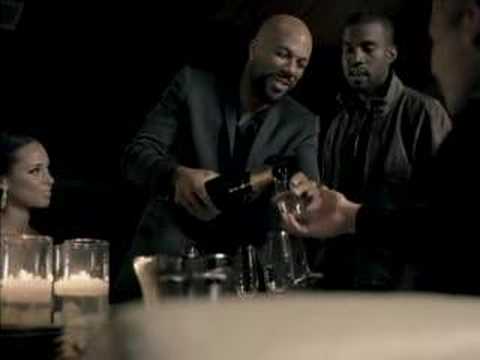 COMMON SHOOTS STARSTUDDED VIDEO FOR "I WANT YOU"
ALICIA KEYS, KANYE WEST, WILL.I.AM, SERENA WILLIAMS & KERRY WASHINGTON (CO-DIRECTOR) SHOW SUPPORT
COMMON IS NOMINATED FOR 5 BET AWARDS HIP HOP AWARDS
For Immediate Release
October 11, 2007
Grammy winning rap superstar Common stars in his most provocative video ever, "I Want You," debuting this week featuring Alicia Keys, Kanye West, Derek Luke, tennis star Serena Williams, Will.I.Am and acclaimed actress Kerry Washington ("Ray," "The Last King Of Scotland," and "Mr. & Mrs. Smith") who also served as the co-director.
"I Want You," produced by Will.I.Am, is the latest single from Common's G.O.O.D Music/Geffen Records CD Finding Forever which debuted earlier this year at #1 on Billboard's "Hot 200" chart. After making his acting debut last year with Keys in "Smokin' Aces," these dynamic performers are reunited as lovers in this powerful and passionate video inspired by the 1986 Mickey Rourke/Kim Basinger erotic classic "9 1/2 Weeks."
"Kerry and I have always admired each others work and always wanted to collaborate on a project. When we began planning for the video for "I Want You," I reached out to Kerry to star in it and it developed into her directing. She had a strong vision for the song that grabbed me from the start so we got our cast and crew together and made it happen," states Common.
Now celebrating his 15th anniversary as a recording artist, Common has earned numerous rave reviews for Finding Forever which was Executive Produced by Kanye:
"[Finding Forever] possesses a timeless vibe that few rap albums have."
People Magazine
"The Chi-town wordsmith might just be the best – equipped to save hip-hop from its commercial slump."
Billboard Magazine
"Once again, Common makes timeless hip hop seem easy."
XXL Magazine
In addition to the critical success, Common recently received his 3rd gold-selling album certification with Finding Forever (other gold albums by Common are Like Water for Chocolate and Be) and he is nominated for five BET Hip-Hop Awards: Live Performer Of The Year, CD Of The Year (Finding Forever), MVP Of The Year, Lyricist Of The Year, and Hip-Hop Video Of The Year for "The People."
Common stars with Denzel Washington and Russell Crowe in one of the most anticipated movies of the fall, "American Gangster," opening November 2nd, and he's completed production on "Wanted" featuring Morgan Freeman and Angelina Jolie and "The Night Watchman" with Forest Whitaker and Keanu Reeves.
This innovative artist is also an author whose second book "I Like You, But I Love Me" was nominated for a NAACP Image Award, and this year he became a fashion entrepreneur with the launch of his Soji hat line in partnership with Italian hat maker La Coppola Storta. Common is also demonstrating his social consciousness with his Common Ground Foundation, an organization dedicated to utilizing the cultural relevance of hip-hop to serve as an advocate for justice, education, to fight poverty, and to increase health awareness amongst youth in underserved communities throughout the United States.
As a hip-hop trailblazer, actor, author, fashion designer, and humanitarian, COMMON, is a true 20th century renaissance man. Be sure to check him out as he currently crisscrosses the country on a multi-city tour.