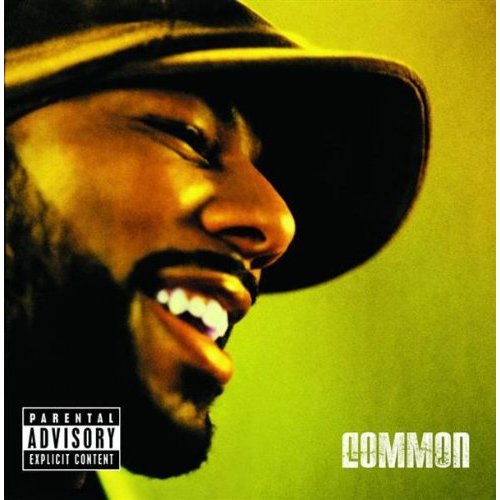 Artist: Common
Album: Be
Label: Good Music/Geffen
During the opening moments of the intro track to Common's newest album, Be,
a simple bass line eases into a '70s stringed operatic funk groove,
letting you know that Kanye West's production on this album will be
consistent with the all-star material Kanye routinely offers his
listeners. You then hear Common then stuttered excitement of this
promise: "yeah…Yesss." Such a sentiment, a release in a word, is
evocative of the release one finds throughout the album: "Yes!" A
much-hyped, much-anticipated album, Kanye helps Common deliver the
goods to all of us fans who have been waiting for something like this
from Common so damn long.
See,
Com was sick of this whole thing not too far back. I forgive him for
that. We all have our doubts every now and then. The hip-hop game was,
at the release of Electric Circus in 2002, floundering and
confused. Several years before, independent, underground hip-hop met at
a crossroads with its commercial twin when the "underground" elite
actually started selling lots of records. The quality releases of One Day It'll all Make Sense and, even more so, Like Water for Chocolate,
thrust Common into this limelight. But then shit got fucked up. Me, I
blame the 2000 election and 9/11, but maybe that's just me. Everything,
and seemingly nearly everyone, just got so … apathetic. In the midst of
a world crumbling into itself, a hip-hop nation looked at its naval and
kept on doing the same damn thing. And the same thing sold. In Common's
life, however, at least one good thing going on: Common had fallen in
love with Erykah. So why not make a love record? Why not attack the
cynicism? Bit Electric Circus, like so much rap forays into singing,
isolated the fans who missed the rapping. And the oddball, eclectic
production on the album had more than its share of naysayers, those
unwilling to accept Common's attempt at branching out.
So Common took a vacation. Why not? Who the fuck needs all that flak he got for experimenting?
Thank God for Kanye West. Although Be
is a Common album, the title easily could have been "Common and Kanye
present Be." Does one even need to critique the production of this
album, about 80% of which is Kanye's? Saying that Kanye did it –
whatever "it" is – and that it's great almost sounds redundant by now.
I don't care if lots of his stuff sounds the same: that's just
consistency. It's somewhat cliché by now to say that Kanye bridged the
gap between the blinger wannabes and the backpackers, but damnit,
that's true, and that's one of the reasons he's so darn important. When
Kanye thrust himself out there, things got confused again – less
cynical. Suddenly, Jay liked Talib Kweli, released a masterpiece, got
overtly political, and showed a maturity rarely exhibited in his
previous releases. And he big-upped Common. It was no accident that
Common was on Kanye's album, and it was no accident that his first
return to mainstream radio play was as a guest on the political monster
jam remix of "Why," alongside Jada and Nas. There was a new
presidential election coming up; rappers started to act like activists
again, and conscious people started waking up with newborn hope, Lonnie
Lynn included.
The "Be" of this album title is a command,
both to accept oneself for who you are, and to work to make that self
the best it can be. Part of who you are is where you're from, and
there's a lot on this album to emphasize that one should never run from
his/her beginnings, to accept it, embrace it, but also be unafraid to
criticize it. Repeatedly on this album, Common chastises those from his
community – however defined, his friends to Chicago to hip-hop in
general – who rejected his experimental dabblings. This album tells
them that he's the same Common he's always been; he's just growing and
evolving.
Prominent among those he's addressing here are the
people who make the street – the everyday street, with its everyday
goings-on – their regular hangout. This group is the subject not only
of the lead single "The Corner," but is also spoken to through numerous
verses throughout the album, as Common tries to convince them that No,
he wasn't trying to abandon them by branching out. This newfound drive
to address these people – his people – could almost be read as an
acknowledgment that he didn't try hard enough to include them on his
last effort. "The Corner" recognizes the street corner as not only
metaphor, but a real opportunity for upliftment – as a part of the
foundation of hip-hop. The hip-hop pioneers The Last Poets make perfect
guests on this song, their inclusion an acknowledgment as to where
hip-hop – as part of Common – comes from.
The next songs
focus more intently on the concept of love – love for a woman, love for
God, and love for community. While the several songs following "The
Corner" are quite good, they don't push the envelope in the way others
do on this album. Or maybe I just prefer it when Common doesn't
concentrate so heavily on exploring the concept of love. He's done it
before, and done it well. "GO!" is a testament to how true
relationships must have a sexual foundation, which, quite frankly, is a
little boring. A better offering and one more worthy of Common's later,
better work, is "Faithful." With lyrics following the declaration "This
is for the people God moves," Common uses the metaphor of love for a
woman to love for God. He used to do this when talking about hip-hop,
remember? Common tells us that just as we should try to be faithful to
a woman, we should try to be faithful to God. And treat a woman as you
would God. The John Legend and the gospel chorus in the background
serve to bolster the interweaving of religion; no one but Kanye could
pull this off so well. Two songs later, on "Love Is…" Common tells us
of the love he sees in his neighborhood (again, the return to the
concept of "The Corner"), and in the larger community. But he's not
only recognizing the love, he's trying to enforce it: "It's all love
where we come from, in the hood love we was told to run from, that same
hood where the guns sung, we holla love, hoping it will come one."
Amidst
all this lubby-dubby, "Testify," the fifth track on the album, is a
true-to-form story-rap. An old form, its inclusion here shows how much
Common not only respects his hip-hop roots, but enjoys them. About once
an album Common has one true story-rap, and really, once an album is
enough. The hook and production on the track is incredible, the story
somewhat mild; this is definitely a good song, but the weird thing is
that the femme fatale storyline here completely contrasts the emphasis
on love on the previous two tracks. No one but Common could have put
this song right after the last two. It doesn't take him long to return
back to love theme in "Love Is," making "Testify" seem more an
intermission than anything else.
The second half of the album
focuses more on Common's own, personal, recognition. It's not
braggadocio: this isn't "I love me because I'm awesome," but "I love
me, because humans should love themselves, and this is what I've
discovered about me." Part of what he's discovered is that he likes
experimenting, and on "Chi-City" Common refutes those who claimed he
was falling off: "I took it outer space / and niggas thought they lost
me / I'm back like a chiroprac with b-boy survival rap / It ain't '94
Joe we can't go back / The game need a makeover / My man retired / I'ma
take over / tell these half-time niggas break's over." Common is here,
see, to fill in Jay's shoes in elevating all that's around him, and
when he tells us "I wonder if these wack niggas realize they wack / and
they the reason my peoples say they tired of rap," you know he's on a
mission.
"The Food," the next track, is simply one of
Common's all-time best, and one of the best songs of year. Kanye's ill
hook and incredible piano loop sets up Common's strong lyrics filled
with Chicago street imagery and reminiscences that being successful in
hip-hop isn't about bling materialism, it's about making a living, or
at least, that's nearly always how it starts, and is a foundation to
build from. This song makes you feel…good. About whatever hustle,
whatever hard shit, whatever bad job you took that you hated, that you
did just to not worry about money: "So I had to did / what I had to did
/ cuz I had to get / d-ough, d-ough." Just because everyone has to eat.
This song is transcendent because of its humility: both Common and
Kanye still remember why, and how, they've worked so hard to get here.
The two are incredibly successful, and in that respect, the concept of
working to get food – something they both clearly needn't think about
anymore – almost feels like an out-of-body experience.
Aside
from touching on a host of other topics, the next two songs, "Real
People" and "They Say," both have their strongest moments reflecting on
Common's struggles with his acceptance both as an artist and on the
street. On "Real People," Common asks "Can a dude break free and still
get honored at home? / I was told by a chief it's the game's nature /
when you glowin' some'll love and some will hate ya" On "They Say" Com
again addresses those who thought he fell off: "They say a nigga lost
his mind / but in the scheme of things I never lost a rhyme … They say
you went wild / yeah that's what they say, my niggas couldn't tell it
was me like Jamie in Ray." The message here is: don't bend yourself to
satisfy others, be as wacky as you wanna be: "They say the crochet
pants and the sweater was wack / Seen 'The Corner,' now they say that
nigga is back." "It's Your World," the final song on the album, ends
with a cautionary tale about a woman who grew up in a broken, abusive
home, and tragically never made the decision to work to seek a brighter
future. Common, simply, asks us to make better choices than she did:
"Life is fast, so choose to be quicker."
Following that is
the now-requisite spoken-word poem by Common's pops. Following a
montage of children declaring what they want to be when they grow up,
the concept codas back nicely from the intro to the album, when Common
claims he's really in this now to guide the children. Referring to his
daughter, he claims "If I'ma do it, I gotta change the world through
her." To "be" is not only coexisting with the world, but also striving
to make it better: "This present is a gift, and I just wanna be." The
spoken word poem reiterates the same, valuable lesson stated throughout
the album: take an active part in your existing, coexist with the world
but also try to make it better. Like the last track begs over and over
again, be yourself, but damnit, be good. I'm glad Common thinks enough
of us to be himself around us, and to show us how good he can be.