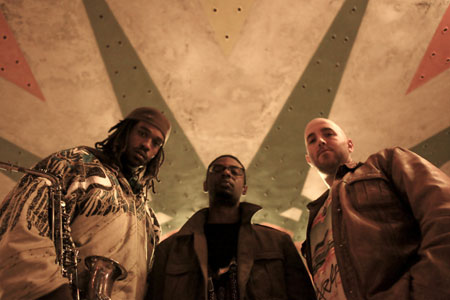 DOWNLOAD: Chosen Few feat. Pep Love & Opio – Girls Gone Wild
Smooth vibes from Charles Cooper's saxophone open up the latest offering from Oakland's Chosen Few, which also features lyrical acrobatics from Opio and Pep Love from the iconic west coast collective, Hieroglyphics. Titled "Girls Gone Wild," the song is a precursor to the Chosen Few's upcoming album, New World Symphony, and although it will not be making an appearance on the album, the group is giving it away now to allow listeners an early taste of what to expect from the Bay Area crew. "Girls Gone Wild" doesn't seek to resurrect the ghosts of spring breaks past, but instead touches "on the delicate balance of media influences and personal connections to what defines success for women in the, yet still, inequitable social norms of the world" says Cooper. Featuring production by beat maestro Unjust, "Girls Gone Wild" serves as a worldwide wakeup call to see through the media-manufactured smoke and mirrors, and, adds Unjust, encourages people everywhere to "foster their own individual shine." While rhymes and horns are at the front of this creative storm, at Opio's suggestion the song closes with audio from the movie Fame and the rest, as they say, is history. Chosen Few's New World Symphony will be available on January 9, 2010 via Hiero Imperium Records.
The Background:
Chosen Few is Cold Showda, Unjust, Charles Cooper… and You. The mission of the group is to empower listeners and make them realize that they alone have the power to decide what music they listen to, instead of just picking up everything the powers that be are putting down. Originally from Ohio, the crew hooked up with regional talent like Hi-Tek, DJ Kweli, and Slum Village before moving westward to fulfill their musical manifest destiny. Cold Showda and Charles Cooper began their Bay Area careers by performing under the name Greans, collaborating with the likes of Mos Def, Common, Hieroglyphics, Pharcyde, Grandmaster Flash and more, while Unjust used his skills as a graphic artist to work with Dilated Peoples, Little Brother, Strong Arm Steady, Planet Asia, J. Dilla, Nappy Roots, and Dizzee Rascal to name a few. After achieving their respective separate successes, Chosen Few regrouped in 2008 and began building energy towards reviving the emotional range that seemed to missing from lady hip-hop at the time, and thus the idea that was New World Symphony was born. The sound of today's social consciousness is Unjust's soul and psychedelic rock laden beats, Cold Showda's relentlessly aggressive lyrics, and Charles Cooper's masterful saxophone playing and wordplay. Rounding out the album are guest appearances by Del The Funky Homosapien, Pep Love, Rakaa Iriscience, Phat Kat, DJ Babu, Tajai, Opio, Piakahn, Word4Word, and more. As Cooper says, "we are trying to encourage people to stand up, be your own individual and BE one of the chosen few." Become part of the movement at http://wearechosenfew.com and prepare to tune into New World Symphony on February 9, 2010, via Hiero Imperium Records.