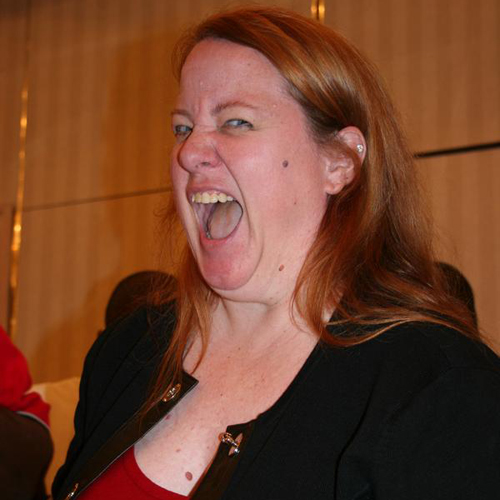 There have been thousands of people who have met, been helped, or educated by Rap Coalition Founder, Wendy Day, over her last 18 years in the music industry. As I grow, and travel in the industry the stories are more and more amazing of others experiences with Wendy Day. I recently had a conversation with Wendy and told her one day I was going to collect those stories and publish them, her exact words "I would love that!"
So here I am today contacting you.
My goal is to collect personal experiences from others like myself and put them together in one collective book by December 2010, that will be for sale via LuLu.com (a self publishing website).
LuLu.com takes a small percentage out of the books sales (20%) and 100% of the final gross will be given to Rap Coalition and Wendy Day to do with what she sees fit! (Just so you know, when I emailed Wendy about this project going into motion and getting her official blessing her return email included: "What I will do with the money is fund more free seminars to educate up and coming artists."-Wendy Day)
I would like to receive stories that talk about your first meeting, stand out moment, funny story, or any personally experience you want to share that you have had with Wendy Day. I am reaching out to artists, producers, publicists, managers, EVERYONE and anyone who has had a memorable experience with Wendy Day .
There is a 2500 word limit, and myself and a publisher affiliate of mine will be going through to just check spelling errors and make sure stories are under the 2500 word limit.
Each story will be a chapter in the book. The cut off for submissions is no later then July 15th 2010 and those who have submitted by the final deadline will be published in the final book. If for some reason we go over any limitation for LuLu.com, I will do a part 1 and part 2 ect.
Please know I want your story that you choose to share with the world to be as personal as you want it to be. I am a NYC native and I tend to cus A LOT (the f word is a noun, adjective and verb to me) it is a way that I express myself at times, so I will not be adjusting anyone's way of getting their story across, your story will be printed exactly how you choose to tell it and submit it.
If you have photos of yourself with Wendy Day you would like to submit for your chapter, I will accept up to 5 photos. I can not guarantee all 5 will make your chapter, but at least 1 will. I would prefer everyone to submit at least 1 photo if possible.
If you are willing to participate and share your story about your experience with Wendy Day you will need to email me back so that I can send you a Contributing Writer form. This form is a release form giving me permission to use your images and words. For your photos you will need to send me the photographers information if possible to credit them for the photo. I want to credit everyone as much as possible that contributes to this book.
Your IP address and filling out/returning of the form will be an acceptable digital signature but if you are more comfortable mailing in the release form, I will provide you with my physical address so you can send me the printed and signed release form.
Please feel free to post, or pass on this email.
Thank you for your time.
Respectfully,
So Sincere
440-969-8560
About Wendy (from RapCoalition.org)
Wendy Day founded the not-for-profit Rap Coalition in March of 1992, out of disgust for the way urban artists are unfairly exploited in the music industry. Wanting to shift the balance of power to favor the artists, Wendy dumped her life savings (selling her condo, her stocks and bonds, and her BMW) into starting the advocacy organization to support, educate, protect, and unify hip hop artists and producers–in other words, to keep artists from getting jerked. Since 1992, Rap Coalition has impacted the urban music industry by helping, for free, thousands of artists, DJs, and producers individually, as well as through monthly panel discussions, seminars, demo listening sessions, cipher sessions, showcases, and fair deal negotiations. Rap Coalition breaks unfairly oppressive contracts (pulling artists out of bad deals with record labels, production companies, and managers), teaches the business side of the music industry to thousands of artists and industry hopefuls from around the country, offers health care and dental benefits, coordinates the panels at most of the major urban music conventions, has instituted a mentor program combining up and coming artists with established artists, and helps set up artist-owned record labels.
Rap Coalition answers to a Board Of Advisors which reads as a veritable Who's Who in the rap music industry, consisting of Chuck D from Public Enemy, Vinnie from Naughty By Nature, David Banner from Crooked Lettaz, Keith Murray, Yungbuk from PsychoDrama, Gipp from Goodie Mob, Sticky Fingaz from Onyx, Too Short, Ras Kass, Do Or Die, Killah Priest, Fiend, Pimp C from UGK, Easy Mo Bee, Shinehead, C-Murder, 8Ball, EA Ski, Canibus, Shorty from Da Lench Mob, Evil Dee from Black Moon, Brotha Lynch Hung, Freddie Foxxx, Bizzy Bone, Cold 187um from Above The Law, Schoolly D, and Kool Kim from UMCs. Prior to his death, Tupac Shakur was the first member of Rap Coalition's Board Of Advisors. Rap Coalition is based in New York with satellite offices in Chicago, Atlanta, Los Angeles, and Houston.
One of Wendy's priorities is to consult with and help build regional and national independent urban record labels so hip hop artists can regain control of their own art form. Consistent with this goal, Ms Day has negotitaed some stellar distribution deals in urban music. She has played a part in Eminem's deal at Aftermath/Interscope, Master P's No Limit deal with Priority Records, Psycho Drama's deal at Suave House, DJ DMD's deal with Elektra, Fiend's deal with Ruff Ryders, UGK's renegotiation with Jive Records. She negotiated the incredible joint venture deal for Twista with Atlantic Records in 1996, which both The Source and Rap Pages magazines called "the best deal in the history of Black music," until she topped her own record with the now famous $30 million dollar deal for Cash Money Records with Universal. She focuses on complete control and ownership for the independent label in all of her deals. Master P was the first artist to keep control and ownership of 100% of his masters for No Limit. Cash Money is the only other label in urban music to own 100% of their masters, contrary to what the press says about Bad Boy, Death Row, Roc-A-Fella, and others. The money Wendy Day earns negotiating these deals goes immediately into Rap Coalition, and is solely what funds the not-for-profit Rap Coalition.
In the Fall of 1998, tired of the lack of professionalism and inconsistencies in managers for urban artists, Wendy Day started Visionary Management to train up and coming managers in urban music. "Most artists appoint their "boys" (friends and family) to positions of power, and then get frustrated when their careers don't go anywhere. I started Visionary Management as a training ground for people who seriously want to get into management and have the skills and ability to manage, but lack the experience and connections," she states emphatically. Visionary Management has consulted Twista, Fiend, Crooked Lettaz, C-Murder, Slick Rick, Ras Kass, reggae producer Dave Kelly and multi-platinum squad: Medicine Men, formerly known as Beats By The Pound. Visionary Management has worked with the managers of Slick Rick, Black Rob, Kane & Abel, Smoothe The Hustler, Canibus, Trigga Tha Gambler, WuTang Clan, and Beats By The Pound. Due to the incredible response to this much needed program, the training program is full for the next three years.
Wendy Day has had numerous monthly columns in underground rap publications (for example, the RAPCOINTELPRO column in Murder Dog and Chuck D's internet website: Rapstation.com)focusing on the business side of music, and has contributed to the following publications: The Source, RapPages, VIBE, Blaze, Down Low, The Connection, 4080, Caught In The Middle, The Fever, Beat Down, Props, Flavor, The Bomb, Ego Trip, Straight From The Lip, The Final Call, One Nut, Insomniac, Rap Sheet, Word Up, BRE, manhunt.com, 88hiphop.com, hiphopnow.com, mp3.com, volume.com, etc.
Wendy Day has been at the leading edge of making change in the way the music industry conducts business and her name is synonomous with fairness and education. She is at the forefront of trends and market shifts in today's urban music industry. The bulk of artists in rap music are coming through her offices, and record labels seek out her opinion on trends, styles, and regions of talent explosion. It is difficult to find an artist today, either established or up and coming, who hasn't been touched by this woman. In the February 2000 Source Magazine, and again in January 2001, she was honored by being inducted into "The Power 30," an annual ranking of the most influential people in urban music, although accolades are not what drives this woman.