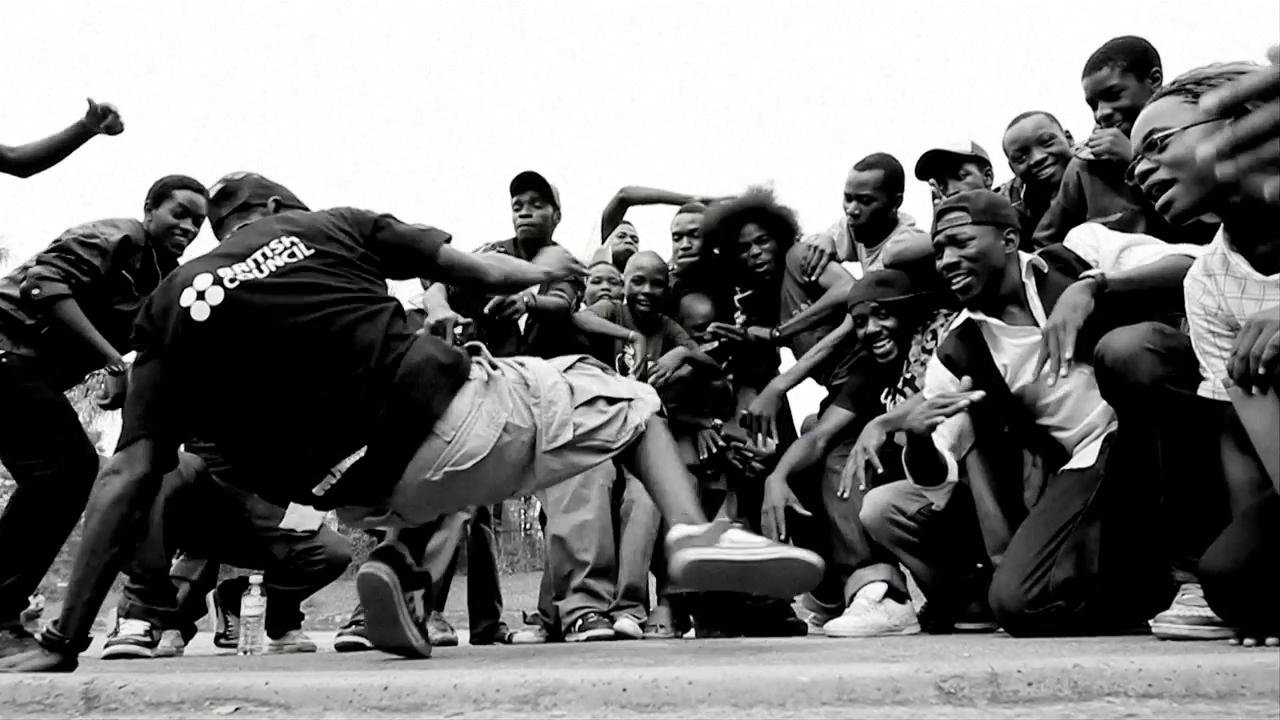 "Bouncing Cats is the inspiring story of one man's attempt to create a better life for the children of Uganda using the unlikely tool of hip-hop with a focus on b-boy culture and breakdance. In 2006, Abraham "Abramz" Tekya, a Ugandan b-boy and A.I.D.S. oprhan created Breakdance Project Uganda (B.P.U.). The dream was to establish a free workshop that would empower, rehabilitate and heal the community by teaching youth about b-boy culture."
The description says one man's attempt using the unlikely tool of Hip Hop. But Hip Hop really isn't an unlikely tool in these situations is it? We here in the states have largely forgotten and neglect the uplifting power of Hip Hop but other parts of the world haven't. We forgot that it was a tool used here in the beginnings for the same purpose. In the middle east in war torn places like Palistine and Israel, emcees are more political and unifying. In places of extreme struggle where Hip Hop is present more times than not it's used as a tool of empowerment. So I would say that Hip Hop is very  much a likely tool in these scenarios. It's a combination of many things; art, culture, expression, creativity, activism, activity and joy among others. This is Hip Hop's strength. This is how, in my opinion, Hip Hop can be a major force for revolutionary change if utilized in the proper capacity.
Go to the official website http://bouncingcats.com/ for more information and screening times of the film.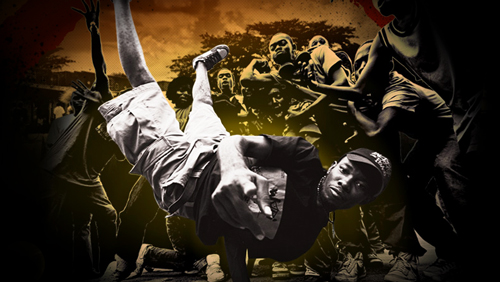 Check out the press release of Bouncing Cats.:
This November, Documentary Channel (DOC) proudly presents the US television premieres of the New Orleans-set documentary film Red Bull Street Kings on Thursday, November 3 (8 p.m. ET/PT) and the award-winning Bouncing Cats on Saturday, November 19 (8 p.m. ET/PT). Produced by Red Bull Media House North America, each film offers an uplifting tale of the power of dance and music, and those using them to change lives.
An eye-opening look at the realities of life for the children of Uganda, Bouncing Cats is the moving story of one man's attempt to create a better life for the struggling children of the country using the unlikely tools of hip-hop and breakdance. With narration by Common, and interviews with K'Naan and Will.I.Am, the film follows Ugandan b-boy/rapper Abramz and Crazy Legs, one of the founding members of the legendary Rock Steady Crew, on a journey for positive social change.
Equally poignant is the 2010 tale of four New Orleans brass bands as they march through the legendary Tremé neighborhood of the renowned musical city to battle it out under the Claiborne Bridge for Red Bull Street Kings – a first of its kind brass band showcase and competition hosted by none other than "Crown Prince of Tremé," Glen David Andrews. A toe-tapping film about this powerful musical genre, Red Bull Street Kings acknowledges the impact brass bands have had and continue to have on American and international music from rock, to country, to hip hop and more.
This is the second time the Red Bull Media House North America and Documentary Channel have teamed up. Documentary Channel premiered the Red Bull Media House hit 20 Seconds of Joy in 2009. The two companies will work together to pool their impressive multi-platform assets to promote and build awareness of both films and the issues they address.
"We are thrilled to join forces with the incredible team at Red Bull Media House North America to bring another round of high-quality, socially relevant documentary programming to Documentary Channel," said James Ackerman, Documentary Channel president and CEO. "Red Bull Media House has a strong cross-platform presence and we look forward to working together to share these important stories with both our audience and theirs."
onsumer.information@us.redbull.com
Twitter.com/bouncingcats
Shout out to Diana Rice (@dianarice77) at the Documentary Channel for the heads up and props to them for screening the film.