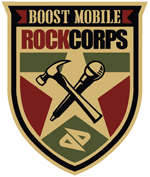 BOOST MOBILE ROCKCORPS ANNOUNCES
2006 NATIONAL YOUTH VOLUNTEERISM MOVEMENT
"Boost Mobile RockCorps" Rewards Community-Conscious Youth with
Exclusive Concerts Featuring Platinum-Selling Recording Artists
FIRST SHOW KICKS OFF IN ATLANTA ON JUNE 16 AT THE FOX THEATRE!!!!
PLATINUM SELLING HIP HOP ARTISTS TO BE ANNOUNCED!!!
GET INVOLVED AND SIGN UP NOW AT HTTP://WWW.BOOSTMOBILEROCKCORPS.COM.




New York, NY – Boost Mobile RockCorps (BMRC), the national youth volunteerism movement that motivated more than 6,000 young people to get involved and help their community last year…is back! RockCorps, an organization harnessing the power of music to inspire volunteerism, and Boost Mobile, a wireless telecommunications brand dedicated to boosting the lives of today's youth, announced today that they will once again partner this year to continue the youth movement for social
change.
Combining the power of music, community and volunteerism, Boost Mobile RockCorps will offer entrance to this summer's most popular concerts for which the only way in is to earn tickets by contributing four hours of volunteer service. The 2006 Boost Mobile RockCorps movement will
kick-off this month with a series of volunteer programs in Atlanta leading up to the first televised concert event on June 16 at the Fox Theatre.
This year's volunteers will work on a range of service projects including school and playground renovations, environmental initiatives, food distribution and much more. The BMRC program will build throughout the summer with stops in Houston, Chicago, Minneapolis/St. Paul, Detroit, Los Angeles, New York and Washington, D.C. By the end of the 2006 tour, which concludes with a signature televised concert at Radio City Music Hall in New York City on September 23, BMRC volunteers will have transformed close to 125 project sites in eight cities across the country. The fundamental goal of Boost Mobile RockCorps is to make volunteering cool and to get people involved in their community at an early age," said Stephen Greene, chief executive officer, RockCorps. "Our partnership with Boost Mobile is helping to build the bridge between the desire to help out in one's community and the actual street level need. BMRC connects people with non-profit organizations in their neighborhood."
The movement began in June 2005 and included 10 volunteer events and concerts in Los Angeles, Chicago, Atlanta, Minneapolis/St. Paul and Washington D.C. throughout the summer. BMRC volunteers received tickets to popular music concerts in their area in exchange for contributing
four hours of community service. The shows included some of the biggest acts in music, including Kanye West, Green Day, Coldplay and Mike Jones.
An additional 78 projects were implemented in New York City from August through September last year. 5,000 BMRC volunteers participated in the New York City projects and received tickets to an exclusive concert at legendary Radio City Music Hall that featured top-selling recording artists Fat Joe, Young Jeezy, TI, Paul Wall, Fabolous, Slim Thug, Travis Barker and others. The signature concert, which celebrated the efforts and accomplishments of this unprecedented nationwide initiative, was nationally televised on MTV2.
BMRC is now recruiting members through youth-oriented radio, websites, urban guerilla marketing and more. People interested in becoming part of the movement can log onto www.boostmobilerockcorps.com or call 888-ROCK-889 for more information and to register for membership. Boost Mobile RockCorps members will be notified of opportunities in their area to volunteer and asked to commit four hours to a specific event or ongoing cause.
"Boost Mobile RockCorps' infectious blend of selfless contribution, immense reward and exceptional entertainment is creating a lasting impression with young adults," said Darryl Cobbin, vice president of marketing, Boost Mobile. "Utilizing the power of music as the ultimate reward for community service allows us to reach a more diverse group of potential volunteers. We applaud RockCorps' unique approach to exposing young people to simple ways they can impact their community and are pleased to help make their vision a reality."
About RockCorps RockCorps is an organization that harnesses the power of music to inspire volunteerism. Based on the early work of The Greenbucks Foundation, RockCorps was founded in 2003 to affect social change and act as the bridge between communities in need and the young adults who want to make them better.RockCorps' goals are to introduce volunteerism to teens and young adults, motivate people to volunteer in their community and launch a national movement. The company has formulated a unique blend of music, community and volunteerism to expose young people to simple ways they can proactively contribute to the greater good. The program employs music as an incentive to entice and then funnel volunteers through established non-profit organizations. By completing four hours of community service, each participant receives a ticket to a signature RockCorps event which features performances by some of the hottest names in music.
Experience shows that after volunteering once with RockCorps, young people are twice as likely to do it again.

About Boost Mobile
Based in Irvine, California, Boost Mobile, LLC, a subsidiary of Sprint Nextel Corporation, (NYSE: S), is a lifestyle-based telecommunications brand focused on offering premium Pay-As-You-Go wireless phones and services to the youth market. Boost Mobile is dedicated to boosting the lives of today's young people by contributing to youth development programs. Boost's community relations efforts, which include Boost Mobile RockCorps, Boost Mobile Ahead of the Game youth basketball camps, support to Big Brothers Big Sisters and Historically Black Colleges and Universities and more, are helping young people enhance their lifestyle and status, and build stronger connections and greater
independence. Experience Boost on the Web at www.boostmobile.com