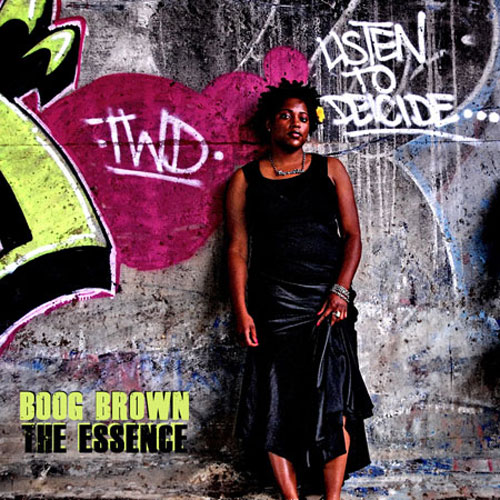 DOWNLOAD: Boog Brown – The Essence | Boog Brown – The Essence (Oddisee Remix)
Atlanta based lyricists Boog Brown and renowned producer, Apollo Brown team up once again. The duo first collaborated on the enthralling mixtape The Grind Season Vol. 1, a tantalizing sample of what was to come from this dynamic team. On September 28, 2010 the wait will finally be over with the release of the duo's first full-length album Brown Study, via Mello Music Group.
To usher in the release of Brown Study, Boog Brown presents "The Essence." A solo track, not part of the album, "The Essence" was recently featured in BET's documentary My Mic Sounds Nice. Previously released, the track is now getting a brand new makeover from highly acclaimed producer Oddisee. "The Essence" showcases Boog's mesmeric flow, spitting rhymes with ease and precision, her lyrics smoothly layering the beat. While the original arrangement offers up a smooth, soulful groove and off-kilter beat, Oddisee's revamped version keeps in step with the organic feel, but offers a smoother flowing base for Boog's vocals with dusty drums, an array of accompanying percussion, and light, nearly staccato strings. Boog Brown & Apollo Brown's Brown Study will be available September 28th via Mello Music Group.
The Background:
In the world of Hip Hop, Atlanta based Boog Brown spreads her "Dope Girl Magic" like her life depends on it and returns us to the roots of a genre that has literally changed the world. Currently based in Atlanta, Detroit native Brown describes herself as a "lover, fighter and artist." This is reflected in her personal style, lyrical approach and unique perspective. Though she has been an emcee for roughly 3 years, her writing goes back to the age of 15, allowing her to amass an arsenal of lyrics including two chapbooks of poetry, Swimming Against the Current State of Mind: My Life In Words and Black Tie Fish Fry, and her debut mixtape, the 2007 release entitled Extended Play. Earlier this year, Brown released The Grind Season Vol. 1 mixtape which features production from Illastrate, Lex Boogie, 14KT and appearances from staHHr, Fluxwonda of Binkis Recs, and Mojo Swagger. The Brown Study LP will be dropped September 28, 2010 via Mello Music Group.