Apollo Brown & Boog Brown Release First Single From Collaborative Album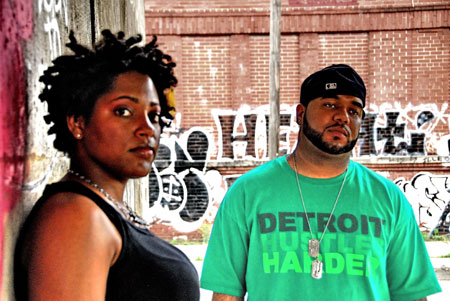 DOWNLOAD: Boog Brown & Apollo Brown – Just Be
Detroit based producer Apollo Brown and Atlanta based rapper Boog Brown are at it again. The pair's first collaborations resulted in the enchanting mixtape The Grind Season Vol. 1, a tantalizing taste of what was soon to come. The wait will finally be over when the duo release their first full-length album Brown Study on September 28, 2010, via Mello Music Group. The long-awaited album will feature the likes of Miz Korona, Invincible, Kam Moye, and Kenn Starr.
The first single off of Brown Study is the sensual "Just Be," an intimate whisper that floats over Apollo Brown's shimmering samples and passionate groove, inspiring the intense pleasures of living in the present and savoring every moment. Boog expressed that desire, advising us to "Live in the moment. In all things, intimacy, joy, pain, hurt, loss, gain, triumph. All of that — be in it. Feel it, because it's the fabric of life. Blink and it's gone." Powerful and vibrant lyrics such as "Enraptured in the scent/ This is bliss at length/ From start to the finish/ Euphoric/ Absorbed in the ebullience/ Elegant every sense awakened" meld with Apollo's sampled soft horns, sweeping strings, and chimes, echoing his thought that "'Just Be' is one of those songs that exude passion and feeling. We don't have a lot of true feeling in the music now days. Emcees and producers shouldn't be afraid to express themselves exactly how they please."
Boog Brown and Apollo Brown's album Brown Study will be available September 28th via Mello Music Group.
Boog Brown:
In the world of Hip Hop, Atlanta based Boog Brown spreads her "Dope Girl Magic" like her life depends on it and returns us to the roots of a genre that has literally changed the world. Currently based in Atlanta, Detroit native Brown describes herself as a "lover, fighter and artist." This is reflected in her personal style, lyrical approach and unique perspective. Though she has been an emcee for roughly 3 years, her writing goes back to the age of 15, allowing her to amass an arsenal of lyrics including two chapbooks of poetry, Swimming Against the Current State of Mind: My Life In Words and Black Tie Fish Fry, and her debut mixtape, the 2007 release entitled Extended Play. Earlier this year, Brown released The Grind Season Vol. 1 mixtape which features production from Illastrate, Lex Boogie, 14KT and appearances from staHHr, Fluxwonda of Binkis Recs, and Mojo Swagger. The Brown Study LP will be dropped September 28, 2010 via Mello Music Group.
Apollo Brown:
Born into a bi-racial family in Grand Rapids, Michigan, Apollo Brown's early influences skewed more toward the music of Journey and The Carpenters than the urban genres his peers often cite as inspiration. This is not to say that once hip-hop came into play, Apollo wasn't all in. Just as easily as he can praise the virtues of yacht rock, the 29-year-old beatsmith can name personal heroes – Gang Starr, Wu-Tang, Mobb Deep, M.O.P., Nas, and Black Moon – from the early 90s period in which, for him, beats and rhymes became life. Apollo began making his own music in 1996 using Voyetra audio software, then upgraded to Cool Edit 2000 in becoming a self-described bedroom beat-maker for roughly the next eight years. It was the mid-2000s, and the upstart producer saw no future for his work – work he had dedicated his life to – in an industry where radio was setting a formulaic pattern for mainstream music. But he eventually began to miss the creativity in his craft and began producing once again, releasing the instrumental albums Skilled Trade (2007) and Make Do (2009). He went on in 2009 to win the Detroit Red Bull Big Tune Championships and competed in the national finals. Apollo then signed as a producer with the Mello Music Group in December of 2009. His debut album, The Reset, is available now via Mello Music Group.