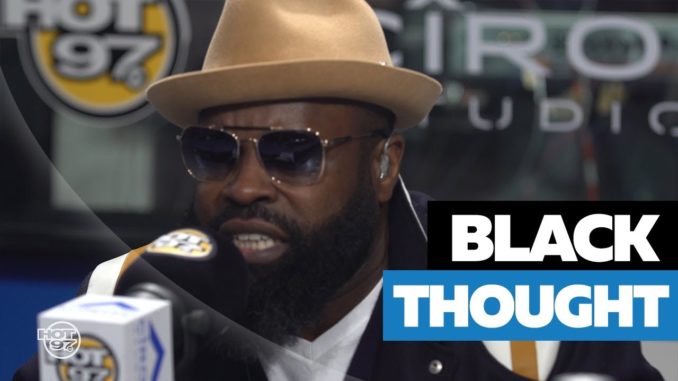 Black Though showed that he's not to be played with when he goes in. For 10 minutes the Roots frontman relentlessly dropped bar after bar and lit the Internet on fire so much that Black Thought was trending on Twitter. Flex's face around the 5:29 mark says it all – he looks like he's looking upon the face of God and is about to cry at the glory he's blessed to witness in person. Thought brushed the praise off like it was nothing.
That verse was just what I had to say at the moment lol.

— Black Thought (@blackthought) December 14, 2017
Heads have always known that Black Thought was capable of setting the world ablaze with rhymes that rank on the Scoville scale but it's still something awe inspiring to witness. Therefore, I propose three things.
Hot 97 should retire that microphone. It has been officially wrecked. It needs to hang from the ceiling like Jordan's NBA jersey. Thought was utterly disrespectful in his handling of that mic to the point that there is probably a psychologist asking it to show him where on the picture Tariq hurt him.
Flex should not ask anyone else to freestyle again for a while – at least until the radiation from Thought's nuke subsides a bit. Give it a couple months and that room might be safe for humans again.
Anyone who even thinks they want to pic up the microphone and rap or even just recite a Mother Goose nursery rhyme should have to listen to this verse.
The only thing left to say is – more please. It's good to see that skills can still raise a ruckus publicly. Hip Hop definitely needed this.