"I've seen a talented, sensitive, lost young boy become a strong man with integrity and dignity. Fallin' Up will give you an inside look at the life of this inspiring individual." —Fergie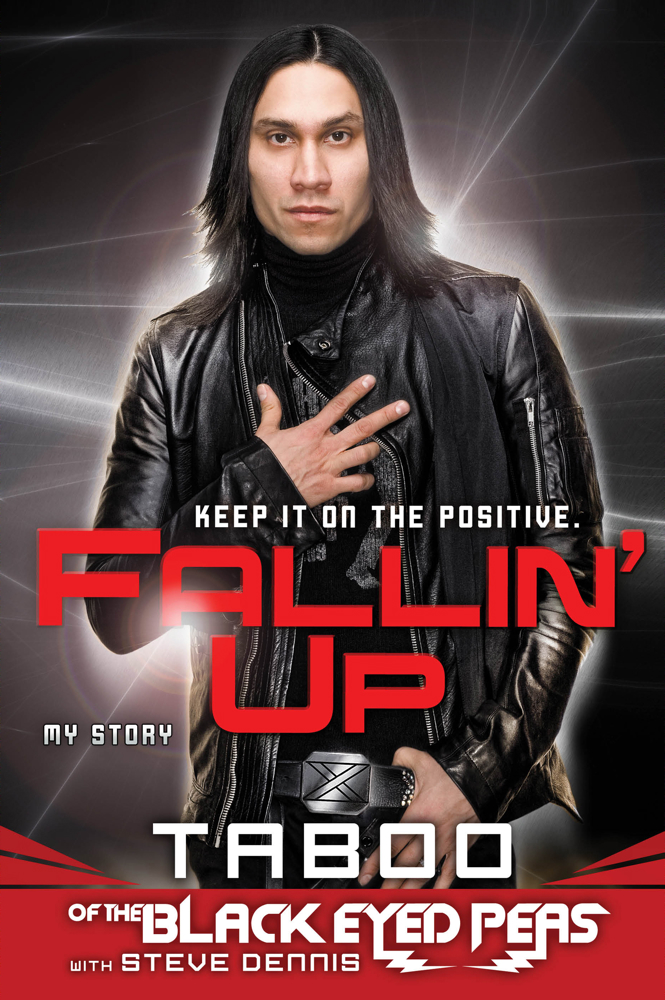 "In this rags-to-riches tale of a pop star eager to impart the lessons he's learned along the way, his message is, simply, 'Dream it. Keep it on the positive'…Taboo's story will resonate for readers seeking encouragement to follow their dreams." — Library Journal


Taboo is a founding member of the six-time Grammy Award-winning group The Black Eyed Peas. A Mexican-American with Shoshone blood on his mother's side, Jaime Luis Gomez defied expectations early on—first by rejecting the limitations imposed on him by society, then by staying true to his dream of becoming a star. In FALLIN' UP: My Story (Touchstone Hardcover/Simon & Schuster; February 8, 2011; $24.99; ISBN: 978-1-4391-9206-1), he tells the riveting story of his journey from the drug crime-ridden neighborhoods of L.A. to the packed performance sites around the world.
During a childhood spent moving between el barrio and the mixed-race community where his beloved grandmother lived, Taboo fell under the spell of the Spanish music his grandmother adored while at the same time embracing the pulse of hip hop. By the time he entered his teens, Taboo was an agile break dancer; he'd perfected all the floating, gliding, and sliding moves through hours of dedicated practice. In the Mexican-American community of Rosemead, where he eventually settled with his mother and stepfather, "no one…had ever heard of a Mexican b-boy. I was a hip-hop kid in a community where there was no such thing as hip-hop kids." Taboo, the tag he first used when doodling in school, represented the path he was forging for himself—"Off-limits. Unspeakable. Something forbidden. Something non-conformist."
Taboo built his skills—and his street cred—at hip-hop venues throughout L.A. It was at a hip-hop club that he first saw will.i.am, "an eccentric-looking black kid rapping like a madman" and apl.de.ap, "a Filipino dude dancing better than I had ever seen anyone dance…" In 1995, the three came together as The Black Eyed Peas, and right from the start, the group stood out: "[We] didn't subscribe to lyrics about crack dens and AK-47. We were…promoting more feel good, progressive hip-hop. We were about braggadocious hope, not braggadocious violence."
As he traces the rise of The Black Eyed Peas, Taboo reveals the inner workings of the music business during the 1990s and 2000s. He introduces a host of well-known performers, from Flavor Flav, Eminem, and Gwen Stefani, to Sting, the Rolling Stones, U2 and the great James Brown. He brings to life the exhilaration of performing for audiences throughout the world and the overwhelming exhaustion of spending months on tour, far from home and family. He writes about the Peas' first encounter with Stacy Ferguson and discusses with wit and insight her unique contributions to the popularity of the group. His description of the evolution of The Black Eyed Peas offer an unprecedented look at the shaping of their style as they stepped outside their hip-hop foundation and integrated elements from different musical traditions to create a sound all their own.
Behind the stories of Grammy Awards, platinum albums, sold-out concerts and other moments of triumph recorded in FALLIN' UP, Taboo tells another, darker tale. He writes about his long neglect of the son he had at eighteen; Jaymie Dizon, the woman who eventually became his wife and the mother of his second son; and the addictions to drugs and alcohol that almost ended his career. In detailed accounts of his missteps and mistakes, including drunken episodes during and after concerts, he shines an unforgiving light on himself and recalls with love and thanks the critical support he received from Jaymie, his friends and family, and his fellow-band members when he finally decided to turn his life around.
On June 10, 2010 The Black Eyed Peas performed at the World Cup Kick-Off Celebration concert in South Africa; their latest album, "The Beginning," was released in November 2010. They—and their millions of followers—are anticipating another triumph when the group appears during the halftime show at the Super Bowl on February 6, 2011. FALLIN' UP provides the first inside look at the making of the band, is must-reading for fans old and new.
About the Author:
Taboo—a.k.a Jaime Gomez—is an MC, actor, singer, dancer, footwear designer, Taboo Deltah, for Foot Action stores and founding member of The Black Eyed Peas.  He is also a husband and father of two and lives in Los Angeles with his family.