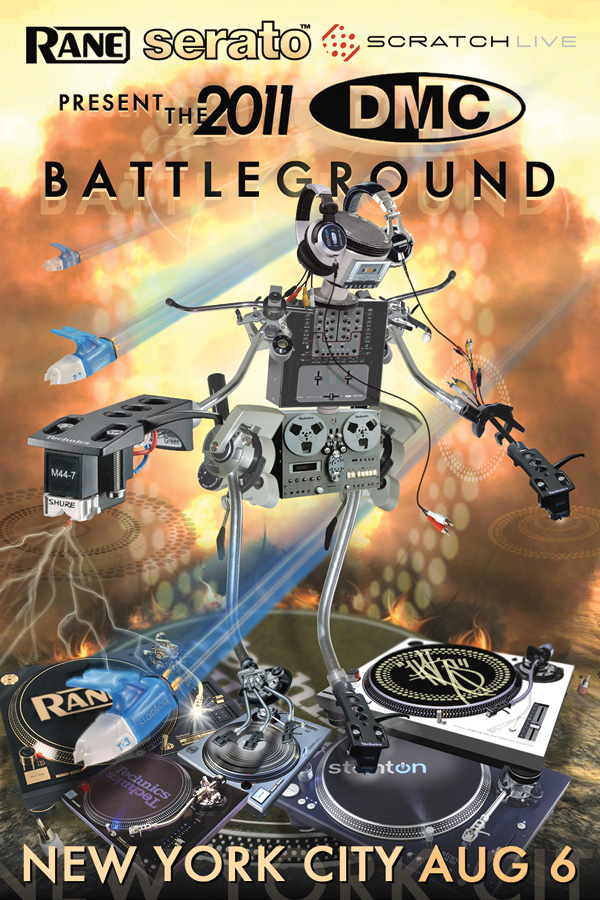 August 6: 2011 DMC USA National DJ Battle
The USA's top battle DJ compete for the national title, thousands worth of DJ equipment and the opportunity to rep the US in the 2011 DMC World DJ Championships on Oct. 6 & 7 in London!
Saturday, August 6th, 2011
EARLY Show from 2pm – 8pm. All Ages!
$15 advance tickets: ticketweb.com. $20 day of
Santos Party House
96 Lafayette St. betw. Walker & White
New York NY 10013
Trains: N Q R W 6 J M Z to Canal or A C E to Canal and Broadway. Try hopstop.com for directions too.
Absolutely No Filming permitted. We are making a DVD of the Battle. Still Photography is OK!
2011 DMC US Finalists Battling Include
Defending: DJ Etronik (CA) – 2010 DMC USA Champion
DJ As-One (MD): 2009 DMC DC Champ
DJ Concept (FL): 2011 DMC Miami Champ
DJ Cysko Rokwel (CO): 2010 DMC East Coast Champ
DJ Fascinate (NH): 2011 DMC US Supremacy Champ
DJ I-Dee (VA): 2005 DMC US Supremacy + 06 Gong Battle Champ
DJ Immortal (FL): 2011 DMC New Orleans Champ
DJ Ohm (NM): 2009 DMC San Antonio TX Champ
DJ Precision (NYC): 2007 DMC US Champ
DJ Qbase (TX): 2011 DMC San Antonio Champ
DJ Shmeeze (CA): 09 DMC US 3rd Place
DJ Vajra (CO): 2003 DMC US Vice Champ
Performances by:
2x World Champ DJ Woody (UK) presented by Rane/Serato
2x DMC World Champ: DJ Shiftee (NYC)
04 ITF Beat Juggling Champ: Mista-B(San Francisco)
Host: Lord Finesse – DITC
Partyrocking by DJ Donnie Dee (TX) 2x DMC US Finalist

Judges: DJ Slyce, Billy Jam, Mista B, and more tba.
2011 DMC US Finals Prizes


The 2011 DMC US Champion wins:

A Rane TTM-57 SL Mixer

A pair of Stanton STR8.150 Turntables

A pair of Odyssey Flight FX Turntable Cases

A pair of Shure Gold M44-7 Needles

Round Trip Flight + Hotel for the 2011 DMC World Finals in London Oct. 6th & 7th

The 2011 DMC US Vice Champion wins:

A Stanton M.207 Mixer

An Odyssey Redline Backspin Bag

The 2011 DMC US Finalist who place 3rd wins:

Stanton Cartridge: SM v3 MP4

Stanton DJ Pro 2000 Headphones

Odyssey LstandM Laptop Stand